MLB.com Columnist
Jonathan Mayo
Toussaint rounds out top three prep pitchers
Upside, athleticism, devastating curve have him right behind Aiken, Kolek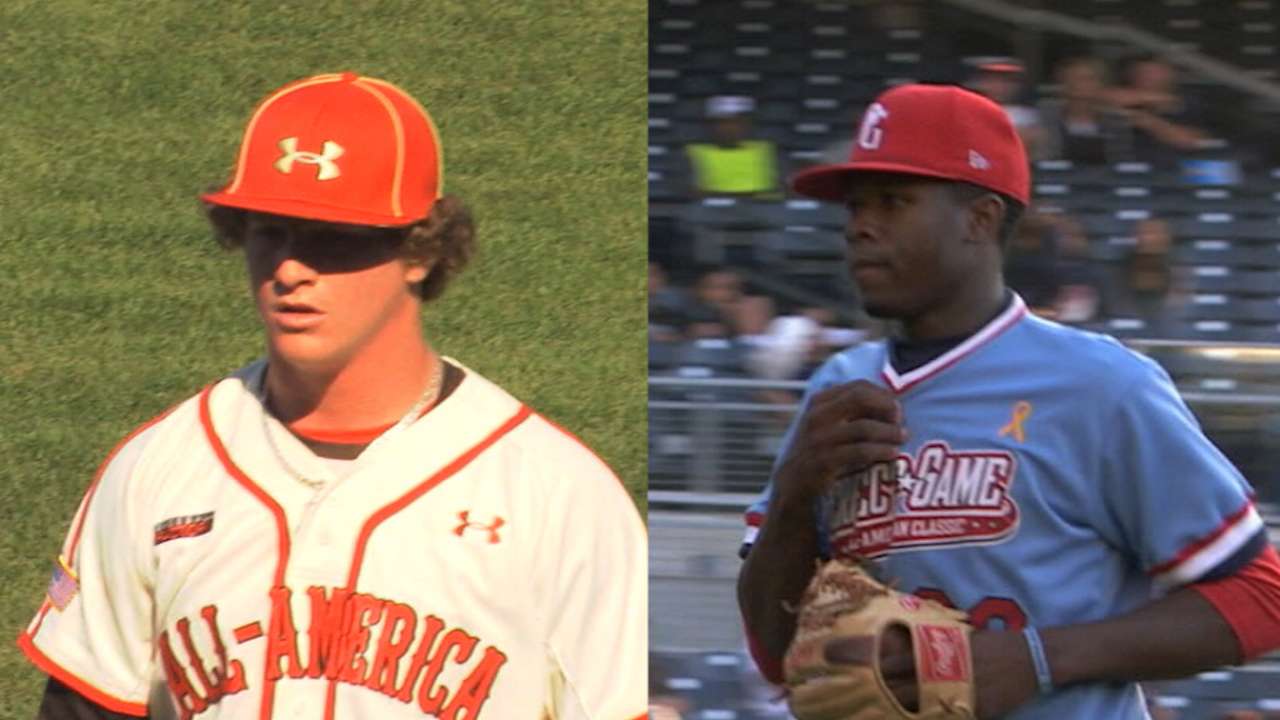 There's a good amount of subjectivity regarding baseball prospects. With the evaluation of talent being in the eye of the beholder, finding consensus is often difficult. Even Jim Callis and Jonathan Mayo of MLBPipeline.com don't always see eye to eye. They discuss their viewpoints regularly in a feature called Pipeline Perspectives. Submit a topic for them to debate.
There's no question that the strength of this year's Draft -- which will be streamed live June 5-7 on MLB.com -- is pitching. And while there are certainly some intriguing college arms to consider, there might be more high school hurlers to consider in the early rounds than in recent memory.
There are 25 prep pitchers on our current Draft Top 100 Prospects list. Two have truly separated themselves: Brady Aiken from Southern California and Tyler Kolek from Texas are two of the top three players on the board.
Beyond that dynamic duo is some serious young pitching depth. But who should be the next high school pitcher to be taken? That's the query Jim Callis and I are answering in this week's Pipeline Perspectives.
Jim has a solid choice in South Carolina-based right-hander Grant Holmes. Holmes, after all, has some serious now stuff, albeit in a not-so-projectable frame.
For me, once Aiken and Kolek are off the board, the clear choice is Touki Toussaint from Coral Springs Christian Academy in Florida. It's not just for who he is now -- though that's pretty darn good -- it's for who he has the chance to become in the future. Toussaint's projectability, combined with his athleticism, could make him the best pitcher in this Draft class when all is said and done.
Let's start with what he brings to the table now. Toussaint quite possibly has the best fastball-breaking ball combination in the Draft class. Period. High school or college. His curveball is of the knee-buckling variety, a virtually unhittable secondary offering that's been equally difficult for catchers to corral. Holmes might have a little more in the fastball tank, but Toussaint's no soft-tosser. He'll sit in the 92-94 mph range and has shown the ability to reach back for mid-90s (or more) heat, on occasion. Toussaint's changeup has improved dramatically this year, giving him the tools to have three above-average to plus pitches at his disposal.
I saw Toussaint pitch at USA Baseball's National High School Invitational. Keep in mind this was March, still in the early stages of the season. Toussaint manhandled Orange Lutheran from California in the first round with dozens of scouts on hand to witness it. He gave up just one hit over six innings and struck out 12. Six of those were looking, mostly with that nasty breaking ball.
Toussaint did walk five in that game, and that's something he has struggled with in the past. It tends to be the main criticism sent in his direction when he's being evaluated. And that's understandable, especially for teams considering taking Toussaint in the top portion of the first round.
That NHSI start, however, was a sign that things were heading in the right direction. Scouts felt Toussaint commanded the ball much better than he had in the past. That trend more or less continued throughout this spring.
No, Toussaint doesn't suddenly have Greg Maddux-like control. And he likely never will. But the thing that separates Toussaint from the rest of the high school pitching crop for me is what makes me believe he's going to command the baseball just fine in the future: his athleticism.
Toussaint is one of the better high school outfielders in the state of Florida. Think about that for a second, in terms of how many good players come from the Sunshine State. Matt Cleveland, his coach at Coral Springs, feels Toussaint could play the outfield at the next level if he wanted to focus on that aspect of the game.
That kind of athletic ability will help Toussaint repeat his delivery as he continues to develop. His mechanics remain a work in progress, but this isn't a maximum effort kind of guy. The ball comes out of Toussaint's hand free and easy, and he has a ridiculously quick arm. That's the amazing thing. As good as his stuff is right now, there's more in the tank to come as he refines his craft.
One last little bonus in my book with Toussaint. With the epidemic of elbow injuries and Tommy John surgeries, there's been a lot of talk about young pitchers throwing too much. Toussaint has a relatively fresh arm. He didn't really start playing baseball seriously until he was 12, and he didn't commit himself to pitching until he was in high school. That obviously doesn't guarantee anything, but if I'm deciding on a high school arm in the top 10-15 picks of the Draft, I'd be inclined to go with the one with less mileage, the one with plus stuff now and the chance to get even better.
Jonathan Mayo is a reporter for MLBPipeline.com and writes a blog, B3. Follow @JonathanMayoB3 on Twitter. This story was not subject to the approval of Major League Baseball or its clubs.