Rienzo improves to 4-0 with victory over Royals
Strikes out career-high eight over six innings; Flowers, Dunn homer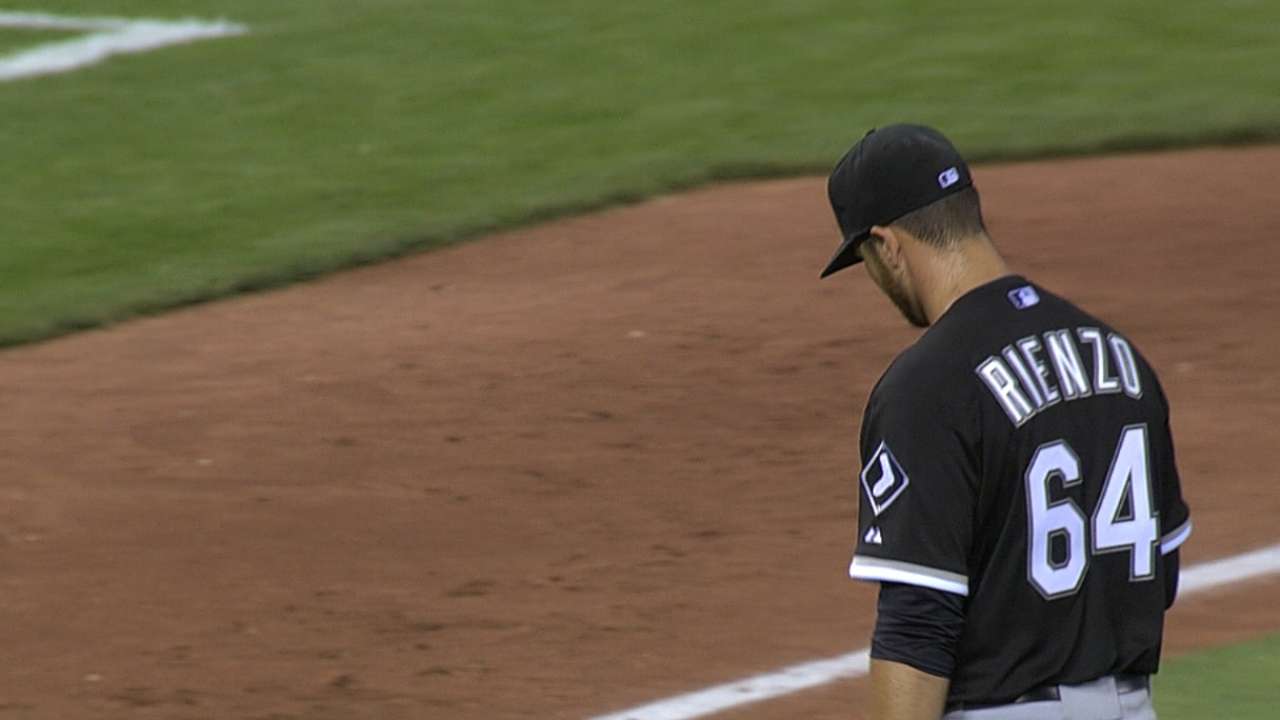 KANSAS CITY -- Andre Rienzo stood in front of his locker a day before taking the mound against the Royals, smiling ear to ear as he spoke about how every day of his life as a Major Leaguer was like a dream.
With outings like his effort Tuesday night, that dream won't be ending any time soon.
Rienzo (4.00 ERA) moved to 4-0 on the season in the White Sox 7-6 win over the Royals at Kauffman Stadium, in one of the Brazilian's best outings as a Major Leaguer. He lasted six innings, allowed five hits and two runs and struck out a career-high eight.
"He had some really good stuff today," White Sox first baseman Adam Dunn said. "He's kept us in pretty much every ballgame. ... When he has three or four pitches working like he did tonight, he's tough."
Offensively, Chicago rode a three-run fifth inning to take a 4-2 lead, and a three-run home run in the eighth inning by Dunn pushed the advantage to 7-2.
Kansas City made it interesting with three runs in the bottom of the eighth to squeeze the White Sox lead to 7-5. Alex Gordon and Lorenzo Cain picked up RBIs, and Cain manufactured the third run with steals of second and third before coming home on a Frank Francisco wild pitch. Alexei Ramirez made a diving stop and throw from his knees to end the inning, stranding a pair of Royals and robbing Nori Aoki of a hit.
"That was a huge play, that was a fantastic play. When I saw him go into the hole on his knees, I didn't think he had any way of throwing Nori out, but it was a play you'd expect to see out of [Royals shortstop Alcides] Escobar. It was a high-level play, top notch," Kansas City manager Ned Yost said.
White Sox manager Robin Ventura opted for Ronald Belisario in the final inning, despite the fact that the righty threw two innings on Monday night.
Belisario allowed one run in his audition for the recently vacated position of closer after Matt Lindstrom went on the disabled list. But he came up with a huge strikeout of Cain, leaving a runner in scoring position to end the game.
"He's been sharp," Ventura said. "For him, he's just raring back and throwing, so I knew that wasn't going to affect his rhythm."
Dayan Viciedo drove in Conor Gillaspie with a single in the first inning for the game's first run, after Gillaspie's triple started a two-out rally.
After a 1-2-3 first, Rienzo ran into trouble in the second. He walked leadoff batter Billy Butler, then hit Gordon. Danny Valencia drove Gordon and Butler in with an opposite-field two-run double to put Kansas City ahead, 2-1.
"I know the second was bad, but I tried to keep the team in the game," Rienzo said. "I tried to forget, it already happened."
Both pitchers clamped down in the third and fourth, twirling shutout frames.
The White Sox three-run fifth started with a home run by Flowers.
Flowers launched a 1-2 curveball over the left-field fence to tie the game at 2. Then Gordon was unable to make a diving play on Adam Eaton's line drive, and the speedy center fielder turned it into a double.
To this point, Royals starting pitcher Yordano Ventura's control had been pinpoint. It was less so for the rest of the inning.
He threw his first wild pitch with Gordon Beckham at the plate and Eaton advanced to third. With the infield drawn in, Beckham hit a chopper that Valencia leapt for but couldn't snare, giving Chicago a 3-2 lead. With Gillaspie at the plate, Ventura threw his second wild pitch, sending Beckham to second. Gillaspie grounded out for the second out, but moved Beckham to third. Ventura's third wild pitch came versus Viciedo, and Beckham scampered home to push the lead to 4-2.
"With the wild pitches, I was trying to make good quality pitches, but they went in the dirt and it was hard for [Brett] Hayes to block them," Ventura said.
Rienzo cruised into the sixth with the second inning his only blemish. In the other four innings, Rienzo allowed two baserunners, zero runs and struck out six.
But Kansas City finally concocted a rally with Rienzo's pitch count rising. Gordon and Valencia each reached via singles, and with two outs newly-appointed second baseman Pedro Ciriaco had the task of preserving the rally. But he lined out sharply to Gillaspie for the final out.
Rienzo displayed some emotion after he struck out Eric Hosmer to end the fifth, then when Gillaspie snagged the final out of the sixth. Both times he gave an emphatic slap of the glove and a celebratory shout.
"Gillaspie saved me," Rienzo said.
Gillaspie, who sat out Monday's 7-6 win with lefty Jason Vargas on the hill, collected three hits, bumping his average to .347. Beckham also collected three hits.
Dunn's seventh homer came off reliever Aaron Crow in the top of the eighth. The three-run moonshot traveled an estimated 426 feet to center and scored Gillaspie and Beckham.
Belisario got the first two outs in the ninth, but Butler lofted a double to right field. He took third on a passed ball and scored on Gordon's single.
Jarrod Dyson ran for Gordon and promptly took off, stealing second base. Flowers' throw made it close and Ventura asked for a replay, but the ruling stood following the replay review. Belisario then struck out Cain to end the game.
Jackson Alexander is an associate reporter for MLB.com. This story was not subject to the approval of Major League Baseball or its clubs.