Royals' rally comes up short after Ventura stumbles
Right-hander throws three wild pitches in fifth; Valencia has two RBIs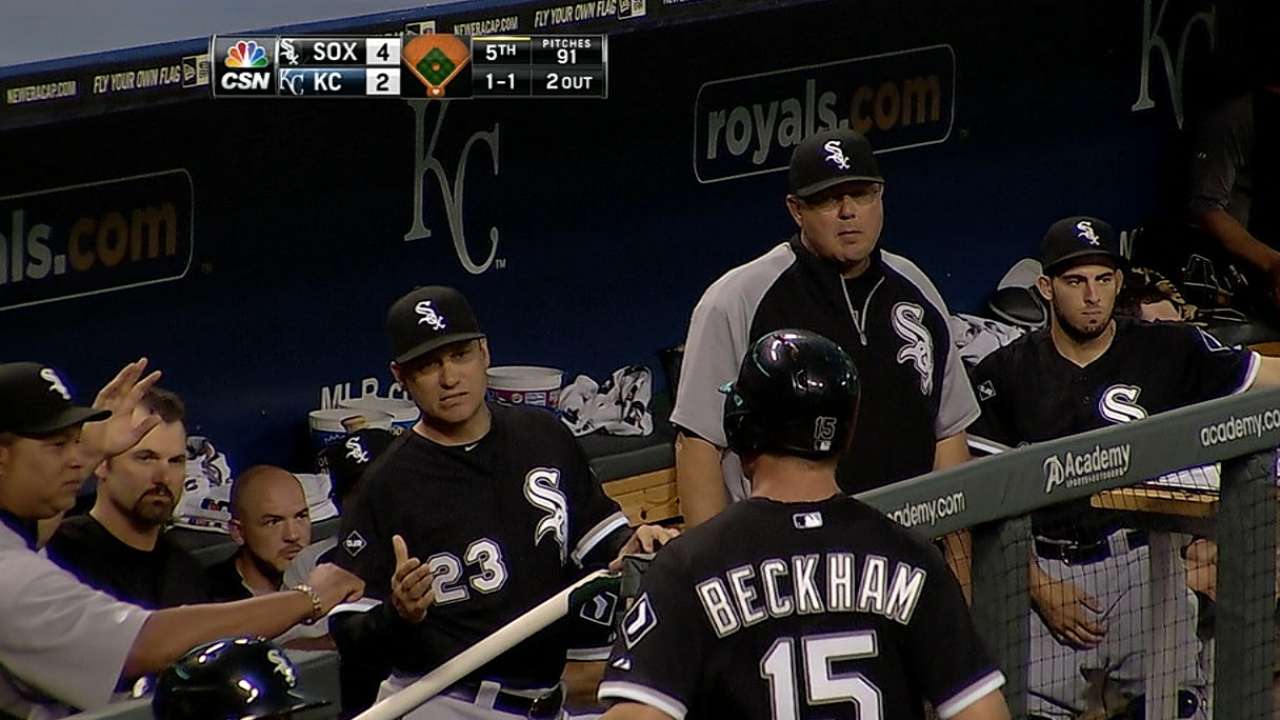 KANSAS CITY -- Fast start one night, fast finish the next. Both with identical results for the Royals.
The Chicago White Sox dealt a second straight 7-6 loss to Kansas City on Tuesday night at Kauffman Stadium where 14,900 enjoyed wonderful weather, if not the result. At least the home team gave Royals fans hope right up to the end.
"They don't quit. They've all got a tremendous desire to play winning baseball," said Royals manager Ned Yost. "Even though we fell down five and we've been struggling offensively -- a lot of teams would pack it in -- but these guys don't pack it in. ... They just keep coming at you to make something happen."
On Monday night, the Royals jumped ahead 5-0 in the first inning only to lose, 7-6. This time, they fell behind 7-2 and rallied for four runs in the last two innings but lost again, 7-6.
Royals pitchers Yordano Ventura and Aaron Crow had a tough evening.
Ventura was undone in a three-run fifth inning as Tyler Flowers homered and the rookie uncorked three wild pitches. Crow was burned by Adam Dunn's mammoth three-run homer in the eighth inning.
After Flowers homered for a 2-2 tie in the fifth, Adam Eaton doubled and advanced on Ventura's first wild pitch. Gordon Beckham followed with an RBI single, and he got around with the help of two more wild pitches that got past catcher Brett Hayes.
"I was trying to make good quality pitches, but they went in the dirt and it was hard for Hayes to block them," Ventura said.
All three wild pitches were on curveballs. Hayes was subbing for the injured Salvador Perez.
"Those are tough pitches to block," Yost said. "They were really tough and I thought he did a decent job handling him."
Crow, who also gave up a homer on Sunday for the first three runs he'd allowed all season, coughed up another in the eighth inning. Beckham and Conor Gillaspie each singled, and Dunn sent a 426-foot drive soaring over the center-field wall.
"It was a fastball, I was trying to go with the sinker down and away," Crow said. "I've struck Dunn out a few times on sinkers down and away, so I was trying to get him to swing over the top of it, but I didn't execute. I left it in the middle and he just got it."
That gave the White Sox a 7-2 lead.
"Any time you can expand a lead, I think that those are a lot more meaningful," Dunn said.
It certainly was this time because the feisty Royals came back with four runs in the last two innings. They got three in the eighth.
White Sox left-hander Scott Downs gave up a double to Eric Hosmer and walked Billy Butler. Both advanced on a passed ball and Hosmer scored as Alex Gordon bounced out. Right-hander Frank Francisco relieved Downs, and Lorenzo Cain punched a single to right, scoring Butler.
Cain stole second and Danny Valencia walked. Then Cain swiped third and Francisco's wild pitch scored him and got Valencia to second. Pedro Ciriaco singled to right and, with two runners on, Mike Moustakas was sent out to pinch-hit for Hayes. That prompted a pitching change to righty Zach Putnam.
This presented an opportunity for drama because the slumping Moustakas had been benched in favor of Valencia. But Moustakas popped out and Nori Aoki grounded out, with shortstop Alexei Ramirez making a superb play in the hole.
"That was a huge play, that was a fantastic play," Yost said. "When I saw him go into the hole on his knees, I didn't think he had any way of throwing Nori out but it was a play you'd expect to see out of [Alcides] Escobar. It was a high-level play, top notch."
Right-hander Ronald Belisario, replacing injured closer Matt Lindstrom, got two outs in the ninth, but Butler lofted a double to right field. He took third on a passed ball and scored on Gordon's single, and it was 7-6.
Jarrod Dyson ran for Gordon and promptly took off, stealing second base even though everybody in the ballpark knew he was going.
"He's a master thief. He's an upper echelon-type thief," Yost said. "And those guys -- they're fearless when they're committing their crimes. ... That's what Dice is -- he's got larceny in his blood."
Flowers' throw made it close and White Sox manager Robin Ventura challenged the call, but the replay verdict was that umpire Eric Cooper's safe call stood. Belisario then struck out Cain to end the game.
Even though the White Sox were without Jose Abreu, the injured American League home run leader with 15, they belted three on Monday night and two more on Tuesday night.
"You make a mistake and those guys are going to hit it a long way. I guess we caught a break, but it hasn't helped us any missing Abreu," Yost said. "He's got a ton of power, too, but they make you pay for mistakes, that club does."
His Royals have had no homers in the two games, but at least they're making some run-scoring waves.
"Six runs today and six runs yesterday. We put up a few runs but, unfortunately, they put up more than us," Cain said. "If we can put up five or six runs a game, that'll definitely help. Consistency on offense is going to be huge."
Dick Kaegel is a reporter for MLB.com. This story was not subject to the approval of Major League Baseball or its clubs.