LSU's Nola stands out among top college hurlers
Junior righty expected to be selected in Draft's top 10 after dominating with Tigers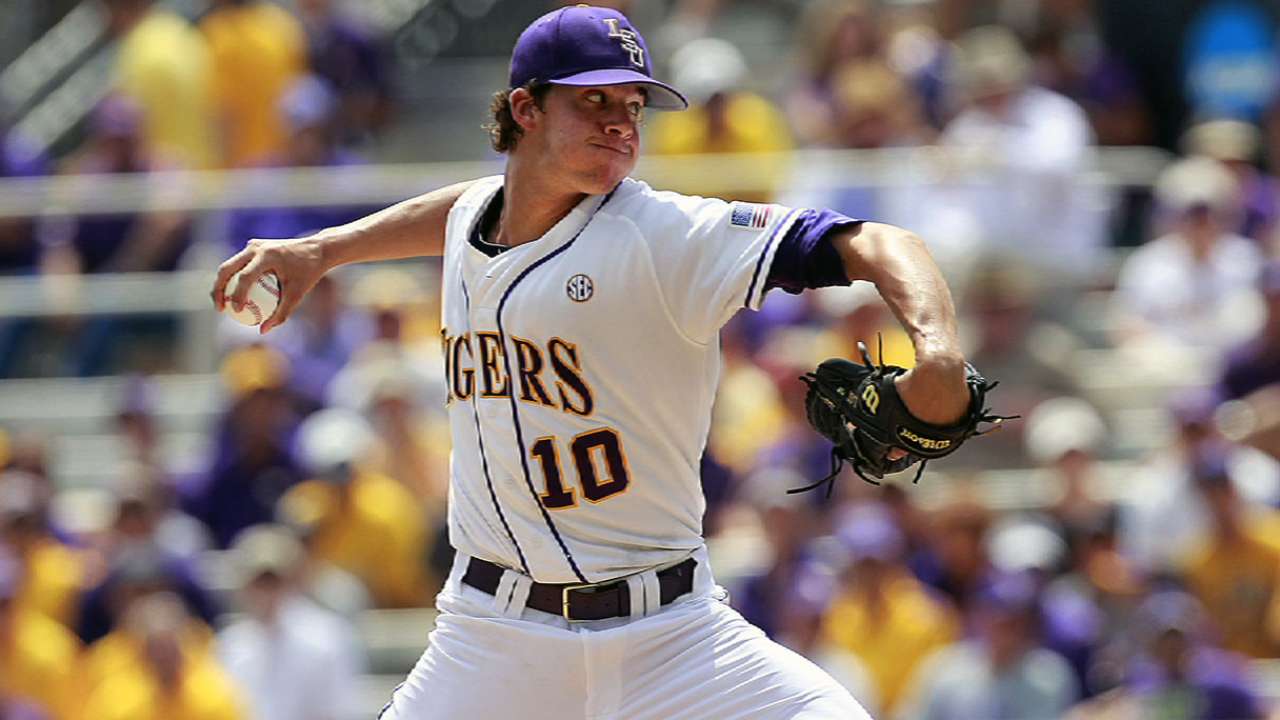 On a sun-splashed Saturday earlier this month, Aaron Nola had to step off the mound. Alex Box Stadium, LSU's home park, can be the rowdiest venue in college baseball, and though it wasn't packed that afternoon, it was starting to get noisy. Nola was trying to close out a four-hit shutout against Alabama in the opening game of a key SEC West series.
With two outs in the top of the ninth inning, Nola had to collect himself.
"It was a little loud," he said. "I took a couple deep breaths to settle myself down before I started getting out of whack."
When Nola got back on the mound, he induced a groundout to end the game, a 2-0 victory. He had thrown 116 pitches, struck out nine batters and walked none.
Afterwards, legendary coach Skip Bertman, who coached the Tigers to five national titles, found Paul Mainieri, LSU's current coach.
"Skip told me that was the finest game he'd ever seen Aaron pitch," Mainieri said. "For me, it was just another game. I don't know how you distinguish between them."
* * * * *
In a few years, when observers look back on Nola's career, the Alabama game may stand out more. After all, it was almost certainly his last regular-season start in his hometown. The junior right-hander, ranked No. 5 on MLBPipeline.com's Top 100 Draft Prospects list, is expected to be selected in the first 10 picks of the First-Year Player Draft on June 5.
But Nola has been so dominant for three years that a four-hit shutout seems somehow unremarkable. He was named SEC Pitcher of the Year in 2013 and is expected to retain that honor after going 9-1 with a 1.42 ERA in the regular season. Nola ranks third in the nation in strikeouts (120 in 101 2/3 innings) and fourth in WHIP (0.82).
"He's been amazing in every way," Mainieri said. "It's been a blessing to have him for three years."
Nola came to LSU after a decorated career at Catholic High School, three miles across town in Baton Rouge, La. He won the state championship as a junior in 2010 and was named "Mr. Louisiana Baseball" the next year. Nola was drafted in the 22nd round by the Blue Jays, but he chose to head to college.
At LSU, Nola reunited with his older brother Austin, the Tigers' shortstop. Separated by an age gap of three years, they had never played together.
Mainieri said the opportunity to be teammates likely led both to turn down the opportunity to sign after the 2011 First-Year Player Draft (Austin was selected in the 31st round by Toronto).
"It may have been why Aaron came to college in first place and Austin stayed his senior year," Mainieri said. "It was a special time, right up until we got beat in the Super Regionals by Stony Brook."
Whatever led Aaron Nola to LSU, his three years of college have been beneficial. With the help of pitching coach Alan Dunn, Nola has refined his game and is considered one of the safer picks in the Draft class. Some of his improvements have been physical, as he has grown an inch or two and put on about 20 pounds since high school. As a result, Nola's velocity has ticked up and he is able to throw his fastball 92-95 mph deep into games.
The additional strength also helped improve Nola's curveball, to the point that scouts grade it as a Major League-average offering, and he is able to get swings and misses with it.
"It's more maturity and physical ability and how much stronger I got," Nola said. "Once I started throwing harder, my curveball got better, sharper."
Nola has made strides in the mental aspects of pitching. He said his biggest developments have been the result of an increased understanding of the game and knowing what it takes to win.
Mainieri has been a college coach for 31 seasons, and in that time, he has coached several great pitchers, including Kevin Gausman, Brad Lidge, Anthony Ranaudo and Jeff Samardzija. He said Nola's poise on the mound is unmatched.
"He's not emotional or boisterous," Mainieri said. "You don't see him pout or hang his head. He doesn't snap the ball if he gets squeezed.
"It's having that mental toughness. That, as much as his talent, is why I don't imagine how general managers can pass on him."
* * * * *
Nola made his first start of the 2013 NCAA Tournament in the Tigers' second game of the Baton Rouge Regional. LSU had won its first game, setting up a winners' bracket matchup with Sam Houston State.
The game threatened to slip away in the first inning. The Tigers committed three errors, their only three-error inning of the season, and the Bearkats scored five unearned runs. Nola threw 42 pitches on a hot, humid night, and Mainieri was left to wonder if LSU would have enough pitching to make it through the losers' bracket.
There would be no need to worry, however. Nola responded to the dreadful first by throwing six shutout innings in 69 pitches, keeping LSU in the game. The Tigers went on to win, 8-5, and they won again the next night to advance to Super Regionals.
"For me, that was the epitome of Aaron Nola's greatness, because of what happened in first inning," Mainieri said. "He was able to regroup and throw six shutout on [69] pitches so he could pitch through seven innings."
* * * * *
As good as Nola's stuff and understanding of the craft is, his control is his biggest separator. One cross-checker likened watching Nola pitch to "watching a guy paint a picture."
Nola said he has commanded the ball well since he began pitching.
"Strike zones are big back in the day," Nola said. "It wasn't too hard. As you move up in levels, the strike zones get smaller and smaller. I have to focus a little more."
Nola showed up at LSU as an advanced strike thrower. He walked just seven batters in 89 2/3 innings as a freshman and led the nation with a 12.57 strikeout-to-walk ratio. Though Nola's walk rate has increased each season, his control remains the best in the Draft class.
Thanks to his combination of stuff, control and maturity, Nola shouldn't need much seasoning in the Minor Leagues.
"I have a hard time imagining there's a better pitcher out there with a better combination of polish and stuff," another cross-checker said. "I think he'll be a fast mover who gets to the big leagues quick."
* * * * *
After their win in the Baton Rouge Regional, LSU was matched up with Oklahoma in Super Regionals. In the first game of the series, Nola would face Sooners ace Jon Gray, who had been drafted third overall just a day before.
"I knew it would be a pitchers' battle," Nola said. "[Gray] was unbelievable that night. He competed all night and had our guys off balance for most of the game."
On that June night, Nola rose to the challenge. In his clinical, efficient style, he authored a two-hit shutout and beat Oklahoma, 2-0. Nola threw 102 pitches, struck out six batters and walked none
"That was one of the best games I've pitched in my college career," he said.
* * * * *
After Nola's gem, LSU defeated Oklahoma again to advance to the College World Series. But the Tigers were quickly eliminated, giving Nola a goal for this season. He would like to close his college career with a national championship. Such a run would likely add a new entry to Nola's litany of best games, but he'll first have to navigate the next few weeks of Draft buildup and tournament baseball.
Nola said he'll try to emulate the example Gausman set in 2011 and remember the advice he received from his brother.
"He told me to stay focused," Nola said. "'Don't get your head out of the game and worry about Draft too much.' That'll come and take care of itself."
Teddy Cahill is a reporter for MLB.com. Follow him on Twitter at @tedcahill. This story was not subject to the approval of Major League Baseball or its clubs.