Indians walk off behind Brantley's 10th-inning jack
Tribe tops division rivals in series opener at Progressive Field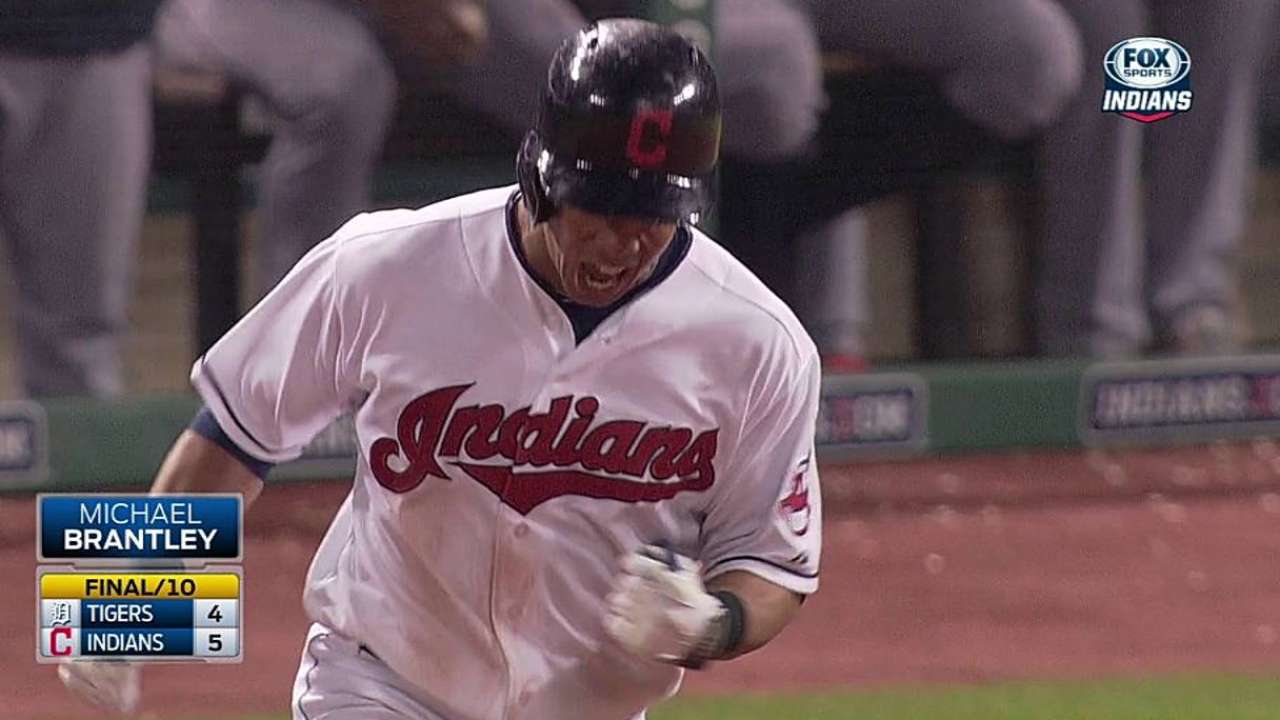 CLEVELAND -- Try telling Michael Brantley that the current series is not important. Watch the way he carried the bat with him up the first-base line, keeping a firm grip on the handle as he waited to see if the ball cleared the right-field wall. Then, look at how Brantley flipped it away and howled.
Brantley flexed both arms as he rounded first, pumped his left fist and let out another scream. After all the frustrations experienced over the past week, and with the rival Tigers in town on Monday night, this win meant something. Each victory carries weight, but Cleveland's 5-4, 10-inning walk-off win was a weight lifted.
"It's huge, especially at the start of a big series, a big rivalry," said Brantley, who provided the decisive blow with a solo home run off Al Alburquerque in the final frame. "Any time you play in the division, it's very important. Hopefully it's a momentum boost and we'll ride that momentum."
Indians manager Terry Francona does not believe that any one game or series is more meaningful than the next. Cleveland's players have followed that lead for the most part, downplaying the importance of the current three-game set with division-leading Detroit during interviews in the past few days.
There is an old baseball adage that says titles are not won early in a season, but they sure can be lost. In that way, Monday's win did matter for the Tribe. From where the Indians are sitting in the American League Central standings, they can ill-afford to lose much more ground than has already slipped away.
The Indians, who entered Monday having lost six of their past eight games, remained in the Central's cellar but cut Detroit's lead to 9 1/2 games. All Cleveland can hope to do now is continue to chip away at that considerable deficit.
"For us to come back and beat these guys," Indians first baseman Nick Swisher said, "it's a huge step in the right direction for us. We're still in this thing. We're only 45 games in and we know what we can do. We have a lot of guys, myself included, who aren't playing as well as [we'd] like to be, but I think tonight was a good starting point to turn things around a little bit."
Indians starter Corey Kluber, who has turned in a 2.34 ERA over his past six outings, set the tone again, turning in seven solid innings against the Tigers. Victor Martinez tagged the right-hander for a leadoff home run in the second and Rajai Davis sliced a pitch for a two-run double in the seventh, but that was all Kluber relinquished.
Kluber struck out eight, walked two and was in line for the win after Indians rookie Jesus Aguilar came through with a run-scoring sacrifice fly in the seventh that pushed Cleveland ahead, 4-3. Earlier in the game, Aguilar's first career hit was an RBI single that capped off a two-run fifth against Tigers lefty Drew Smyly. In that inning, Swisher also chipped in a run-scoring hit.
Kluber was eventually hung with a no-decision.
Three times, Cleveland scored and Detroit countered to pull the game into a deadlock.
The last blow in that tug-of-war was a one-out, pinch-hit home run off the bat of J.D. Martinez, who sent a pitch from Indians setup man Cody Allen out to center to even things up, 4-4. Allen was charged with a blown save and Cleveland appeared on its way to another discouraging defeat, following an overwhelming weekend sweep at the hands of the A's.
"It seemed like tonight we didn't let our frustration get the best of us," Francona said, "which was good."
Keeping emotions under control is a specialty for Brantley.
Cleveland's left fielder unleashes streams of team-first quotes in the clubhouse and has developed into one of the team's most consistent offensive performers. With All-Star second baseman Jason Kipnis (right oblique) on the disabled list, Francona trusted Brantley to step up as the Tribe's No. 3 hitter.
Francona believes that Brantley -- signed to a four-year, $25 million extension in Spring Training -- is worthy of that kind of position.
"I know he's not one of our veteran guys," Francona said, "but the more of a leadership role he takes on in our ballclub, the better we are. He's that type of guy. I think he has a lot of influence in that clubhouse because of the way he plays the game. I think everybody respects him a lot because of the way he plays the game."
Through 43 games, Brantley has turned in a .292 average to go along with nine home runs, 10 doubles and a team-high 33 RBIs this season for the Indians. The left fielder has also more walks (17) than strikeouts (16).
"I worked hard this offseason to mature my swing and grow as a hitter," Brantley said. "I feel like I'm doing a great job at it and I'll just try to continue to do that all year for my team."
Brantley came through in a big way on Monday night. With two outs and the count full, Brantley pulled a pitch from Alburquerque down the right-field line, where it stayed low before bouncing off the top of a fence protecting the bullpen.
As he rounded third and sprinted toward the plate, Brantley tossed away his helmet and ran into a mob of teammates. They swarmed him and began drenching him with water, celebrating to the roar of the crowd and explosion of fireworks.
"It's cold outside and they're throwing ice-cold water at me," Brantley said with a laugh. "They got me good."
This victory was clearly important to the Tribe.
"This was definitely a big win for us," Kluber said. "Obviously, the last series didn't go the way we wanted it to, but it was good to start this one off on the right note, and play a pretty good game as a team and kind of put that behind us. Hopefully it's something to build off."
Jordan Bastian is a reporter for MLB.com. Read his blog, Major League Bastian, and follow him on Twitter @MLBastian. This story was not subject to the approval of Major League Baseball or its clubs.