Bauer arrives in Cleveland aiming to stick with Tribe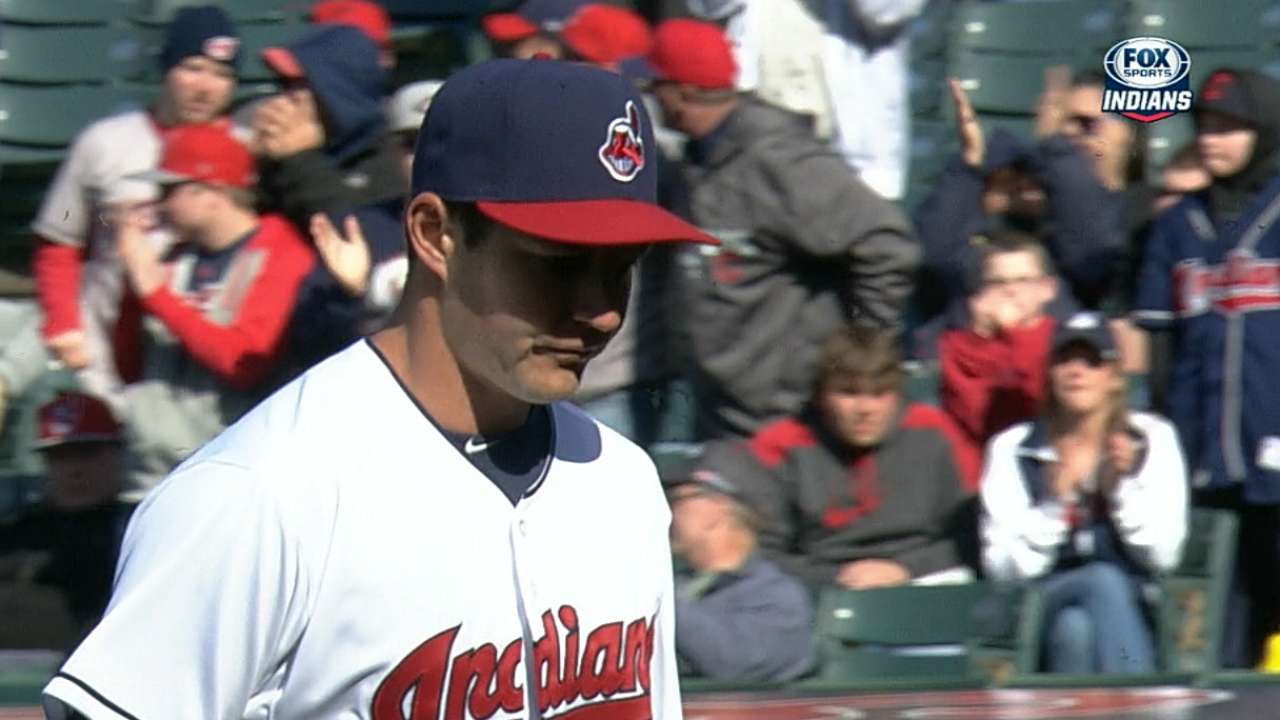 CLEVELAND -- Trevor Bauer's opportunity to turn potential into production has arrived. The pitching prospect had a locker in Cleveland's clubhouse on Monday and he arrived to Progressive Field with the knowledge that this was no longer a one-day stay.
Bauer has graduated from spot starter to rotation member, and the Indians are hoping the right-hander runs away with the role.
"Hopefully what the really good part of this will be is it's not just a one-start thing," Indians manager Terry Francona said. "We're kind of excited to see how he's going to do, because we've been talking now for a year. This guy is a big part of what we want to do going forward. And to see him growing and understanding, it's exciting."
Come Tuesday, Bauer will be officially recalled from Triple-A Columbus in order to join the rotation and start the second game of the current three-game set against the Tigers. The 23-year-old right-hander had his path to the starting staff when Cleveland optioned struggling starter Danny Salazar to Columbus on Friday.
At Triple-A, Bauer posted a 2.15 ERA with 44 strikeouts and 14 walks in seven starts for the Clippers. In his lone spot start for Cleveland on April 9, the righty limited the Padres to two runs (one earned) on four hits, ending with eight strikeouts and two walks in a hard-luck loss.
Bauer's success this season comes after a trying 2013 for the pitcher, who was a key piece acquired from Arizona within the blockbuster nine-player trade that the Indians swung with the D-backs and Reds on Dec. 11, 2012. Bauer was undergoing significant mechanical changes and endured subpar results (4.15 ERA, 106 strikeouts and 73 walks in 12 1/3 innings at Triple-A) in the process.
"I've been able to be consistent," Bauer said of his success this season. "I'm not trying to change stuff like I was last year. I had a really good offseason and worked really hard for a long time. So I came into Spring Training with a much better platform to kind of improve on."
Bauer has also enjoyed a significant increase in his fastball velocity. This season, the right-hander has sat around 93-96 mph, topping out at anywhere between 97-99 mph in certain outings. That is a big jump from last season, when he sat around 91-92 mph and topped out at around 94 mph.
"I spent a lot of the offseason working on developing my velocity," Bauer said. "The mechanics put me in a better position to maximize the strength that I have. My mechanical efficiency is higher now than it was last year. I'm strong, I worked on velocity and I get more out of the strength that I do have. It's a pretty complex equation."
Jordan Bastian is a reporter for MLB.com. Read his blog, Major League Bastian, and follow him on Twitter @MLBastian. Alec Shirkey is an associate reporter for MLB.com. This story was not subject to the approval of Major League Baseball or its clubs.