Crazy eighth caps win for Minor, Braves
Lefty pitches 6 2/3 strong innings as Atlanta plates five in big inning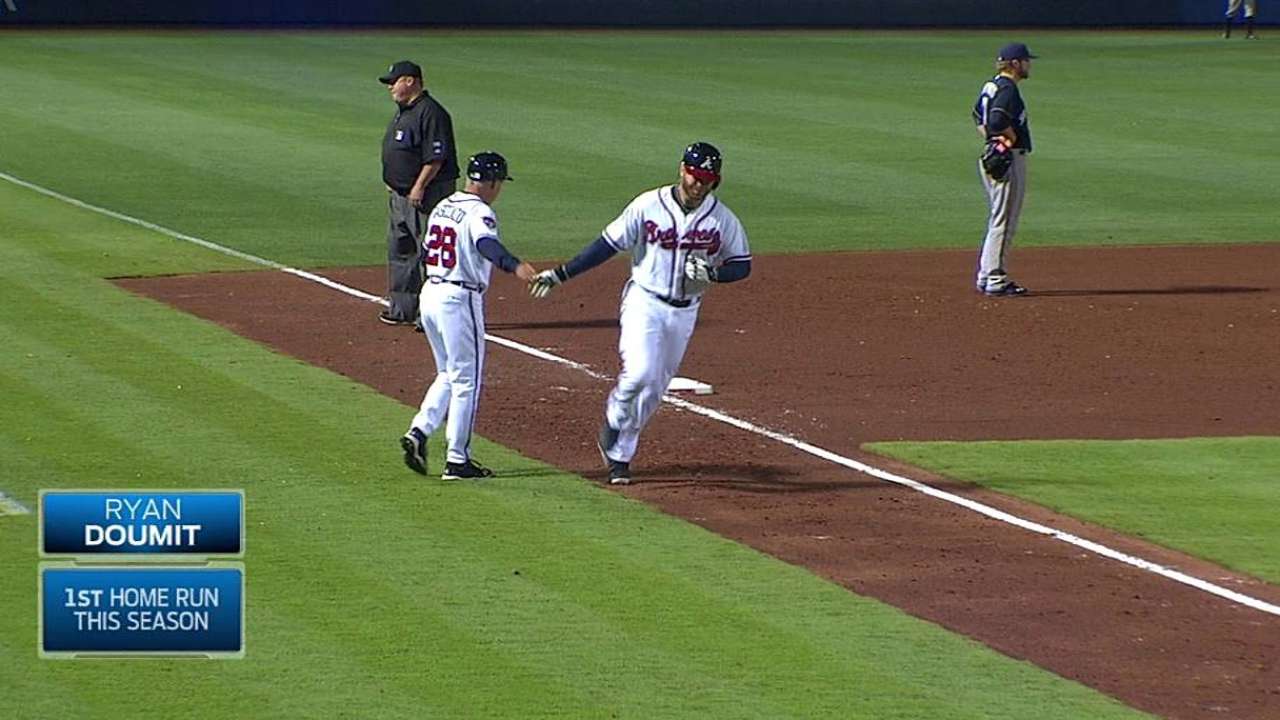 ATLANTA -- When the Braves manufactured Sunday's ninth-inning rally in St. Louis, they knew the value of what they considered their biggest win of the season would be determined by how long they preserved the resulting momentum.
Energized by the much-needed win against the Cardinals, the Braves returned home on Monday night and released much of their pent-up frustration during a 9-3 thrashing of the Brewers. Patience led to an early lead and power put the exclamation point on what was one of the finest performances of the season by Atlanta's much-maligned offense.
"I thought [Sunday's] game might be one of those that turn you over," Braves manager Fredi Gonzalez said. "Sometimes, you think a win is a win. But yesterday, the way we won that game, it might be the biggest win we've had all year. We'll see. Hopefully, this carries us over for a long time."
Staring at the possibility of suffering their 13th loss in a span of 18 games, the Braves used Jordan Schafer's base-loaded two-out walk and the wild pitch that followed to produce Sunday's decisive two-run ninth inning. Some of this same patience provided an early lead against the previously precise Wily Peralta on Monday. In addition, it helped set the tone on a night when a one-run advantage was significantly widened with a five-run eighth-inning produced against Milwaukee's bullpen.
"It's nice to finally show everybody what we're capable of," Braves utility man Ryan Doumit said. "We have too much firepower in this lineup to be quiet for the last week or so. But I think we saw signs of guys breaking out today. Today was a pretty telling sign of guys using the whole field. I think there is more of that to come."
Doumit recorded the final out in the eighth when he popped out against his former Pirates teammate Lyle Overbay, who was forced to pitch for the first time in his 1,497th career game. But Doumit also began the bottom of the eighth by hitting his 100th career home run at the expense of Wei-Chung Wang, who also allowed Justin Upton to hit an opposite-field two-run homer.
By the time Andrelton Simmons and Ramiro Pena provided RBI singles to cap the five-run eighth, the Braves had a season-high 15 hits -- their first double-digit hit total in a span of 22 games and their second-highest run total of the season. Nine runs is a significant total for a club that had tallied less than three runs in 11 of its previous 19 games.
This abundance of offensive support benefited Mike Minor, who held the Brewers hitless through the first three innings and scoreless until Khris Davis sent a 3-1 fastball over the left-center-field wall for a two-run home run in the fifth inning. Davis' homer accounted for the only runs surrendered by Minor, who exited to a standing ovation with two outs in the seventh inning.
"We know what we're capable of doing as an offense," Upton said. "The key for us is ... when we get good pitches to hit and we wait it out and we don't get too anxious, I think that is when we're at our best. Obviously, early on in the season, it was tough to have patience with ourselves."
As the Braves have struggled to score runs this year, they have been criticized for their free-swinging ways that have led to an abundance of strikeouts and a reduced walk rate in comparison to last year. But they might have found the benefit of a more patient approach as they tallied six runs in Sunday's win.
Using that same blueprint, the Braves drew a pair of walks and benefited from another wild pitch that led to a run in Monday's first inning. They added a second-inning run with the help of another walk, and then saw Freddie Freeman increase their lead to 3-0 when he began the bottom of the third inning by hitting an opposite-field home run on a second straight day
As Brewers starter Peralta walked three of the first six hitters he faced, it was apparent he did not have the command he had possessed while not issuing more than two walks in any of his previous eight starts. Still, despite walking a season-high four, Peralta allowed just three runs -- two earned -- in five innings.
"He's off of his game, and they get three runs off of him," Brewers manager Ron Roenicke said. "It's not too bad when you're all over the place. They got a lot of hits off him, and he didn't allow them to have any big innings."
When Ryan Braun cut the Brewers' deficit to one run with an opposite-field home run off David Carpenter in the eighth, the Braves were thankful for the run they manufactured against Zach Duke in the sixth inning. Minor opened the inning with a single, and Jason Heyward followed with the last of his three singles. After Upton reached via catcher's interference, Evan Gattis greeted right-handed reliever Rob Wooten with a sacrifice fly.
"It's definitely easier to pitch [with a lead]," Minor said. "I think that is what happened with the Davis home run. You know it's a 3-0 game and the most he could do is hit a two-run shot. So, I kind of attacked him and left one over the middle of the plate."
Heyward began his fourth three-hit game of the season with an opposite-field single in the first inning and then stole second base before Upton followed with a walk. Two batters later, a passed ball caromed back to catcher Martin Maldonado, who then threw wildly to third in an attempt to nab the advancing Heyward, but the ball ended up in left field.
Heyward then scored on Maldonado's errant throw, and the Braves increased their lead in the second after B.J. Upton drew a leadoff walk. He scored when Simmons and Pena followed with consecutive singles against Peralta.
"Besides Freddie's homer, we worked good counts, we got runners on and gave ourselves opportunities to drive in runs," Justin Upton said. "We came up with a couple hits. You've got to play that game if you're going to win. It's good that we showed that tonight."
Mark Bowman is a reporter for MLB.com. This story was not subject to the approval of Major League Baseball or its clubs.