MLB.com Columnist
Jonathan Mayo
Toussaint impresses with personality, arm
Draft prospect, son of Haitian politician, credits parents for positive demeanor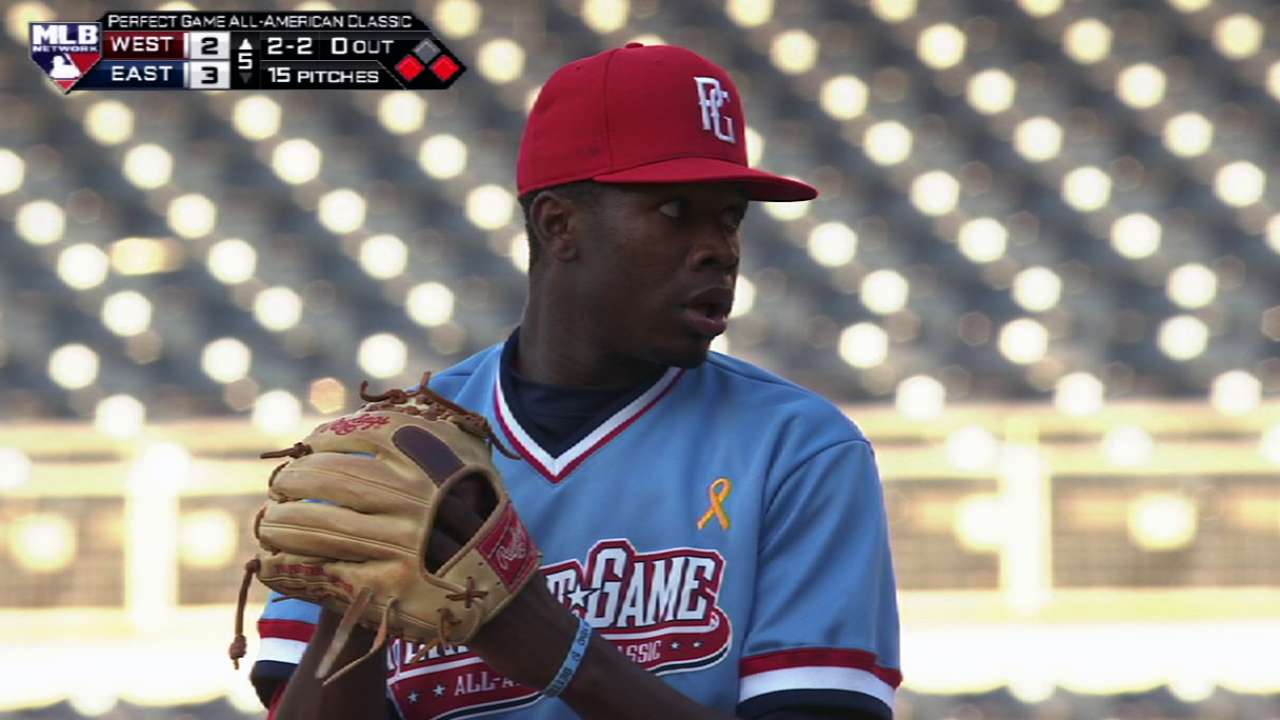 No one would blame Touki Toussaint if he was a little bitter, had an edge or a bit of an attitude. He's moved twice and hasn't had contact with his father for years.
Here's the amazing thing. Even the toughest scout in the world would be hard-pressed to find a cynical bone in this talented Florida high school right-hander's body, instead of anger or negativity, Toussaint is a veritable ray of sunshine, the kind of person who makes others around him feel good about themselves because of his positivity.
"He has this engaging, addictive personality," said Matt Cleveland, Toussaint's head coach at Coral Springs Christian Academy. "People just want to be around him. Our program becoming what it has is a testament to him, because of the kind of kid he is. He has a huge smile. He's a great teammate. He's not cocky in the least bit. He doesn't need any kind of attention."
Perhaps Toussaint hasn't sought it out, but it's found him. That might have something to do with the fact that he's one of the better high school pitchers in the Draft class of 2014, one who could very well hear his name called in the top half of the first round on June 5. Scouts have been coming in droves for quite some time.
"He's learned how to deal with it," Cleveland said, admiringly. "He'd rather just go out and play baseball. His love for the game is what will make him special. He's been a superstar basically for two years. The way he's handled it has been pretty special."
What has allowed Toussaint to know how to handle this kind of pressure? The answer might be surprising. The 17-year-old, currently ranked No. 16 on the current Draft Top 100 prospects list, actually gives some credit to the man he hasn't seen for a decade.
"When I was in Haiti, I lived with my dad, he was a senator and he got a lot of attention," Toussaint said about his father, Dany. "I saw how he went about his business. I figured if he can do it, I can do it. I don't like the cockiness, I've seen people blow up. Without my teammates, I wouldn't be who I am today."
Toussaint was born in Florida, but when he was still just an infant, his mother, Kahaso Kiti, decided to move back to Haiti to be with his father. He lived there until he was 7, but things didn't work out between the two parents and Kiti brought her son back to Florida, where he's been since. While living apart from his father, the former senator and onetime presidential candidate who has had some trouble with those in power in Haiti, impacted Toussaint early on, it never seemed to consume him. That's largely because of the influence of his mother, who Toussaint calls his "rock."
"If it wasn't for her, I wouldn't be the person I am today," Toussaint said. "She always motivates me, she urges me to get better every day. I don't know what would be going on if I didn't have her."
"We have a great relationship," he continued. "It's not like I'm missing a father figure. My mom is my everything. I can talk to her about things that I'd talk to my dad about. It didn't really affect me. When I was younger, I did. Now, it's fine. You just have to keep moving."
Toussaint has kept moving forward in terms of his baseball abilities. An impressive two-way player who Cleveland thinks could be a position player at the next level as well, Toussaint didn't even really get serious about baseball until he was about 12 or 13.
Toussaint had tried the sport when he was 9, but after striking out the vast majority of the time, he gave it up and continued to focus on soccer. He didn't return to organized baseball for three years. It's been almost entirely all baseball for Toussaint since then.
"Since then, I fell in love," Toussaint said.
Toussaint didn't pitch all that much, playing all over the field initially. Then Cleveland made him his closer, a move that might be forever known as the time where Toussaint found where he truly belonged.
"I told him, 'I don't pitch that much, but I'll come in and throw for you,'" Toussaint recalled. "The next year, he said, 'I'm going to make you a starter.' Since then, I've kept working at my craft."
Toussaint's craft features a fastball that can touch the mid-to-upper 90s and perhaps the best breaking ball of any hurler in the class. His changeup has improved steadily over the past year, giving him the chance to have three above-average to plus pitches in the future.
"Arm speed; he has a really, really fast arm," one scouting director said. "He's a very good athlete. "Being as athletic as he is, I think professional pitching coaches would enjoy getting him."
The one thing that has held Toussaint back in the past has been his command, struggling with it mightily at times. A dominant performance early this spring at USA Baseball's National High School Invitational was a step in the right direction, though he still walked five. Cleveland takes exception to people still harping on his ace's control, believing Toussaint has shown a more advanced feel for pitching as he's gotten into a better routine, rather than the uneven one that comes with the summer showcase circuit..
"I'm interested that people are still harping on his command issues," said Cleveland, who pointed out that Toussaint went from never having thrown a complete game to finishing the 2014 season with four straight. "People can't say he hasn't figured it out. People are living off of what happened in the past. Anyone who's watched him this spring, he's definitely figured out his mechanics. Has he been able to pinpoint every pitch? No. But whether he goes to Vanderbilt or signs, he's going to get regular work."
Once again, Toussaint takes what could be a negative and turns it into something positive, using critiques about his performance to fuel him.
"It definitely motivated me," Toussaint said. "People are telling me that I needed to throw strikes. It's not like I'm not trying to throw strikes. It definitely put a chip on my shoulder. There's a lot of work to be done in terms of my mechanics, but I just keep working. I never took it as a negative.
"I feel like they kind of helped me. I don't look at any of it negatively. I'd just say thank you. I know I'm trying, I'm working on it. It's all help and love. They wouldn't say anything if they didn't want me to succeed."
Now he will get the chance to do just that, whether it's with a professional organization or with the highly-regarded Vanderbilt program. Wherever he goes, there clearly will be one truly driving influence.
"I just want to play baseball, college, pro, it doesn't matter," he said. I just want to play. I want to make my mom proud."
Jonathan Mayo is a reporter for MLBPipeline.com and writes a blog, B3. Follow @JonathanMayoB3 on Twitter. This story was not subject to the approval of Major League Baseball or its clubs.