MLB.com Columnist
Tracy Ringolsby
Three up, three down: Tigers firing on all cylinders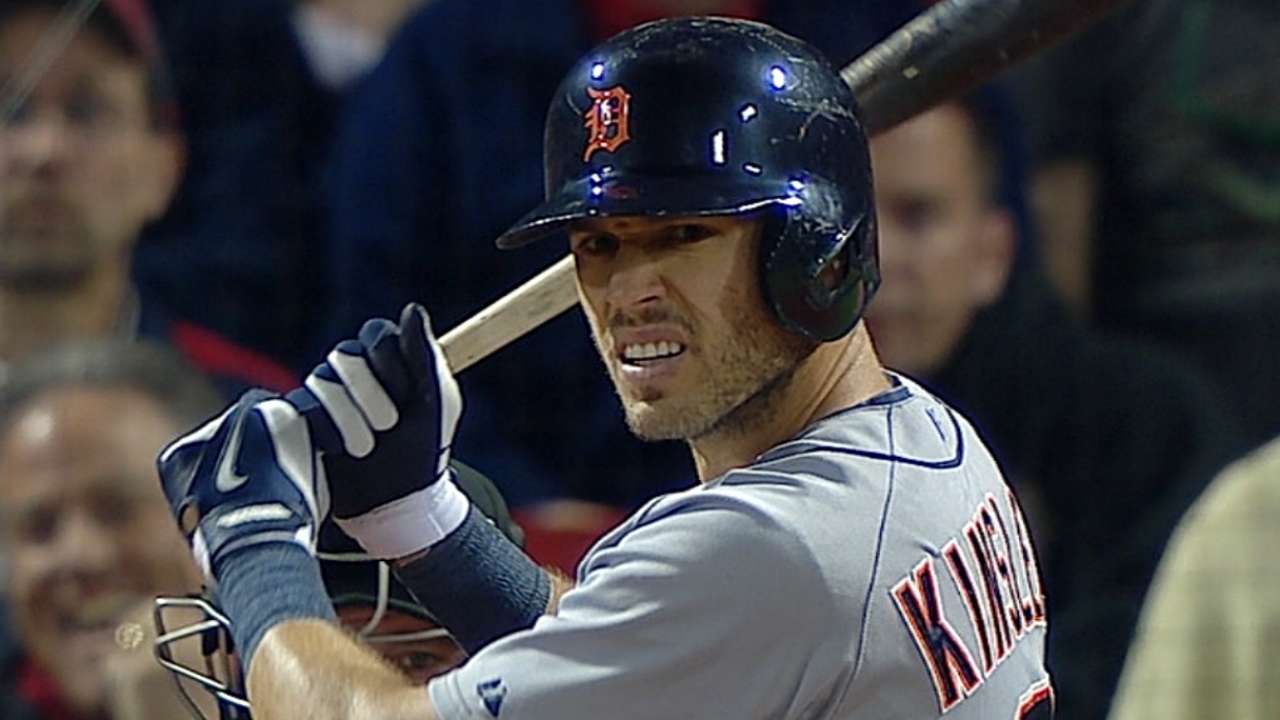 UP: Tigers
The Tigers still feel like they let the American League championship slip away in six games against Boston last October. That can't be changed, but Detroit did make a statement with a three-game weekend sweep at Fenway Park. But nobody should be surprised. The Tigers have won 15 of their last 18, and now lead second-place Kansas City by seven games in the AL Central. Off to its best start since that 35-5 beginning to 1984, Detroit is riding an 11-game road winning streak.
It's been a team effort for the Tigers, who compiled a Major League-best 2.17 ERA and allowed a paltry .208 average in their 18-game surge. The A's have the second-best ERA in the AL during that stretch, nearly a full run higher at 3.04.
Leadoff hitter Ian Kinsler has hit .360 in the 18 games; he is third on the team, behind Miguel Cabrera (.384) and Victor Martinez (.380). Max Scherzer and Rick Porcello share the AL lead with 4-0 records in four starts since April 29, Scherzer compiling a 1.05 ERA and Porcello 1.95.
DOWN: Braves
A struggling Braves offense was covered up in April by a starting rotation that had one of the most dominating months. When the rotation slipped to being just good in May, Atlanta slipped into a 6-10 funk and now finds itself nursing a half-game lead on second-place Washington in the National League East.
The Braves went 17-8 in April, thanks in large part to a pitching staff with a 2.60 ERA, including a rotation ERA of 2.27 as the starters were a combined 11-6. The rotation is only 4-9 in May, and the ERA has climbed to 3.61 for the rotation, 3.60 overall.
The offense, meanwhile, has hit hard times. Atlanta has hit for a Major League-low .218 average and has scored 2.4 runs in 16 games, scoring two or fewer runs in nine games. Three regulars are hitting .200 or worse -- Justin Upton (.200), B.J. Upton (.184) and Evan Gattis (.196). How bad is it? That's the lowest May average for the franchise since its turnaround began in 1991, 22 points lower than the 2004 Braves.
UP: Astros
It might not seem like a big deal to some teams, but Astros won back-to-back series this week. They took two of three from the Rangers and the White Sox. It's the first the Astros have won a series with Texas since 2008. They have now won five of their last seven games. That's a big deal in Houston, where the Astros had opened the season losing 26 of 37 games, and won only two of their first 12 series. They took two of three from the Yankees to open the season, and two of three from the Mariners April 21-23.
It was a team effort. Houston averaged 4.9 runs and hit .401 in the last seven games, with 10 home runs. Six regulars were hitting .308 or better, led by Jose Altuve at .412. Altuve also led Astros regulars in hitting in the first 37 games at .276, the only Houston regular who hit .250.
A pitching staff that compiled a 4.95 ERA in the first 37 games sliced that number to 3.00 in the last seven, and Dallas Keuchel notched a seven-hit shutout in an 8-0 win against Texas on Wednesday. Chad Qualls, whose 4.09 ERA in the first 37 games was the lowest of any Astros reliever, converted both saves last week.
DOWN: Indians
Forty-three games into last season, the Indians were 26-17, leading the AL Central by 2 1/2 games and on their way to an AL Wild Card berth. This year? Well, they were tied for the division lead after Opening Day, but they have faded since. Cleveland woke up Monday morning 19-25, in last place in the division, 10 1/2 games behind first-place Detroit.
The Tribe is hitting .244, down 19 points from the first 44 games a year ago, and averaging 4.09 runs per game, well below the 4.98 at this time last year. Carlos Santana has seen his average fall from .290 to .152, and Nick Swisher has slipped from .274 to .196.
The team ERA has increased more than a run from a year ago (3.94 to 4.97) when the Indians had five relievers with an ERA of 2.70 or lower 54 games into the season, and Justin Masterson was 7-2 with a 2.83 ERA. Masterson is not only 2-3 with a 5.06 ERA this year, but he has allowed five or more runs in five of his 10 starts, including each of his last two when he has been charged with 12 runs in 10 innings.
UP: A's
After a 6-4, 10-inning loss to Seattle in the first game of a May 7 doubleheader, Oakland had lost three in a row for the second time this season. Drew Pomeranz stepped into the rotation in the second game that day, worked five shutout innings in a 2-0 A's victory, which sent them on a 9-1 run.
Five of those wins have come by margins of eight runs or more. Oakland has averaged 7.1 runs in those games and has gotten productive efforts out of Brandon Moss (14 RBIs), Josh Donaldson (11 RBIs) and Josh Reddick (11 RBIs).
The rotation is 7-0 with a 1.57 ERA in the 10-game run, including Pomeranz winning both of his starts with 10 shutout innings.
DOWN: Rangers
The Rangers lost a series to the Astros for the first time since 2008 last week. They have fallen below .500 (21-23) and into fourth place in the AL West, seven games behind the A's. And then last week they lost starting pitchers Martin Perez and Matt Harrison for the season, expanding their disabled list to 13 players, a Major League high. In addition to Perez and Harrison, the list includes Opening Day starter Tanner Scheppers and starter Derek Holland.
The key offseason move hasn't worked out. Prince Fielder has hit only .247 with three home runs and 16 RBIs. Meanwhile, Kinsler, the leadoff hitter they sent to Detroit, has keyed the Tigers' domination of the AL Central and is hitting .315 with four home runs and 20 RBIs. It doesn't help Texas' offense that Adrian Beltre, the other big bat on the roster, has been limited to 30 games, hitting .252 with three home runs and 14 RBIs.
The pitching staff has felt the impact, particularly Yu Darvish, who is 3-2 with a 2.32 ERA. In his two losses and three no-decisions, he has allowed only 11 earned runs in 32 1/3 innings.
Tracy Ringolsby is a columnist for MLB.com. This story was not subject to the approval of Major League Baseball or its clubs.