Reds flash leather, then win in 15 on Frazier's HR
Phillips, Hamilton make game-saving grabs in extras to deny Nats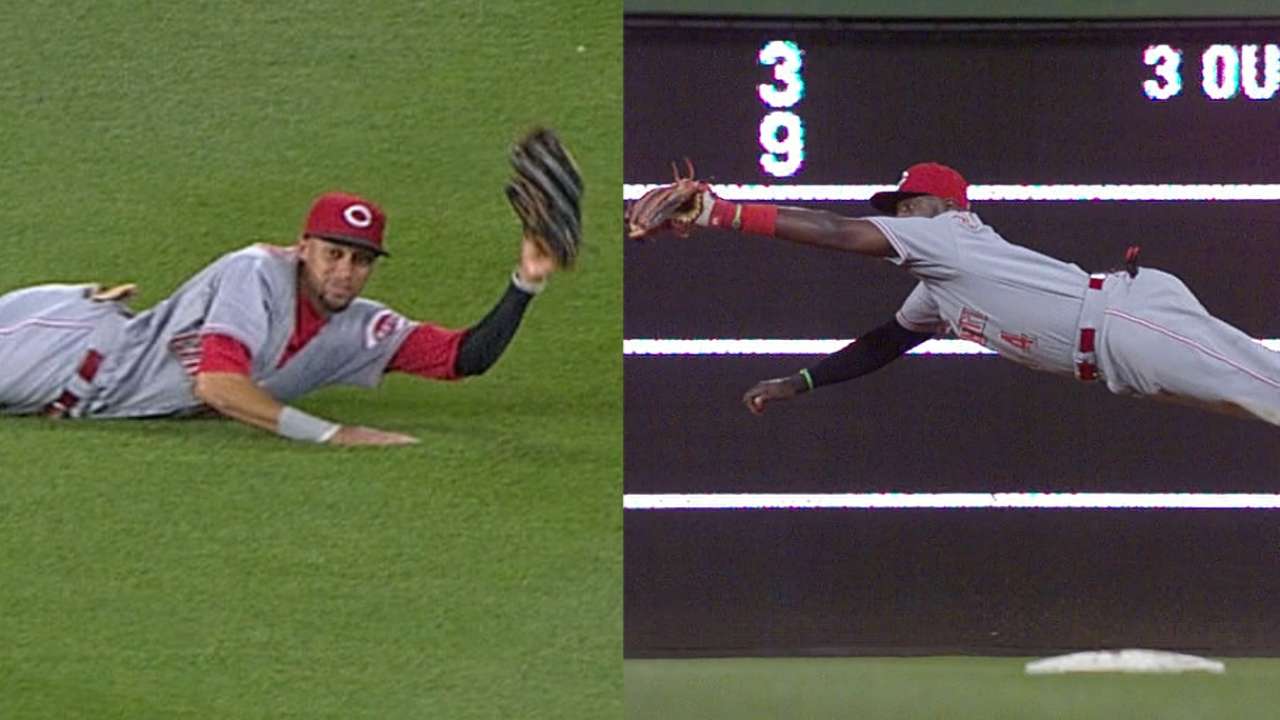 WASHINGTON --
Todd Frazier
stepped into the batter's box a few minutes before midnight Monday with one thing on his mind -- the third baseman wanted to get a pitch he could drive.
Frazier got his wish and did his job, hitting a tiebreaking two-run homer off Ross Detwiler with one out in the top of the 15th inning that helped the Reds to a 4-3 victory over Washington at Nationals Park.
The game went to extra innings after the Nationals tied it at 2 in the bottom of the ninth. Frazier had gone 0-for-3 during the first nine innings, got hit by a pitch and scored a run. Everything changed for him during bonus baseball as he singled twice before belting the two-run homer, which also scored Brandon Phillips, who began the inning with a single off Detwiler (0-2)
"I had two good at-bats before that," Frazier said. "You know, it's crazy how the game goes. You're 0-for-3 and you get three more at-bats in extra innings and you go 3-for-3, so it was like a whole new game. I got a ball up, elevated and tried to drive it."
He drove it over the fence in left-center to give the Reds (20-23) a 4-2 lead. The Nationals (23-21) got a run back in the bottom of the 15th on a Greg Dobbs bloop single with two outs before Logan Ondrusek (1-2) got Danny Espinosa on a fly ball to deep right to end the four-hour, 58-minute series opener.
The Reds certainly had their chances on offense, but went only 2-for-24 with runners in scoring position and stranded 14. Washington experienced similar problems, finishing just 2-for-18 with runners in scoring position and leaving 13.
Cincinnati's bullpen has struggled all year, but the group came through this time. Starter Mike Leake gave up just one run on seven hits in 6 2/3 innings before the bullpen held the Nationals to two runs on six hits in the final 8 1/3 innings. Aroldis Chapman couldn't nail down a save in the ninth, but came back to throw a strong 10th.
But what may have been even bigger for the Reds was their defense, which made several spectacular plays. Neftali Soto came on at first base in the ninth and made a great catch of an Ian Desmond foul ball while leaning over the tarp next to the stands in the 13th.
Phillips saved the game in the 12th with a diving catch of a Wilson Ramos liner behind the bag at second with runners on first and third and two outs. Center fielder Billy Hamilton used his speed to make a flying, diving grab of an Anthony Rendon shot in the gap in right-center with two outs and a runner on third in the 14th.
"I had to get straight to the ball," Hamilton said. "I knew if I was going to get it, I had to go right away and hesitate at all. If I had hesitated one little step, it would have been down."
The combination of all of those plays is what made Reds manager Bryan Price so happy. He felt that so many people played a part in the win, something that clearly delighted the skipper.
"That was just a total grind," Price said. "Every player on the team played some sort of role in that game, and the defense was phenomenal. It was really a great game."
The Reds manufactured a run and took a 1-0 lead in the fourth. Washington starter Stephen Strasburg hit Frazier with one out. Brayan Pena singled, moving Frazier to third base.
With
Chris Heisey
up, a pitch briefly got away from catcher Ramos. Pena broke for second and Ramos tried to throw him out. Frazier took off for home on Ramos' throw and scored for a 1-0 lead, although the Nationals did retire Pena after a brief rundown.
The Reds came through again in the fifth. Strasburg hit Zack Cozart to open the inning. Leake -- Strasburg's Little League teammate -- then sacrificed Cozart to second, and he went to third on Hamilton's infield single.
Skip Schumaker
followed with an RBI single to center for a 2-0 lead. The Reds spoiled another good chance in the seventh as Hamilton reached third with two outs. He then appeared to break for home a little early on a Strasburg pitch, and the Nationals caught him in a rundown for the final out.
Washington rallied to tie it with single runs in the seventh and ninth, forcing extra innings. Denard Span ended Leake's night with an RBI single in the seventh that made it 2-1. The Nationals tied it in the ninth on pinch-hitter Scott Hairston 's sacrifice fly off Chapman.
"We had opportunities tonight," Nationals manager Matt Williams said. "We just didn't come through. You have to understand it is one game. A loss is a loss and a win is a win."
Jeff Seidel is a contributor to MLB.com. This story was not subject to the approval of Major League Baseball or its clubs.