Nationals rally in ninth, but fall to Reds in 15
Hairston's sac fly ties game; Washington twice denied win in extras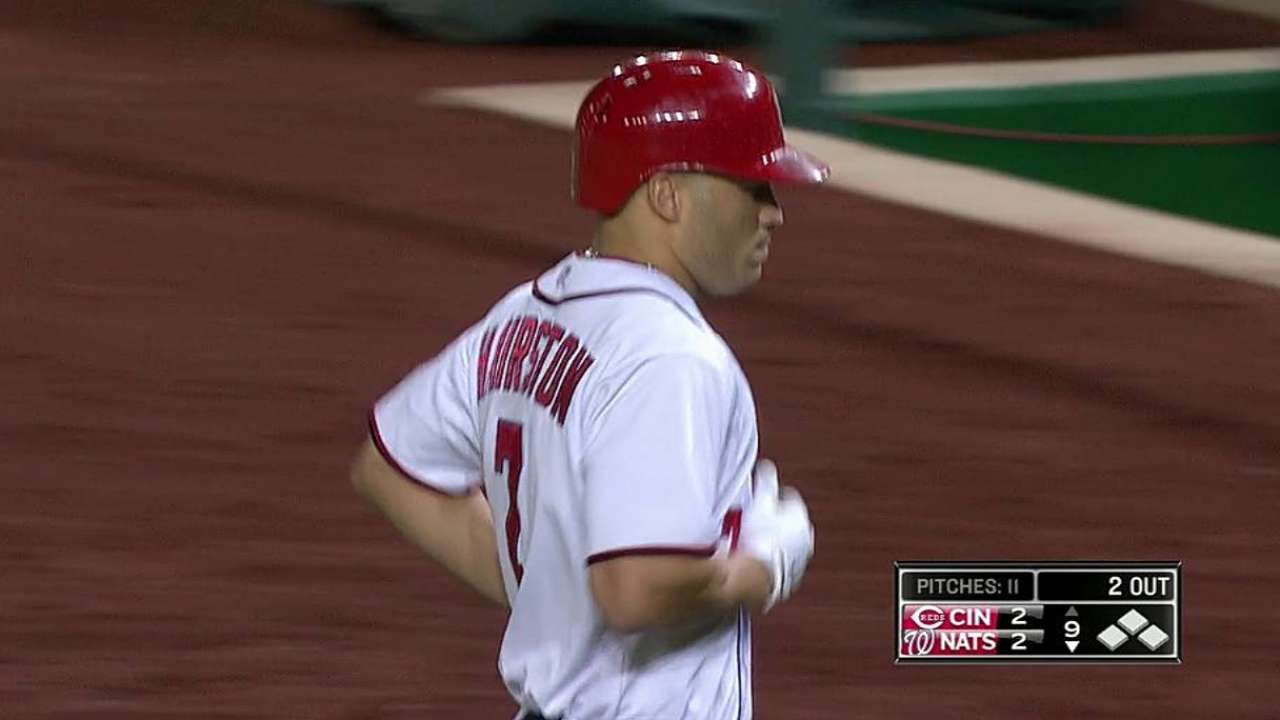 WASHINGTON -- Todd Frazier's two-run home run in the top of the 15th inning helped the Reds defeat the Nationals, 4-3, at Nationals Park on Monday night.
The score was tied at 2 when Cincinnati rallied against left-hander Ross Detwiler. After Brandon Phillips singled and Devin Mesoraco popped up to third baseman Anthony Rendon, Frazier swung at a 2-1 pitch and hit it over the left-center-field wall to give the Reds a two-run lead.
"I [wanted] to drive something," Frazier said. "I had two good at-bats before that. You know, it's crazy how the game goes, you're 0-for-3 and you get three more at-bats in extra innings and you go 3-for-3, so it was like a whole new game. I got a ball up, elevated it and tried to drive it."
Detwiler said he was trying to induce Frazier to hit a ground ball, but the lefty said it was poor execution and pitch selection on his part. Detwiler threw a changeup to Frazier in that at-bat. The home run ended a 27-innings scoreless streak for Washington's relievers.
"It was pretty much bad all around," Detwiler said. "It was just one bad pitch. It was stupid. It [stinks] that our team is fighting all night long. I make one mistake. I pretty much cost us the game."
The Nationals didn't go down quietly in the bottom of the 15th against Logan Ondrusek. With two outs, Greg Dobbs blooped a single to right-center field, scoring Jayson Werth. But Danny Espinosa flied out to right field as the Nats dropped to 23-21, a game and a half behind the Braves.
Nationals right-hander Stephen Strasburg had another quality start, but Reds right-hander Mike Leake was better.
Strasburg lasted seven innings and allowed two runs on six hits, but didn't figure in the decision.
In the fourth, with Reds on first and third and Chris Heisey at the plate, Strasburg threw a pitch in the dirt that landed in front of catcher Wilson Ramos. Brayan Pena attempted to advance to second while Frazier broke for home. Frazier was able to score the first run of the game, while Pena was caught in a rundown and was tagged out.
An inning later, Zack Cozart scored on a single by Skip Schumaker to make it a 2-0 game.
"I felt pretty good. I battled. The ball was up a little bit tonight," Strasburg said. "I was trying to keep it close."
Leake was dealing on the mound. He lasted 6 2/3 innings, allowed one run on seven hits and struck out four. The run came in the seventh, when Denard Span singled to right field, scoring Nate McLouth. Leake was taken out in favor of reliever Sam LeCure, who was able to get Rendon to ground out to end the threat.
The Nationals tied the game in the bottom of the ninth against closer Aroldis Chapman. With Espinosa on third and one out, Scott Hairston swung at a 2-1 pitch and hit a sacrifice fly to left, scoring Espinosa to make it a 2-2 game.
"Scott came through with a great sac fly," the Nats' Kevin Frandsen said. "It's not easy, but at the same time, that's what you prepare for when you know Chapman is in the bullpen is coming out for the save."
Washington went 2-for-18 with runners in scoring position and left 13 runners on base. The team's biggest chances to win the game came in the 12th and 14th innings.
With runners on first and second in the 12th and J.J. Hoover on the mound, Ramos hit a soft line drive up the middle, but second baseman Phillips made a diving catch to end the threat.
"It's the game. It the way it goes. All you can do is hit it. Sometimes you wish you could steer it, but that doesn't happen," manager Matt Williams said.
After Frandsen led off with a double, Jose Lobaton came to the plate. Instead of having Lobaton bunt, Williams let him swing away and he struck out.
"We have one guy left on the bench and we have to take our shot to win the game," Williams said. "We could try to bunt him to third with a pitcher, but Loby is on the bench. We are going to take a shot. He looked to get a ball on the right side."
After Span grounded out to advance Frandsen to third, Rendon hit a line drive to center fielder Billy Hamilton, who made a diving catch to end the threat.
"I knew he had a chance of catching it. I was hoping the ball might die; it didn't die," Rendon said.
Bill Ladson is a reporter for MLB.com and writes an MLBlog, All Nats All the time. He also could be found on Twitter @WashingNats. This story was not subject to the approval of Major League Baseball or its clubs.