Dodgers unable to regain Snake-charming ways
Defensive miscues, HRs sting Haren in first series loss to D-backs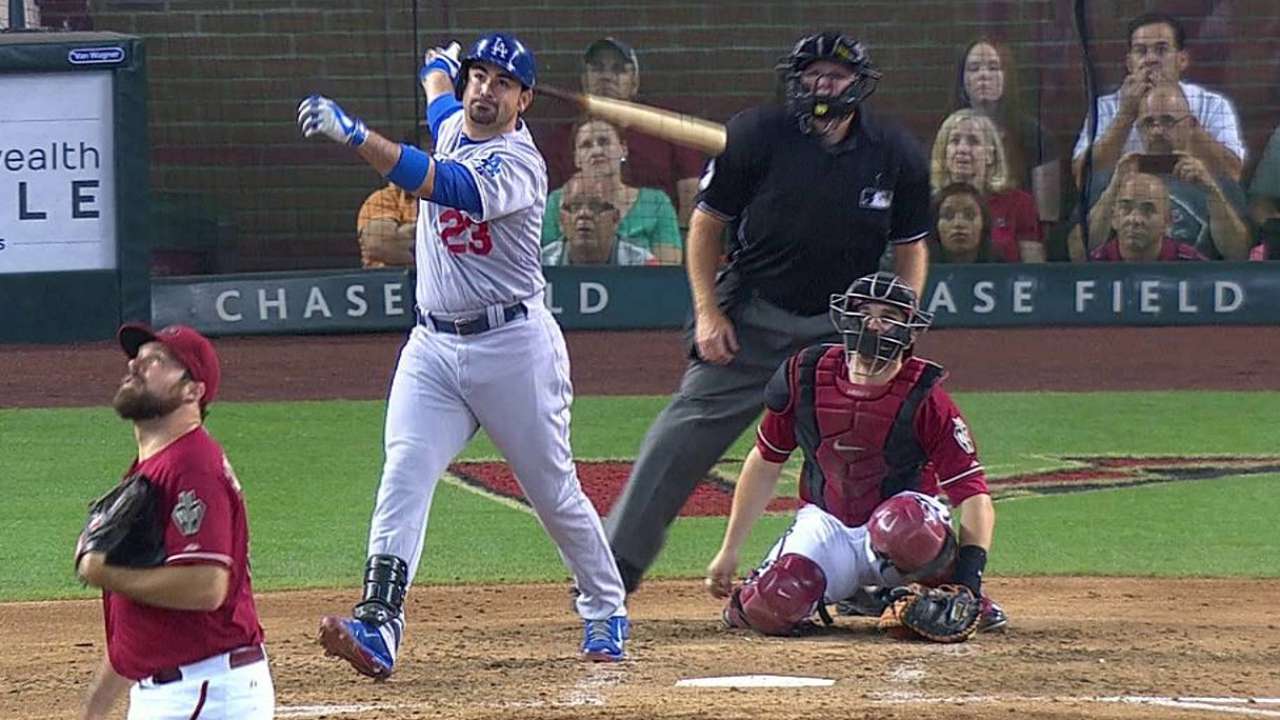 PHOENIX -- Things have really turned badly for the Dodgers. They can't even beat the D-backs anymore.
After winning eight of the first nine meetings this year, a 5-3 loss Sunday followed Saturday night's 18-7 humiliation and left the Dodgers a season-worst five games behind first-place San Francisco.
They are the first visiting team to lose a series at Chase Field this year and have won only two of their last eight series.
"If we keep losing series, we're not going anywhere," said Dodgers manager Don Mattingly. "We have to grind out wins every day or we're in trouble. We need to play every day with a sense of urgency. We can't sit around and wait for a run."
Dodgers starting pitcher Dan Haren (5-2) served up home runs to Cody Ross and Eric Chavez and four earned runs overall, the first time he'd allowed more than three earned runs in 12 starts dating back to last year. Haren, a former D-back, had been 2-0 this year and 4-1 lifetime against Arizona.
Haren took a portion of the blame for not putting away hitters the way he did in April, but he also suggested that the entire team might be taking its talent for granted.
"I don't have the answer, but we're so talented, sometimes you expect the talent to take over sometimes," he said. "We haven't hit our stride, haven't put together several games that are real clean. We have a long way to go and we're definitely not buried. Some things have gone really wrong, losing [Clayton Kershaw and A.J. Ellis], but we could be in a lot worse shape."
The Dodgers couldn't even win with power from the middle of their lineup, as Hanley Ramirez and Adrian Gonzalez homered off Arizona starter Josh Collmenter (2-2). But the Dodgers had only seven hits total, three by Gonzalez. Yasiel Puig went 0-for-3 with a hit by pitch to snap his hitting streak at 16 games and RBI streak at eight. Puig has been hit by pitches a team-high four times.
Poor defense, and a shift that didn't work, contributed to two of Arizona's runs. But Brandon League checked in with his 13th and 14th consecutive scoreless innings.
"We got into this series and kind of got a little momentum last night, it was good for us," said Arizona manager Kirk Gibson. "The thing about last night's game, unless you play good tonight, it doesn't really mean anything."
After spotting the D-backs a seven-run head start Saturday night, the Dodgers got the jump in this game with a two-out homer in the first inning by Ramirez, his sixth, on a 2-2 Collmenter curveball.
The Dodgers did everything they could defensively to help Arizona tie the game in the bottom of the second. Right fielder Puig misplayed Ross' line drive into a double, third baseman Juan Uribe double-clutched on A.J. Pollock's grounder that was scored an infield single, and shortstop Ramirez threw a double-play relay wildly to allow Ross to score from second base.
"We didn't do a very good job early," Mattingly said. "Their first couple runs should have been zeros."
Gonzalez reclaimed the lead for the Dodgers in the third inning -- following a two-out walk to Ramirez -- with his 10th homer, a booming blast past the pool where the Dodgers celebrated last year's division clincher.
The Dodgers' defense reared its ugly head again in the third inning. After Gerardo Parra's single, a wild pitch to Chris Owings squirted past catcher A.J. Ellis and Parra took second. He was able to score despite an exaggerated shift on Owings, whose single eluded second baseman Dee Gordon's dive as Ramirez deferred to the rangy second baseman.
"We didn't score after the [third]," Mattingly said. "In this park, you've got to put more runs on the board. We didn't do enough."
Ross, a former Dodger, tied the game leading off the bottom of the fourth with his first home run of the year. The Dodgers' defense rebounded to keep the score there. Pollock followed Ross' homer with a double and went to third on a groundout. With the infield up, Collmenter sent a shot back at Haren, whose glove slowed it down. Gordon did a 360 spin, retrieved the deflection and got the out at first while holding Pollock at third, where he was stranded.
Chavez, who didn't even start the game, gave Arizona its decisive lead in the fifth. Owings led off with a single and two outs later, Chavez lined a 3-2 pitch to right for his second homer in as many games. Chavez entered the game in the fourth for Martin Prado, who left with blurred vision in his left eye.
"Bad pitch to Chavez," Haren said. "Both home runs were on two-strike pitches. I'm not putting guys away. It was a good at-bat, give him credit, too. But the last three games have been a struggle for me. I've got to make better pitches."
The Dodgers could have made it closer in the eighth inning when Andre Ethier singled with two out and runners on first and second. But Ramirez pulled himself up at third base as right fielder Parra's throw came into second base, conceding the run. Matt Kemp then lined out to second base.
Ken Gurnick is a reporter for MLB.com. This story was not subject to the approval of Major League Baseball or its clubs.