Marlins fall short after Turner's first-inning hiccup
Starter allows three runs in opening frame; Miami happy with road trip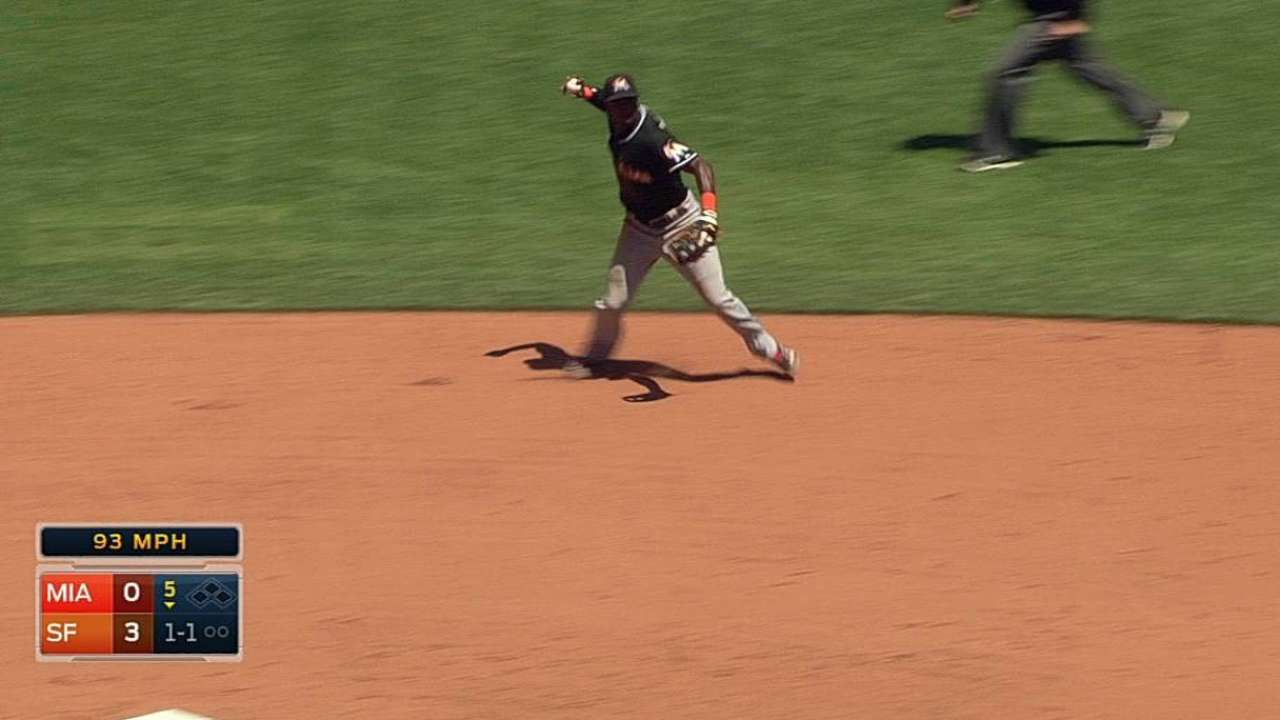 SAN FRANCISCO -- Jacob Turner still hasn't won on the road in his career, though he pitched well enough for a better result Sunday.
Marlins manager Mike Redmond saw a few good things on the road trip, the longest of the season, even though he lost his best pitcher for the year.
Adeiny Hechavarria had two hits and scored a run but the Miami Marlins lost to the San Francisco Giants, 4-1, on Sunday to split the series.
Turner (0-2) allowed four runs on six hits over six innings. He walked one, hit a batter and struck out seven. He gave up three runs on four hits in the first inning.
"Give them credit. I made some good pitches and they got hits on them," Turner said. "I made a couple of mistakes, too. You don't want to hit the leadoff batter on an 0-2 pitch."
Turner fell to 0-11 in 18 road games, though he said there's no frustration in it.
"All I can do is go out and give it everything I have," Turner said. "Wins, losses, those are things I can't control."
With the exception of the first inning, in which the Giants hit four consecutive singles after two were out with the bases empty, Turner pitched effectively. Even in the first, most of the singles were grounders that found holes.
"After the first inning, he threw the ball well. He settled in and he was pretty tough. It's good to see him go deep into the game," Redmond said. "As a pitching staff, we've had counts where we are ahead of guys but just can't finish. That's something you have to do to succeed in the big leagues."
Giants starter Ryan Vogelsong (2-2) shut down the Marlins on five hits through seven innings.
"Getting them to hit ground balls to [shortstop Brandon] Crawford," Vogelsong said when asked what was working. "That was the plan. He's pretty good. Get as many ground balls to him as we can."
Overall, Redmond was happy with the road trip, in which the Marlins finished 4-7, including winning three of their last five.
"It was an emotional road trip," Redmond said. "Coming in here with a chance to win the series, these guys keep competing. We just finished 21 straight and guys are still going hard. I felt like we settled in this four-game set. We put ourselves in position with a chance to score runs. I felt like we proved to ourselves that we can win on the road."
Marlins first baseman Garrett Jones, who engaged Giants reliever Santiago Casilla in a rugged 10-pitch at-bat during the eighth inning, agreed with his manager.
"We had some improvement that started in L.A," Jones said. "We had better at-bats, things we've been doing at home. We had a tough time here in San Fran, but to take two here, we'll take it. We're looking forward to getting home and the day off."
The Jones vs. Casilla at-bat turned into a battle. The Marlins finally broke through in the eighth. Hechavarria led off with a single against reliever Jeremy Affeldt and Derek Dietrich followed with a double. Christian Yelich's infield grounder allowed Hechavarria to score.
Casey McGehee, who has a hit in eight of his last nine games against the Giants, followed with a single. Crawford kept the ball in the infield, saving a run.
That's when Jones entered the batter's box.
"That was a heck of an at-bat," Redmond said. "He was on top of his fastball and just missed that one. We had some opportunities to score. We came out swinging the bats all right."
The near-miss was a ball that just curved on the wrong side of the foul pole.
"As soon as I hit it, I knew I squared it but that I hooked it," Jones said. "I had him 3-0 and he made some good pitches and didn't give me much down the middle. He won that battle."
After Jones struck out, pinch-hitter Giancarlo Stanton flied out to right.
"That was our shot to get back into the game," Redmond said.
Rick Eymer is a contributor to MLB.com. This story was not subject to the approval of Major League Baseball or its clubs.