Doubleheader split puts Yanks alone in first place
Club drops second game to Pirates, but sits a half-game ahead of O's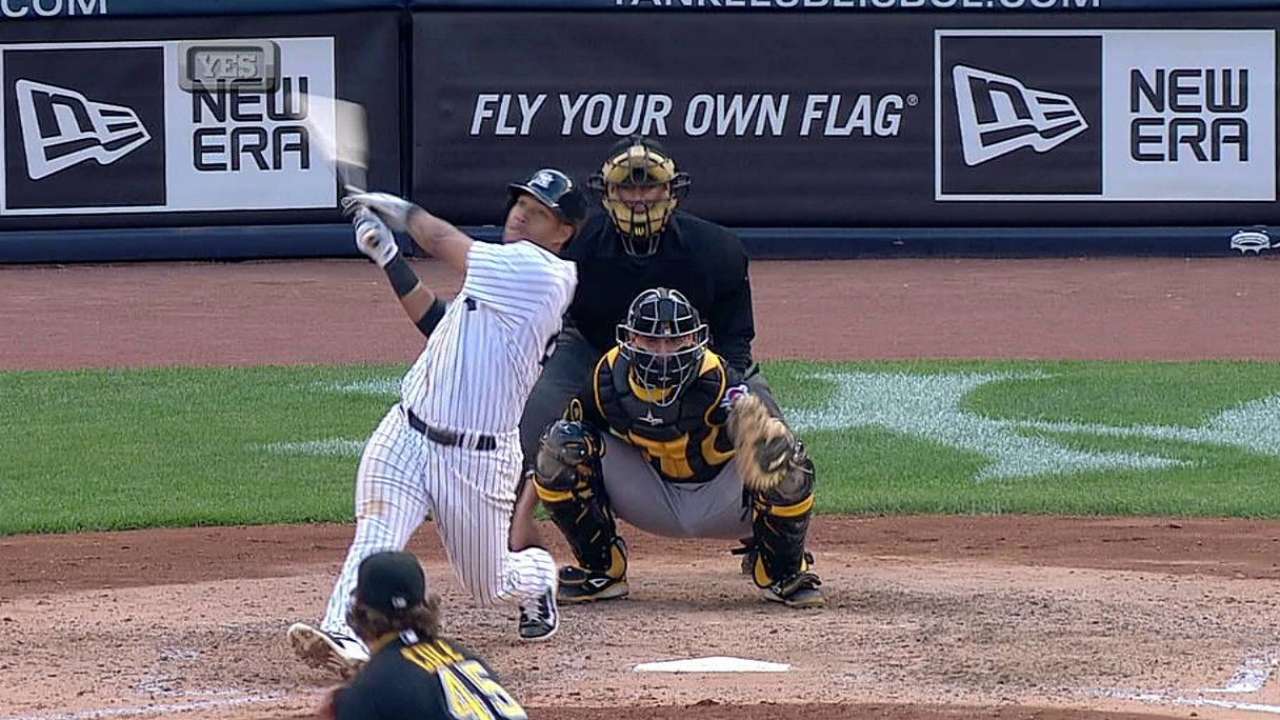 NEW YORK -- The American League's tightest division race keeps constricting. The Yankees used a doubleheader split with the Pirates on Sunday to pull into sole possession of first place in the AL East for the first time in two weeks, but they'll hold the slightest possible cushion heading into next week.
The Yankees own a half-game edge on the Orioles, and both teams will have a day off on Monday. New York had a chance to hold an even greater advantage, but Pittsburgh's Josh Harrison homered to left field in the seventh inning of Game 2 to send the Yankees to a 5-3 defeat.
"You can always look at the big picture," said Yankees manager Joe Girardi. "You win two out of three and you win four out of your last five games. Of course you get greedy when you win the first two games of the series and you've got a chance to win the third game. And it's a tight game."
The first game, a 4-3 Yankees win, saw New York punch ahead with a three-run burst in the first inning. The Yankees never trailed from that point but had to hold on late. The second game was more chaotic, with both teams making two errors on defense and numerous lead changes.
The Pirates (18-25) ended two innings on hits and baserunning blunders, but they were able to take the lead on a two-run home run by Starling Marte in the sixth inning. The Yankees answered with a deep ball of their own by Yangervis Solarte, but then Harrison pushed the Pirates ahead for good. Pittsburgh added an insurance run in the ninth inning on a sacrifice fly by former Yankee Chris Stewart.
Vidal Nuno, who started the second game for New York, completed six innings for just the second time this season and received a no-decision. Nuno gave up three runs -- two earned -- and he left a tie game after Solarte went deep. Alfredo Aceves took the ball next and gave up Harrison's home run, but Nuno was still relatively pleased with his performance.
"I was just making my pitches and making the ball move in and out. That helped me last that long," said Nuno, who credited catcher John Ryan Murphy for his preparation. "It worked out, a good mix by Murphy. We worked together. He had a good game plan. He studies. We talk. We have good communication."
Solarte, New York's third baseman, made a key error in the second inning that led to Pittsburgh's first run. Four innings later, with the Yanks trailing by a run, Solarte blasted his fifth home run of the season, a towering shot that landed in the right-field bleachers and made it a 3-3 game.
That set the stage for Harrison, who had his own blunder earlier in the game. The utility man doubled in the fifth inning, but he slipped when rounding second and was subsequently tagged out in a rundown. Harrison later found redemption with his homer and a highlight-reel catch in the eighth.
That last play, a diving catch that robbed Solarte of a sure double, may have saved the game. The Yankees had a runner on first base at that point, but after the catch, they didn't reach base again. Pittsburgh closer Mark Melancon pitched a perfect ninth inning for his sixth save.
"Harrison was a big reason they won that second game today," said Girardi. "His defense [and] his offense really hurt us today. Solo put a great at-bat on them and hit a rocket. They're probably playing no doubles there and he lays out. You don't see guys lay out 320 feet away very often, but he did."
The Yankees pushed runners to second and third with two outs in the seventh inning, and designated hitter Mark Teixeira had a chance to give them the lead. Reliever Tony Watson was able to bear down, though, and he got Teixeira to end the threat on a popup to second base.
New York, meanwhile, owned the endgame in the opener. The Pirates pushed the potential tying run to second base with two outs in the eighth inning, but David Robertson struck out Ike Davis and pitched a perfect ninth for his eighth save. Robertson, in the aftermath, was thrilled with the long day of work.
"I feel good about where we are," he said. "We had a little rough spell and lost two games in a row, but we turned it around and won a few ballgames here. We'll get on the road and hopefully pick up some more. But as far as first place, though, it's way too early to even be looking at the standings."
The Yankees (23-20) went into Sunday tied with Baltimore for the top spot in the AL East, and third-place Toronto lurked just a half-game behind them. Both the Orioles and Blue Jays lost Sunday, and the Yankees took sole possession of first place for the first time since May 4. All five teams in the division are within five games of first place, setting up a summer full of interesting twists and turns.
"Our division, we knew it was going to be extremely tough," said Girardi. "It seems like no one has taken off yet. Teams have had to deal with some injury issues, all of the clubs, really, in a sense. It sure beats the alternative of not being in first, but we know we've got a long way to go."
Spencer Fordin is a reporter for MLB.com. This story was not subject to the approval of Major League Baseball or its clubs.