Led by Gordon's two homers, offense roars to life
Left fielder goes 4-for-4 with career-high six RBIs to back Shields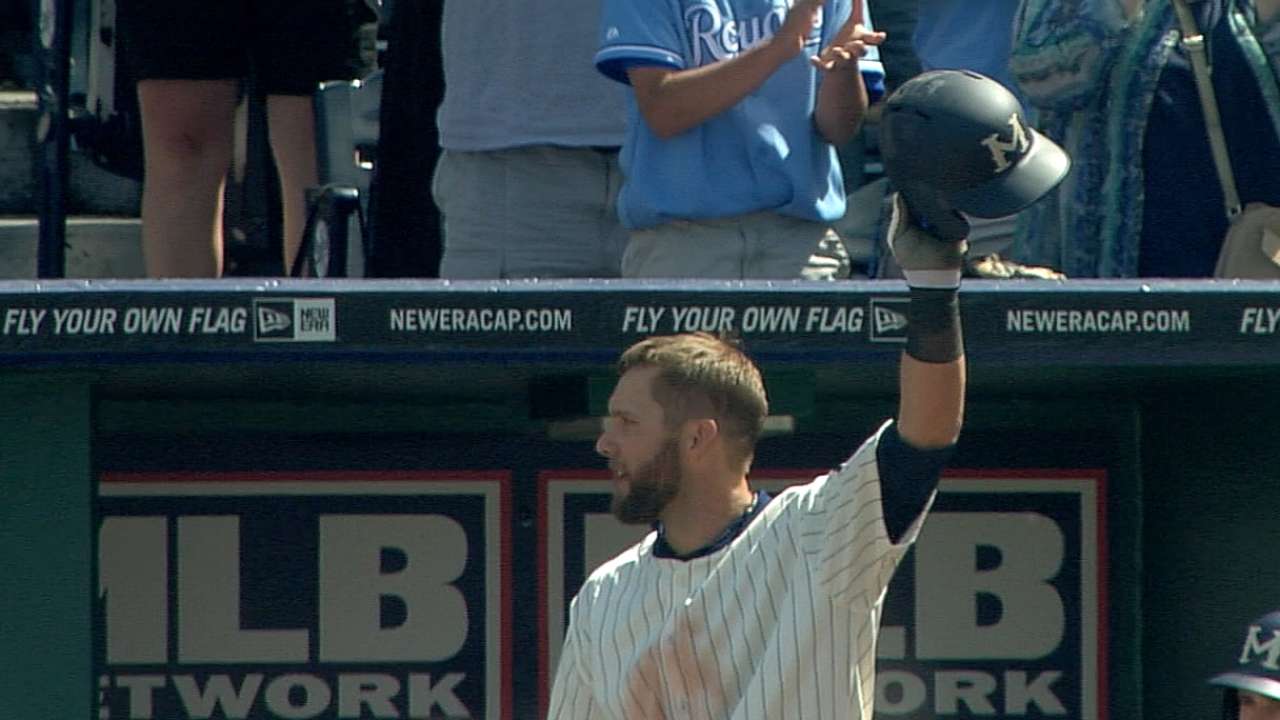 KANSAS CITY -- Maybe Alex Gordon and the Royals should wear those Kansas City Monarchs uniforms more often.
Gordon blasted a pair of three-run homers on Sunday to lead the Royals/Monarchs to an 8-6 victory over the Baltimore Black Sox, aka the Orioles, in the annual Salute to the Negro Leagues at Kauffman Stadium. The teams split the four-game series.
The six RBIs by Gordon were a career best and his four hits and two homers tied career highs.
The Royals were outfitted in cream uniforms trimmed in dark blue, their pants hitched up to the knees above their socks in mid-1920s style. And their hitters went back in time to borrow a little thunder from the Roarin' Twenties.
"I thought we looked pretty good today. ... Maybe it was the uniforms," Gordon said. "I should wear my pants up from now on."
The Royals had not been at their hitting, run-scoring best in the series' first three games (cynics say you can go back a lot farther than that). They had a grand total of two runs and two extra-base hits in those games.
But on Sunday they got a combined 7-for-8 with seven RBIs from Gordon and Billy Butler, hitting just ahead of the left fielder in the fourth spot.
"Yeah, two guys in the lineup that probably needed to get things going a little bit. We've kind of been scuffling," Gordon said. "It's a hard game. You're going to go through stretches like that, and you've got to keep grinding away, and hopefully, something clicks and starts working again."
Perhaps this signals the long-awaited hitting breakout.
"With our pitching staff and our defense, they've been keeping us afloat all year," Gordon said. "We're above .500 right now, and I don't even think we're playing well. So hopefully, our offense can pick it up like we did today, and we can start playing better."
Kansas City starter James Shields, who worked seven innings, picked up his sixth win in his last seven starts to satisfy the crowd of 22,692 fans who "dressed to the nines" or wore the free white fedoras, or at least wore Royals blue on a sunny, 71-degree afternoon.
For the defense, it was Gordon in left field who claimed the top highlight, banging into the wall in foul territory to catch David Lough's fly in the sixth.
"That's what we're supposed to do. That's what we're paid to do," Gordon said. "I actually enjoy running into the wall, as long as I don't fall down and hit my head and knock myself out [like last July 3]. I'll take the pain every day."
Gordon's first home run pulled the Royals to a 5-3 lead in the fifth inning. It came with two outs after Orioles starter Ubaldo Jimenez walked Nori Aoki and struck out both Alcides Escobar and Eric Hosmer.
Butler singled and Gordon sent a 1-1 pitch rocketing just over the right-field bullpen, a 401-foot shot.
In the seventh, reliever Troy Patton walked Hosmer, and Butler doubled to left-center. Gordon followed by sending a 1-0 pitch soaring over the right-center-field wall for three more runs. This one was a 407-footer.
And this time the fans wouldn't cease their roar of approval until Gordon's teammates urged him up the dugout steps for a curtain call.
"I've never had a curtain call. I didn't even know what to do," Gordon said. "They just told me to go wave my helmet, and hopefully, it's not the last. But it was pretty cool. It's something I won't forget."
His second home run gave the Royals an 8-3 lead. Shields surrendered all three runs in the third inning.
"He really had to grind through the third inning, and a lot of balls they hit just found holes," manager Ned Yost said. "At the end of that inning, [pitching coach] Dave Eiland turned to me and said, 'That's it, that's all they're going to get,' and he was right. He really got back on his game, and did a great job of keeping a good offense down."
Shields was excused after the seventh, and Kelvin Herrera breezed through the eighth. But Aaron Crow encountered ninth-inning travail. A walk, a single and a one-out home run by Adam Jones quickly turned a fat five-run lead into a mere two-run edge.
This came after Crow had pitched 17 consecutive scoreless innings and had a 0.00 ERA for the season.
"He gave up three runs. It happens. It just proves he's human," Yost said. "Now he's just got an ERA a little above zero."
An emergency call went out to Greg Holland, surgeon specializing in saves. He sewed up the victory with two quick outs and his 12th save.
Until Jones' home run, the Royals' bullpen had gone 26 straight innings without giving up an earned run. But thanks to the offense, the relievers for once had some runs to play with. Maybe something is percolating at long last.
Jimenez, chased after five innings, certainly noticed.
"I made a lot of good pitches, but they had a good approach," he said. "They didn't try to do too much. I was throwing a lot of sinkers down, and they found the holes."
"You've got to have production from the middle of your lineup -- it just shows [that if] you get two guys hot in the middle of your lineup, you can score some runs, and Billy had a great day, and Gordy had an even better one," Yost said.
"We knew all along that once we started struggling offensively, if we could just keep our heads above water until the offense caught fire, we'd be in good shape, and we've managed to do that so far."
Dick Kaegel is a reporter for MLB.com. This story was not subject to the approval of Major League Baseball or its clubs.