Padres claw back to force extras, but fall in 10th
Cabrera ties game with homer in ninth before Thayer allows walk-off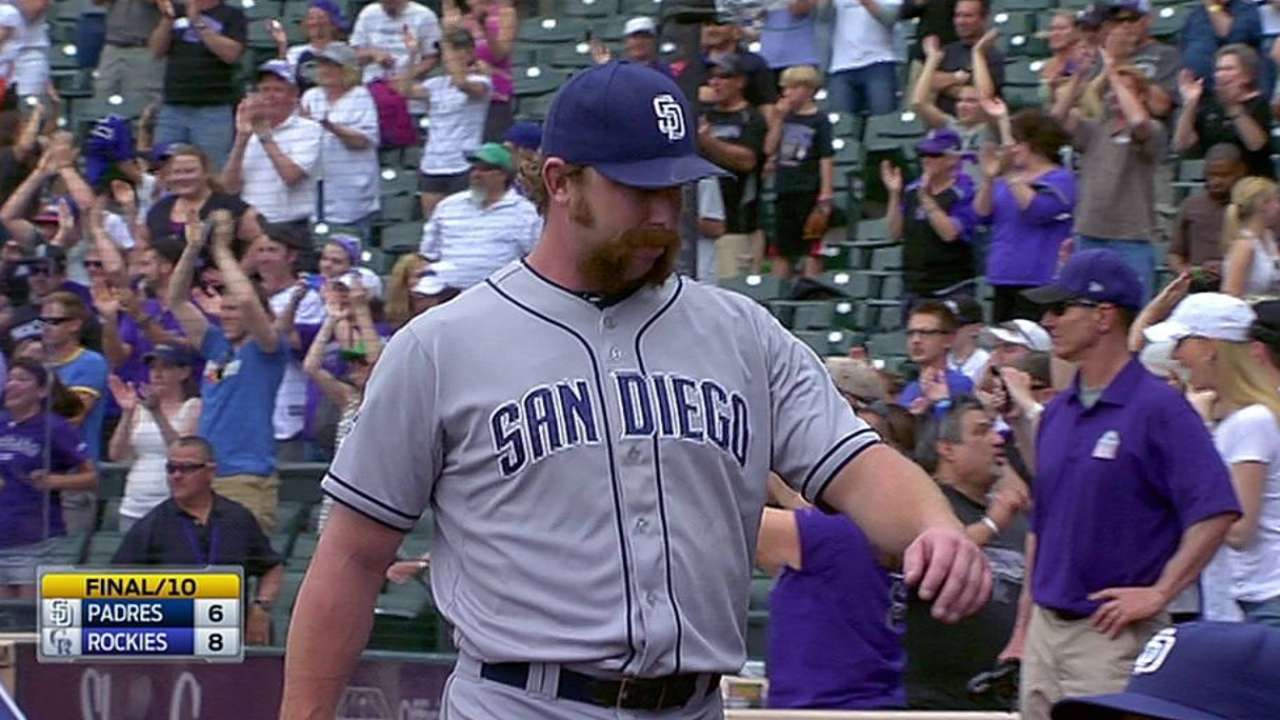 DENVER -- They chipped and chipped away Sunday, meticulously picking away at an early deficit at Coors Field, knowing anything and everything can happen here, no matter the score or circumstance.
And when Everth Cabrera -- not exactly known for his home-run prowess -- connected for a game-tying, two-run home run in the ninth inning, the Padres finally found themselves tied.
"I have some pop," Cabrera said, sheepishly.
So does Justin Morneau of the Rockies, who erased all of the work the Padres did to get back in this one with one wave of the bat, as his two-run home run in the 10th inning lifted the Rockies to an 8-6 victory in front of a crowd of 44,092.
"That was a tough game," said Padres catcher Rene Rivera.
Tough for a lot of reasons, as the Padres (21-24) nearly pulled off a winning road trip to Cincinnati and Denver with a six-game homestand beginning Tuesday against the Twins and Cubs.
Tough in the sense that rookie pitcher Donn Roach's first Major League start -- he's filling in for Andrew Cashner, who went on the disabled list Saturday with elbow soreness -- didn't go as planned, as Roach walked the first two batters he faced and allowed four runs in three innings.
"I was a little anxious," Roach admitted. "The ball was up a little. I felt a lot better [after the first inning] and my stuff was down for the most part."
And also tough in that the Padres lost outfielder Carlos Quentin midway through the game after he left as part of a double-switch with a groin injury that the team hopes won't keep him sidelined too long.
Quentin, who singled in his first at-bat, said he hurt the groin going from first-to-third base on a double by Jedd Gyorko in the first inning. He then hustled to try and beat out a throw to first base in the third inning with two on as the Rockies attempted to complete a triple play.
Quentin beat the throw and was called safe, but Seth Smith, going from first to second base, was called for interfering with the throw from second baseman DJ LeMahieu.
"He's sore. It's day to day. We're hoping this is somewhat similar to what Seth Smith's [groin strain in April]," manager Bud Black said, noting Smith only missed a handful of games.
The Padres' bullpen, for as good as it has been in 2014, kept the game close on Sunday. It started with Tim Stauffer, who allowed one run, a home run to Troy Tulowitzki, in three innings. Alex Torres was dinged for a run before Joaquin Benoit tossed a scoreless ninth.
In the 10th inning, Dale Thayer (2-2) allowed a leadoff single to Carlos Gonzalez and then got one out, as he got Nolan Arenado to fly out to right field. Thayer ran the count full on Morneau and then threw a fastball down and away that Morneau extended his arms on, driving it over the fence in center field.
"It was a good pitch. It was down, but it was not on the corner," Thayer said. "I didn't think it was going out at first. But it doesn't surprise me it went out. He hit it hard. I just didn't think it was high enough.
"He hit it more on a line, so I didn't think it was going to go out."
That home run spoiled a notable comeback as, trailing 4-1, the Padres scored twice in the fourth inning as Rivera had an RBI double and pinch-hitter Will Venable added an RBI single to make it 4-3. Rivera added a home run in the sixth inning, his third of the season, a career high.
All told, the Padres -- who also got a home run from Smith in the first inning, his second in as many days -- had six runs on 11 hits in the game. This followed Saturday's victory where they had eight runs on 10 hits and took nine walks.
Then in the ninth inning, against Rockies closer LaTroy Hawkins, Venable doubled to right. One out later, Cabrera jumped on a 2-2 slider down, driving it into the Padres' bullpen out beyond the fence in center field.
Rivera, for one, liked the at-bats the Padres had in the series -- much more so than compared to a cold April offensively for the team.
"We've been playing way better than the first month," Rivera said. "…I think we're having good at-bats."
This game rated as fairly wild, even by Coors Field standards -- and not just for the combined 14 runs and a game-tying home run in the ninth inning and the one Morneau hit to win it.
There was the unusual triple play, which included an interference call, but was still officially ruled a triple play. There were three replay challenges, two by Black that he successfully got overturned.
Corey Brock is a reporter for MLB.com. Keep track of @FollowThePadres on Twitter. This story was not subject to the approval of Major League Baseball or its clubs.