Cardinals celebrate Neal as Honorary Bat Girl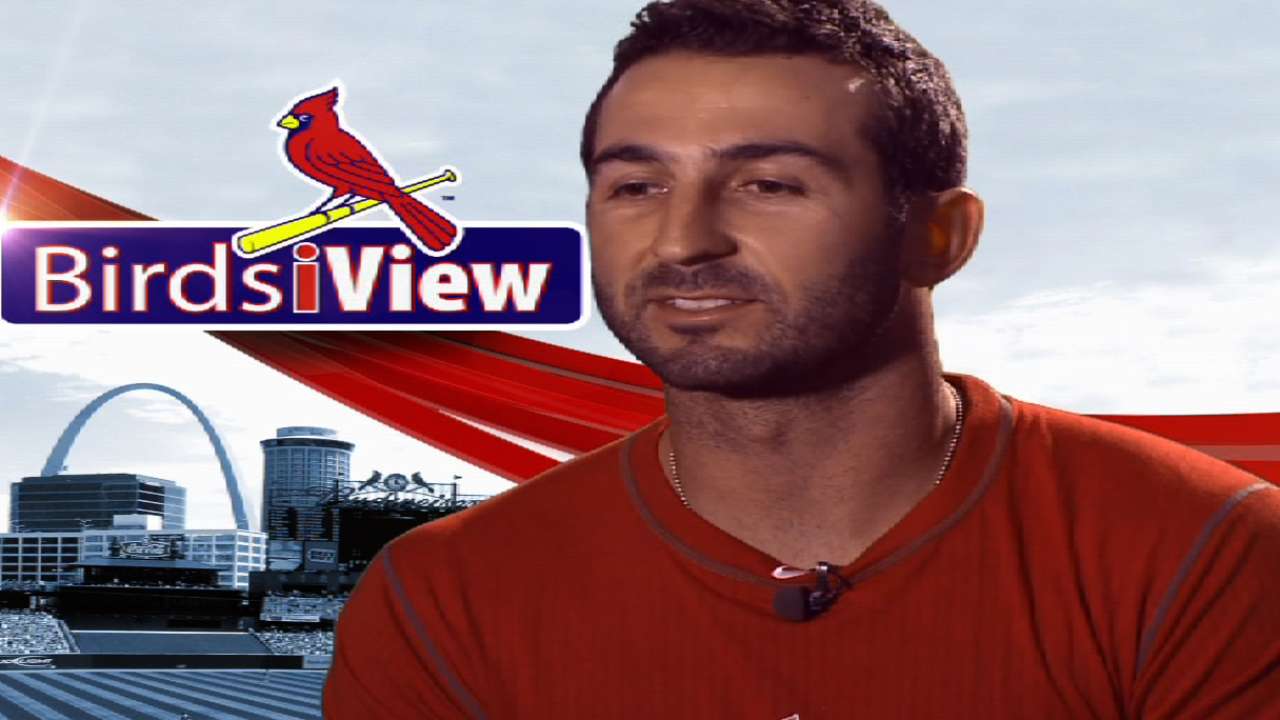 ST LOUIS -- Karen Neal sat on her couch in Woodlawn, Ill., last fall cheering on the Cardinals in the World Series as many supported her through a battle of her own.
Neal was diagnosed in September with aggressive inflammatory breast cancer. Throughout the battle, the math teacher and mother of two has found an outpouring of support. The Cardinals have provided a diversion.
"It took the focus off of what I was going through and brought something else to root for," Neal said. "The teamwork and the camaraderie -- they're a class act."
Since September, Neal has gone through 11 rounds of chemotherapy and had surgery at the end of March. She recently began radiation, which will include 33 rounds and is expected to be complete by the end of June.
Dressed in pink and in the midst of her final stage to recovery, Neal walked through Busch Stadium on Sunday as a 2014 Honorary Bat Girl representing the Cardinals. A friend and coworker nominated Neal for the Honorary Bat Girl program, which was introduced in 2009 to raise awareness and support for the annual "Going to Bat Against Breast Cancer" initiative celebrating Mother's Day.
Votes from her sixth-, seventh- and eighth-grade students made her a finalist before a panel of judges selected her as the winner.
"My students were really excited. When I had a chance to visit my school, they'd tell me how much they voted for me," Neal said. "So living the excitement through them has been exciting as well. It's been an honor."
Honorary Bat Girls were honored at ballparks around the country on Mother's Day. With the Cardinals on the road, Neal's day of recognition was set for Sunday's series finale against Atlanta, when she was recognized on the field.
When Neal was selected, questions from her students poured out. Would she meet the players? Could they come to Busch Stadium with her to watch?
Neal arrived at the ballpark Sunday with her husband, Mike, and daughters, Kailey and Cassidy. Church friends and coworkers came, too, and many students told her they planned to travel to the ballpark with their families to watch.
That's the support Neal has found all along. Of course, there have been the Cardinals, too. From her couch last fall to Busch Stadium on Sunday, Neal planned to wrap up one journey and start fresh.
"It's an exciting way to kind of finish with all of my journey that I've done since September," Neal said. "It's just a great way to kind of celebrate as I go through this last phase with radiation and finish up and start the new healing process of relearning how to live my life, because it's kind of been on hold for quite a while."
Alex Halsted is an associate reporter for MLB.com. Bill Hester is a contributor to MLB.com. This story was not subject to the approval of Major League Baseball or its clubs.