Yankees hold on in opener after early breakthrough
Four runs over first two innings gives Kuroda cushion in Game 1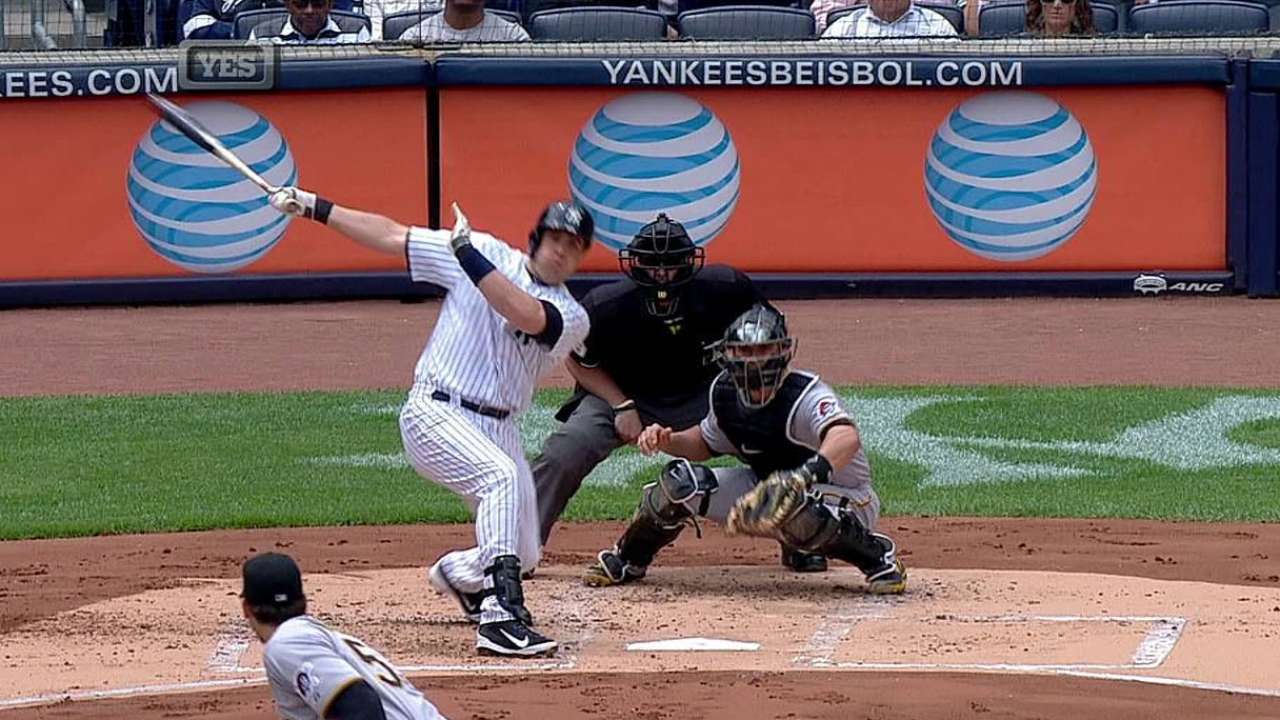 NEW YORK -- The Yankees knew they'd be working late, so they started scoring early. New York jumped all over Pittsburgh for three first-inning runs in the first game of its doubleheader Sunday, and Hiroki Kuroda made the early cushion stand up in a narrow 4-3 win over the Pirates.
Pittsburgh scored a run of its own in the first, but the Yankees answered back emphatically. Each of New York's first five batters reached base safely against the Pirates in the first inning, and veterans Mark Teixeira and Brian McCann both contributed run-scoring singles in the three-run rally.
"They gave me a lead early in the game, so I was more aggressive," said Kuroda via interpreter Jiwon Bang. "The mechanics and command and stuff like that aren't as good as last year. But I had outings that weren't good ... with good results last year, so I'm trying to overcome that adversity."
The Yankees got another key run in the second inning on a Brett Gardner double, but the bats went quiet from there. Pittsburgh starter Charlie Morton allowed just one hit after the second inning -- and the runner was erased on a pickoff -- and retired 16 of the final 17 batters that he faced.
Meanwhile, Kuroda (3-3) held the game within his grasp. The right-hander gave up two solo home runs -- one in the first inning and one in the fifth -- but he recovered to escape a fifth-inning jam. Kuroda's efficient outing helped him snap a five-start winless streak.
The veteran had worked to an 0-2 record and a 5.10 ERA in his last five outings, and he hadn't earned a victory since pitching into the seventh inning of a 7-4 win over the Red Sox on April 12. Kuroda, despite his winless streak, had left with the lead in each of his previous two outings.
"As a pitcher, the win is always a good thing," said Kuroda in between games of the double-dip. "Even though you might not have a perfect start, to get that win as a result is very encouraging."
Gardner led off Sunday's game with a walk and moved to second on a bunt hit by Derek Jeter. Morton (0-6) hit Jacoby Ellsbury with a pitch to load the bases, and Teixeira chased New York's first two runs home with a single. One batter later, McCann singled up the middle to score another run.
The Yankees rose to four games above .500 with the win, their highest spot in the standings all year. New York used four relievers after Kuroda, but only one of them worked a full inning. David Robertson entered the game in the eighth and recorded four outs for his eighth save.
Robertson entered the game with two outs and a runner on second in the eighth inning, and he ended the threat by striking out Starling Marte. Robertson then worked a perfect ninth inning. New York's pitching staff has held the opposition scoreless in 33 of its last 36 innings.
"The ideal scenario is for him to go one inning," Kuroda said of Robertson, who struck out three of the four batters he faced. "For me as a starter, I'm trying to alleviate the burden of the relievers."
Spencer Fordin is a reporter for MLB.com This story was not subject to the approval of Major League Baseball or its clubs.