Archer keeps Angels off balance as Rays even series
Allows two hits, fans five and walks five over 5 2/3; Escobar homers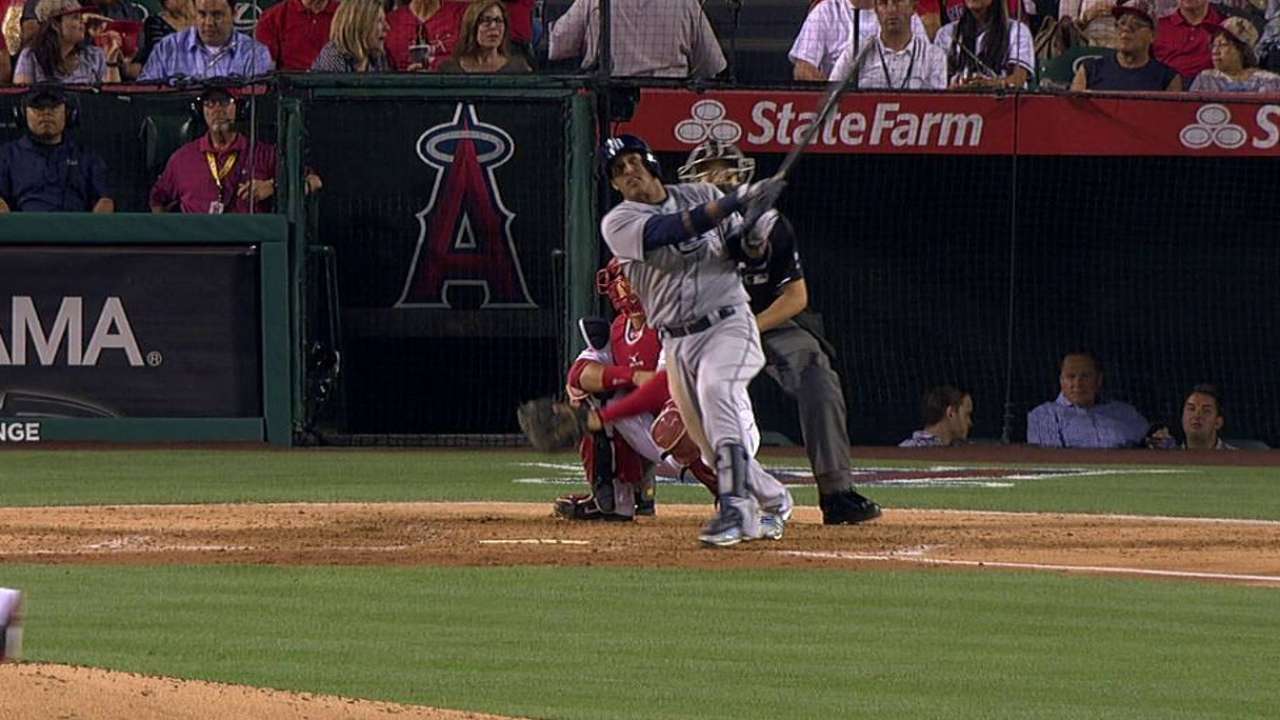 ANAHEIM -- The Rays rebounded nicely from Thursday night's devastating loss to take a 3-0 decision over the Angels on Friday night at Angel Stadium.
The Rays are 3-2 on their seven-game road trip and moved to 19-24 on the season.
Thursday night, the Rays blew a three-run lead in the ninth. Friday night, they got back to work, handing the ball to Chris Archer to regain their momentum before handing it over to Grant Balfour in the end.
Archer and Jered Weaver posted zeros on the scoreboard through four innings before Yunel Escobar hit a solo homer off Weaver with two outs in the fifth to put the Rays in the lead.
Archer, who had been cruising, then faced his first real test when he walked John McDonald with two outs in the Angels' fifth. McDonald stole second before Erik Aybar and Mike Trout walked to load the bases.
Archer had thrown 88 pitches at that point with Albert Pujols stepping to the plate. Archer fell behind, 1-0, before he got the Angels slugger to bite on an 87-mph slider that he chopped down the third-base line. Evan Longoria fielded the ball and stepped on third to end the threat.
"I was trying to get him out," Archer said. "Whatever it took. We have super advance-scouting reports. My stuff was good. ... I threw him a slider down in the strike zone and he rolled over on it.
"It's one of those things, this game is a game of inches. That's a cliche, but that ball hit the chalk and Longo got it as it hit the chalk and he was able to step on the bag at third. An inch left and it's a foul ball and we're talking about a totally different situation."
Archer got the first two outs of the sixth before Efren Navarro singled to center on his 104th pitch. Rays manager Joe Maddon lifted the right-hander and brought on Juan Carlos Oviedo, who retired Hank Conger on a groundout to end the inning.
Archer allowed no runs on two hits and five walks while striking out five in 5 2/3 innings en route to his third win.
"Archer was good, kept a nice tempo," Maddon said. "The stuff you saw out of him was typical for him. You saw the good velocity with the fastball. I thought the slider had better location. He ran into that one little moment again where he walked several guys in a row, but he got through it against a pretty good hitter, which was nice to see that."
James Loney's seventh-inning single off the right-field wall scored Longoria from second to put the Rays up 2-0. Longoria then singled home Desmond Jennings in the eighth to give the Rays a three-run cushion.
"It's probably the best I've felt all year, as far as being able to command the fastball with strength and mixing in offspeed [pitches]," said Weaver, who took his third loss. "Really, the only pitch I want back isn't even the homer, I think it was the 2-2 to Loney. I tried to get it in there and it just came back over the plate and he put good wood on it. I thought I threw the ball well, and Archer had some pretty electric stuff out there."
Oviedo, Jake McGee and Joel Peralta accounted for 2 1/3 scoreless innings of relief leading up to Balfour coming in to get the final three outs in the ninth.
Like Thursday night, when Balfour got roughed up while trying to protect a three-run lead in the Rays' loss, Balfour entered the game with a three-run lead. This time, there were no dramatics as Balfour retired the Angels in order to earn his eighth save.
Balfour allowed that prior to the game he straightened out some mechanical issues that helped his control and he also adjusted his mindset.
"It's like getting a new toy," Balfour said. "I was excited to get out there and harness it and do what I did.
"I knew what I did and the way I pitched some games, it's not me, and it's not who they signed to have here closing out games. And I'm just glad a couple of things there I figured out. Now I gotta continue to go out there and keep doing it. And be consistent."
Bill Chastain is a reporter for MLB.com. This story was not subject to the approval of Major League Baseball or its clubs.