MLB.com Columnist
Anthony Castrovince
Missing calling Card: Big hit proving elusive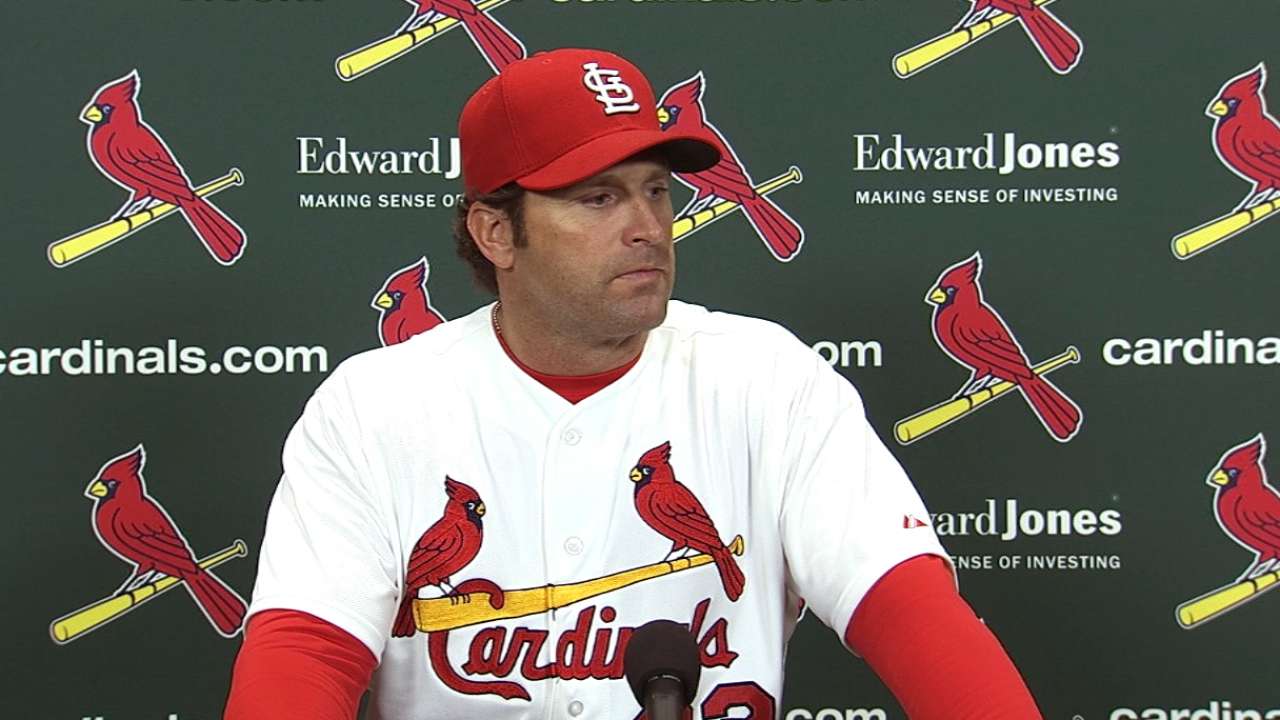 The Cardinals got the big hit in the 12th inning of their victory over the Cubs on Tuesday night.
They certainly weren't going to quibble with the fact that it was a walk-off hit by pitch.
But the big hit -- as in, actual hit -- has been strangely elusive for this Cardinals club in what has been, to date, a fitful 2014.
Proving the sabermetric skeptics correct in the assumption that so-called "clutch" stats of the past are not predictive for the future is one thing. But the Cards' step back in situational hitting has been sizable enough so far to sully them with a .500 record and a 5 1/2-game deficit in the National League Central, despite getting, on measure, some of the best pitching in the league.
The Cardinals have a deep and multifaceted lineup -- especially by NL standards -- and that's one of multiple reasons they're viewed as a legit World Series contender. Yet getting the most out of that lineup has been a struggle.
St. Louis has dropped from an historic .330/.402/.463 slash line with runners in scoring position last year to a pedestrian .239/.315/.342 line in 2014. With RISP and two outs, it's a .216 average after last year's ridiculous .305 mark. In a related development, the Cards are scoring the fifth-fewest runs per game (3.73) in the Majors.
"Quality at-bats is what you're after," hitting coach John Mabry said. "Keep throwing up quality at-bats and it will hopefully turn in your favor."
Carlos Beltran is gone, but there is enough quality here to count on a turnaround. The Cardinals won't repeat last year's historic clutch clout, but they're better than they've shown.
St. Louis has four guys at least slightly outperforming the average league OPS (and remember, in today's environment, that's a low bar) at their position -- catcher Yadier Molina (.785), first baseman Matt Adams (.763), shortstop Jhonny Peralta (.818) and left fielder Matt Holliday (.729).
The Cards can also claim, with some degree of certainty, that Matt Carpenter is better than the .256/.359/.314 slash line he's put up so far and that Allen Craig is far better than his .221/.278/.362 marks.
What has frustrated manager Mike Matheny at times this season has been a lack of execution -- not just in the stuff that sticks out in the box score, but in the fundamentals of moving guys into scoring position, extending innings.
"Execution," Matheny said. "The awareness is there. But we talk about urgency, and I think those reminders of how important it is and then what it creates when the guy gets that done -- an even bigger response when they get back to the dugout. I think all of us -- coaches, players -- just kind of increase our focus on it, because it's something we can do a better job of."
Soon, St. Louis hopes to get an upgrade in offense at second base from Kolten Wong, who, predictably, made the necessary adjustments in his Triple-A stay and is close to a callup.
Eventually, top prospect Oscar Taveras and his .867 OPS with Memphis will merit a look, as well, though his addition would complicate lineup construction for Matheny. Taveras is not likely to bump Craig out of right field, and there are questions about his usability in center field for a team that is already not elite on the defensive front. One possible solution would be to spell Adams -- whose struggles against lefties have continued in '14 -- against southpaws with Craig at first, but the left-handed Taveras would be in a matchup conundrum there as well.
Whatever the future holds, in the present, it's clear the Cardinals need more production from the middle of the order. They've gotten the eighth-lowest OPS (.653) and the third-fewest RBIs (13) out of the