Offense stifled as O's win streak ends at five
Jones provides sole run support for Tillman with two-run single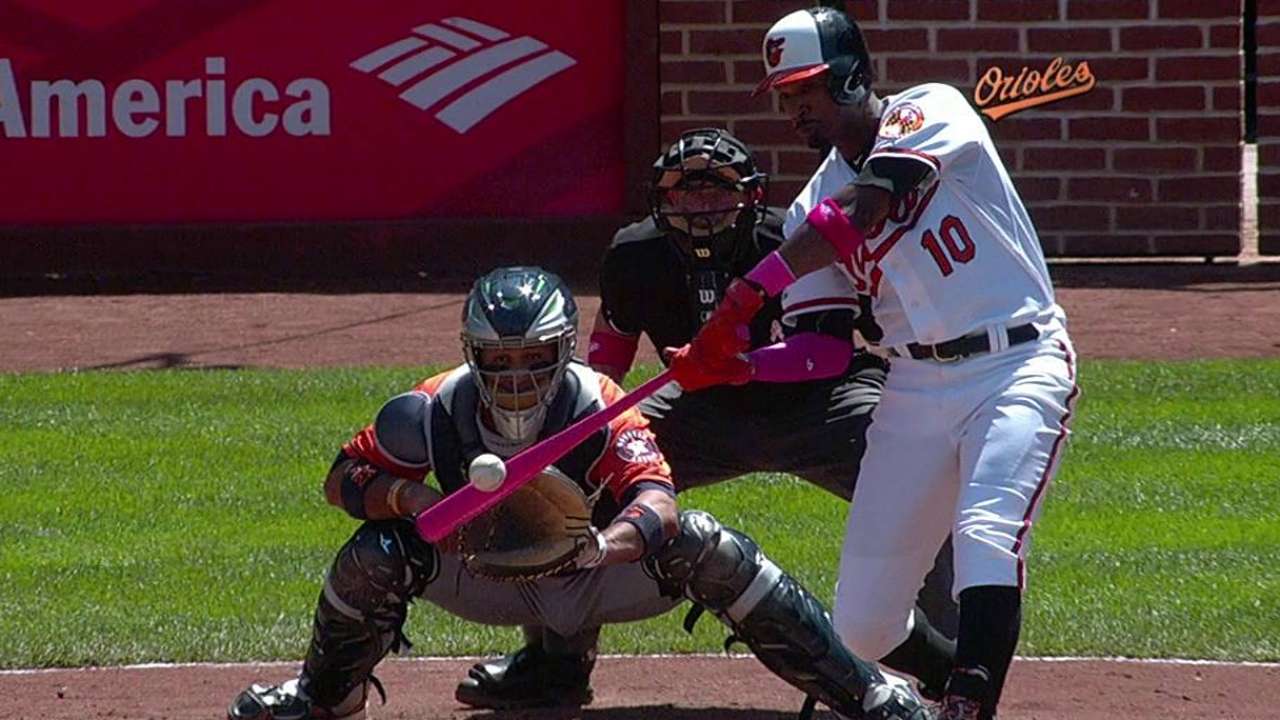 BALTIMORE -- The high-flying Orioles, fresh off a walk-off win on Saturday night that gave them the longest active winning streak in baseball, were grounded on Sunday.
With a sellout crowd at Camden Yards on hand and primed for a Mother's Day celebration, there were no late rallies in a game doomed by a short start from Chris Tillman and some missed offensive opportunities. The end result, a 5-2 loss to last-place Houston, is first-place Baltimore's first defeat in a week as the O's -- bolstered by the return of Chris Davis -- watched a struggling Astros club pick up its third win in 12 games.
"It was a struggle for me," said Tillman, who walked a season-high five batters in the five-inning outing. "Fastball command wasn't there for me from the get-go. I think if I'm able to make some pitches with my offspeed, I think I'd be able to get out of that. But nothing was really there for me early on. It was a battle all day."
Tillman issued a pair of walks to start the game against an Astros lineup with eight of nine regulars entering the day with a batting average under .250 and the worst team average (.220) in the Majors. Jason Castro made those free passes hurt with a three-run homer to put the Orioles in an immediate hole.
"Normally, if you're able to command the fastball, you get ahead early and normally stay ahead. I think that's important for me, important for every pitcher, really," said Tillman who threw just 61 of 105 pitches for strikes. "It's easy, because you know what you need to do, but it's tough. Frustrating. We'll get there."
While Tillman was able to limit the damage after that, he recorded just one clean inning -- the fifth -- and exited an abbreviated outing after laboring early. The O's Opening Day starter, Tillman has lasted fewer than six full innings in four of his last five starts after going eight or more in two of his first three.
"He just hasn't quite gotten in sync consistently," Orioles manager Buck Showalter said. "And he will. Fortunately for us, he kept us engaged in the game at 3-2. I take that as a positive. A lot of guys wouldn't, and I think that's a sign of his maturity. I know Chris is probably a little frustrated with today, all things considered."
Conversely, the Orioles offense couldn't muster up much off Astros starter Jarred Cosart, who scattered eight hits and two walks over six innings.
"I felt like Jarred did a tremendous job today," Astros manager Bo Porter said. "Him and [catcher Carlos] Corporan were on the same page and really did a good job of pounding the zone with his fastball. He didn't have his best breaking stuff today, but he did a good job with his fastball."
One of the O's best chances for a big inning came after loading the bases in the bottom of the third on a trio of one-out singles from Nick Markakis -- who extended his hitting streak to 18 -- Manny Machado and Davis. Adam Jones brought them within a run on a first-pitch, two-run single to left field to eclipse the 500 RBI mark for his career in the process.
But that was all the O's would get as Nelson Cruz flied out and Steve Clevenger grounded out.
"I don't know if he was doing it on purpose or if it was naturally cutting, but it was late [in breaking]," Davis said of what made Cosart tough. "He did a good job moving the ball, mixing in his curveball. He threw me a couple good curveballs."
The O's stranded a pair of baserunners in the fifth after Markakis' leadoff walk and Davis' double into the gap, with Cosart striking out Jones and getting Cruz to fly out.
Even when Cosart exited, the O's couldn't come through on the American League's worst bullpen and mount another late-inning comeback. Tony Sipp followed Cosart and struck out five of the six batters he faced in tossing two scoreless innings.
"Tough day to see the ball. I know guys were talking that they couldn't see the ball off Sipp very well at all," Showalter said. "We knew that [Cosart] was going to be a challenge going in, but I think Jonesy got him off his curveball a little bit. He had the sharp single to left. But he pitched with his fastball, which is really two of them. He four-seamed the ball in and ran it in there and then he'd cut the ball, real late life. You don't recognize it. "
The Astros, who ended the day with four players recording multiple hits, didn't seem to have that problem much -- if at all -- against the O's pitching staff, totaling 11 hits.
Tillman was replaced by T.J. McFarland to start the sixth, and the lefty pitched around a pair of singles before Marc Krauss' two-run homer in the seventh. McFarland struck out Castro for the first out of that inning before Matt Dominguez singled and Krauss drove a 1-1 pitch into right field to push the Astros lead to three.
With McFarland covering three innings and unavailable now for a few days, the O's could make a roster move with the heavy-hitting Tigers and their right-handed-heavy lineup on their way to town. Showalter said the team would discuss that later.
"We'll see," he said. "Like to have some length there."
Brittany Ghiroli is a reporter for MLB.com. Read her blog, Britt's Bird Watch, and follow her on Facebook and Twitter @britt_ghiroli. This story was not subject to the approval of Major League Baseball or its clubs.