Brewers follow blown save with walk-off single
Reynolds delivers big hit in ninth after Rodriguez allows first run of '14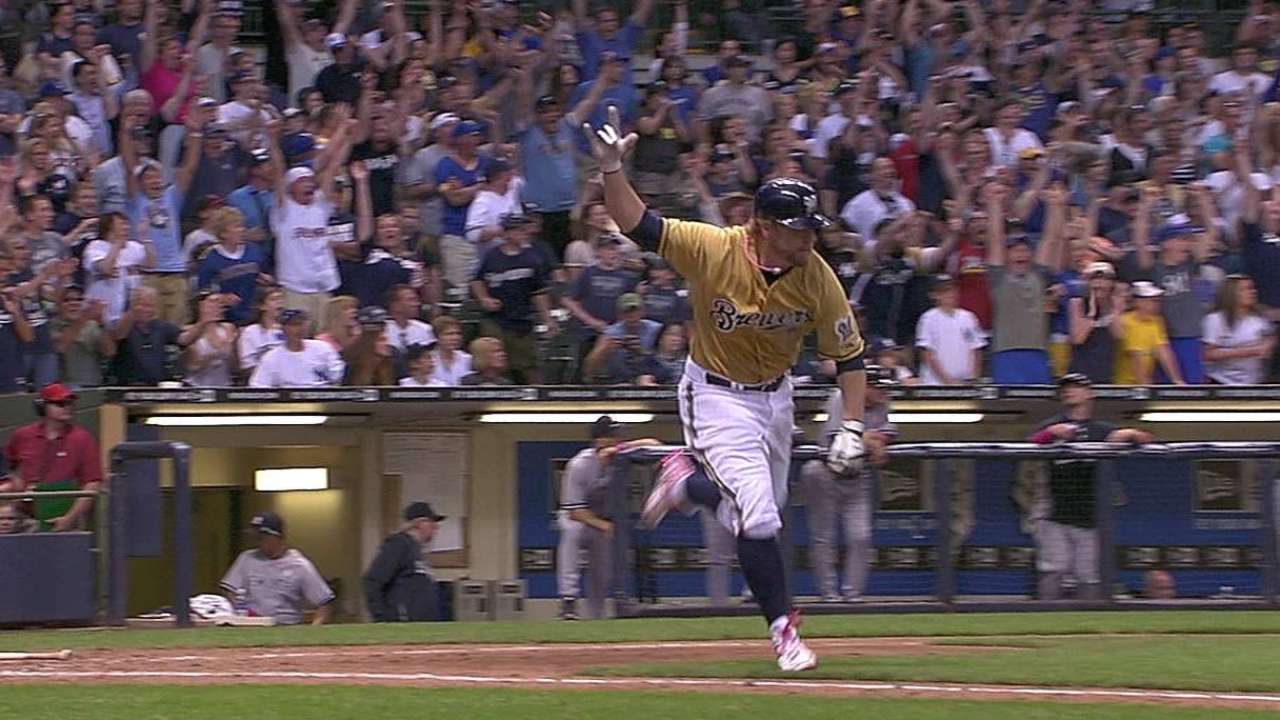 MILWAUKEE -- Francisco Rodriguez isn't perfect after all, but the Brewers picked him up.
One strike away from his 20th scoreless appearance this season and his 16th save, Rodriguez surrendered a game-tying home run to Yankees slugger Mark Teixeira, then watched the Brewers rally in the bottom of the ninth inning for their first walk-off win this season. Rickie Weeks' third hit of the day started the rally, and Mark Reynolds' two-out, two-strike single ended it, 6-5, in front of a sellout crowd at Miller Park.
The Brewers took the series after dropping their previous two, and will have an off-day on Monday with at least a five-game lead in the National League Central.
"It's huge," Rodriguez said. "It would have been a lot worse going home with a loss."
Good luck picking a player of the game. Brewers starter Matt Garza overcame a 40-pitch, three-run first inning to get the Brewers through the fifth with no more runs allowed, and he doubled to start a two-run rally in the third. Jonathan Lucroy came off the bench to deliver a game-tying single in the sixth inning, and Logan Schafer followed two batters later with a go-ahead double. Weeks continued his recent surge with three hits and two RBIs, and was one of six different players to score a run. Rob Wooten and Will Smith provided the relief that positioned Rodriguez for a save opportunity with a 5-4 lead in the ninth inning.
So far in 2014, that had meant game over. Rodriguez's 19 scoreless appearances represented the fifth-best season-opening streak in Brewers history, and seven of his 15 saves had come with only a one-run margin.
He was one pitch away from adding to that record when Teixeira connected with a full-count changeup at the bottom of the strike zone and sent it to the right-field bleachers, tying the game at 5.
"It was a good pitch. You have to tip your cap," Rodriguez said. "He put on a good swing. In the beginning I had my doubts whether it was up-middle, middle-in, but [I viewed it on video] and the ball was tailing down and away to him. He just hooked it. You have to tip your cap when hitters do that."
It was precisely what Teixeira was trying to do.
"I'm not trying to put the ball in play; I'm trying to drive the ball," he said. "He threw me a lot of good pitches in that at-bat. I kind of kept battling. Couple curveballs, couple fastballs, couple changeups -- and all three were in play. I knew 3-2, he could throw any of those pitches. I just stayed on a changeup and hit it good."
Rodriguez knew he would give up a run "eventually," he said with a laugh, "but that's all part of the game."
"Closers, they're not perfect," Reynolds said. "Sometimes you have to pick them up."
Reynolds did just that in the bottom of the inning, after Weeks hit a broken-bat double inside of first base with one out and took third on Yankees reliever Adam Warren's wild pitch. Warren recovered to strike out Lyle Overbay, but Reynolds delivered with a single to left field.
The hit came on an 0-and-2 pitch, moments after Reynolds made eye contact with Weeks and tried to drop a surprise bunt on Yankees defenders, who were playing him deep. He missed a Warren fastball.
"It was right down the middle. I wish I would have swung at it," Reynolds said. "I just took my chances. [Warren came back with] a slider, down, and I was able to stay on it."
"Rickie Weeks hits a broken-bat, off-the-end, down the line; you go, 'Uh oh, this turned real quickly,'" Teixeira said. "We were feeling really good about ourselves for a few minutes there, but that's baseball."
Can Weeks remember a better "team win" in 2014?
"So far this year, probably not," he said. "I think we all came out knowing we'd better come out here playing our best ball. That's a great team over there."
Garza's final pitching line -- five innings, six hits, three earned runs, four walks and four strikeouts -- belied the drama of his day. He threw his 25th pitch before he recorded his second out, and drew a visit from pitching coach Rick Kranitz after 35 pitches, two outs and three Yankees runs.
But Garza escaped the jam by striking out John Ryan Murphy, who would go on to have a three-hit day, and he gave the Brewers a chance to climb back into the game. He exited after five innings and 106 pitches, getting his final out on a comebacker that struck one of Garza's quadriceps. He said he was fine.
Milwaukee has now won Garza's last three Miller Park starts, but he's still not satisfied.
"I think it's more figuring out what I need to do to be successful," Garza said. "For some reason, it's that one inning, every time. I'm just going to try to keep doing better, keep improving. I'm pretty proud I was able to put up zeros after that. Forty pitches is a lot, but I kept my team in the game and fought and battled, and we used almost everybody today. It was a great team win."
Adam McCalvy is a reporter for MLB.com. Read his blog, Brew Beat, and follow him on Twitter at @AdamMcCalvy. This story was not subject to the approval of Major League Baseball or its clubs.