A's celebrate Goldthorpe as honorary bat girl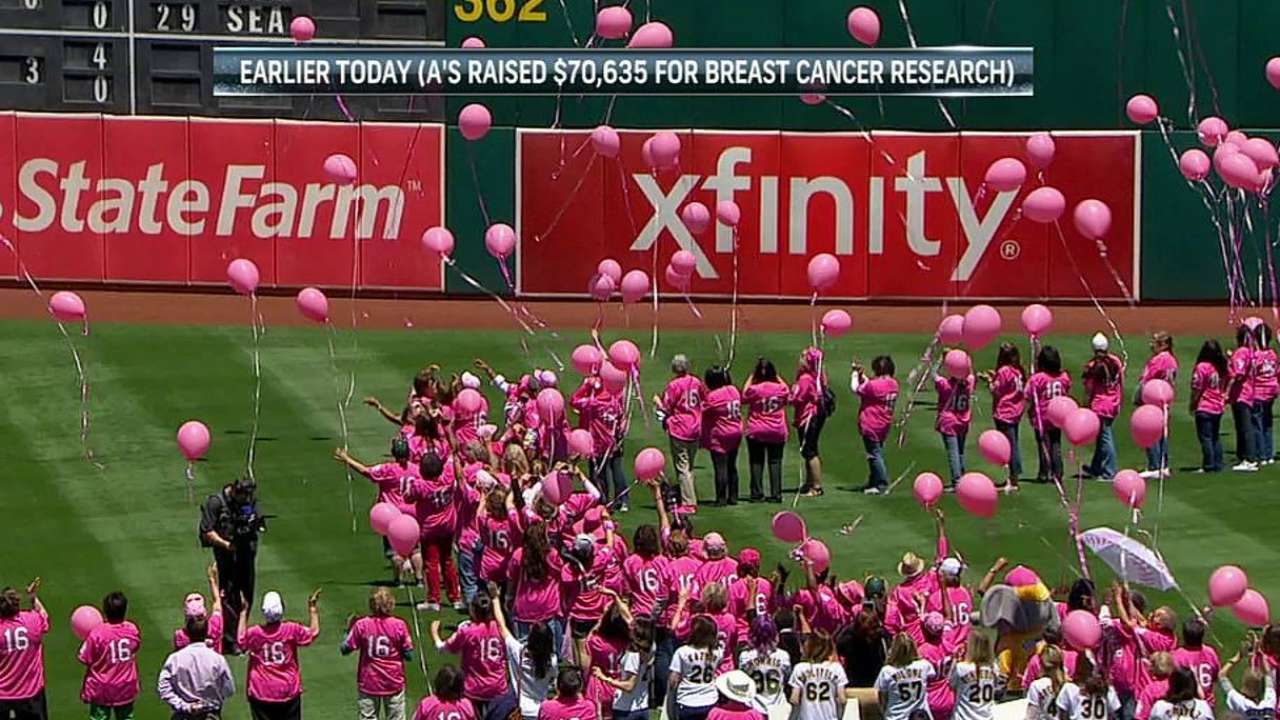 OAKLAND -- Kristin Goldthorpe knew breast cancer survivors, but never thought about it happening to her. Now, she's embraced her circumstances.
Goldthorpe, diagnosed with breast cancer last November, was on the field of 0.Co Coliseum with hundreds of other cancer survivors as the A's honorary bat girl for Breast Cancer Awareness Day.
"To me, I'm just one of hundreds of thousands of women who are diagnosed with breast cancer every year," said Goldthorpe, who just turned 50. "I didn't expect to be here. Now I have to deal with it and there's a ton of support."
Goldthorpe was one of 30 baseball fans who have been affected by breast cancer and who demonstrate a commitment to eradicating the disease so honored. Winners were selected to represent each Major League Baseball team.
"People complain about getting old," Goldthorpe said. "Not everybody gets that privilege. When it hits you, things change. You're not in charge any more. You do have to value every day."
Goldthorpe thought her son, Karl, was kidding around when he asked if she wanted to sign up for the contest.
"I thought he meant bat girl like Spiderman or something," she said. "I write in my profession so I said, 'Ok, I'll do it.' Then it was put on Facebook and I had relatives in Switzerland and friends in Brazil who were voting for me."
Goldthorpe, a relative rookie to breast cancer, found strength in the stories of other survivors.
"I have a friend who has dealt with for 13 years," Goldthorpe said. "It is all around us. It does change your perspective. I just met a nurse who was diagnosed six years ago who said each case, each story, is different."
Goldthorpe's story includes 'Team Kristin' bracelets. The niece of her brother's girlfriend, who lives in Mexico, decided to make Goldthorpe a cloth bracelet to show support.
"I've given away more than 50," Goldthorpe said.
Karl Goldthorpe, who will be a freshman at Arizona State this August, is her biggest fan. He runs the Instagram site "Oakland_Athletics_Fans" (4,714 followers as of Sunday) and shares her love of the Green and Gold.
When the pair visited Arizona State -- "Eric Sogard's old school" -- the A's spring training facility at Phoenix Muni Stadium and Chase Field were on the must-see list.
He was out in the left-field bleachers -- "probably waving one of those flags," she said -- while Goldthorpe was being recognized on the field, alongside A's pitcher Sonny Gray, when a check for $70,635 was presented by Zevia, with proceeds benefiting the American Cancer Society.
Since the inaugural event in 1999, the Oakland A's and their partners have raised nearly $1.4 million for breast cancer education and research.
Pre-game ceremonies featured more than 350 Bay Area breast cancer survivors forming a symbolic human ribbon on the field in dedication of courage and survival, the release of white doves as a symbol of hope.
A portion of the total donation includes the 11th annual "A Gift of Faith" grant, through which the A's donate $5,000 to a local charity in memory of longtime KTVU Channel 2 reporter, the late Faith Fancher. This year's grant and award were presented to Pink Access Foundation, a local charity that raises funds to fight cancer in disadvantaged communities.
Rick Eymer is a contributor to MLB.com. This story was not subject to the approval of Major League Baseball or its clubs.