LaRoche latest to join Nats' DL roster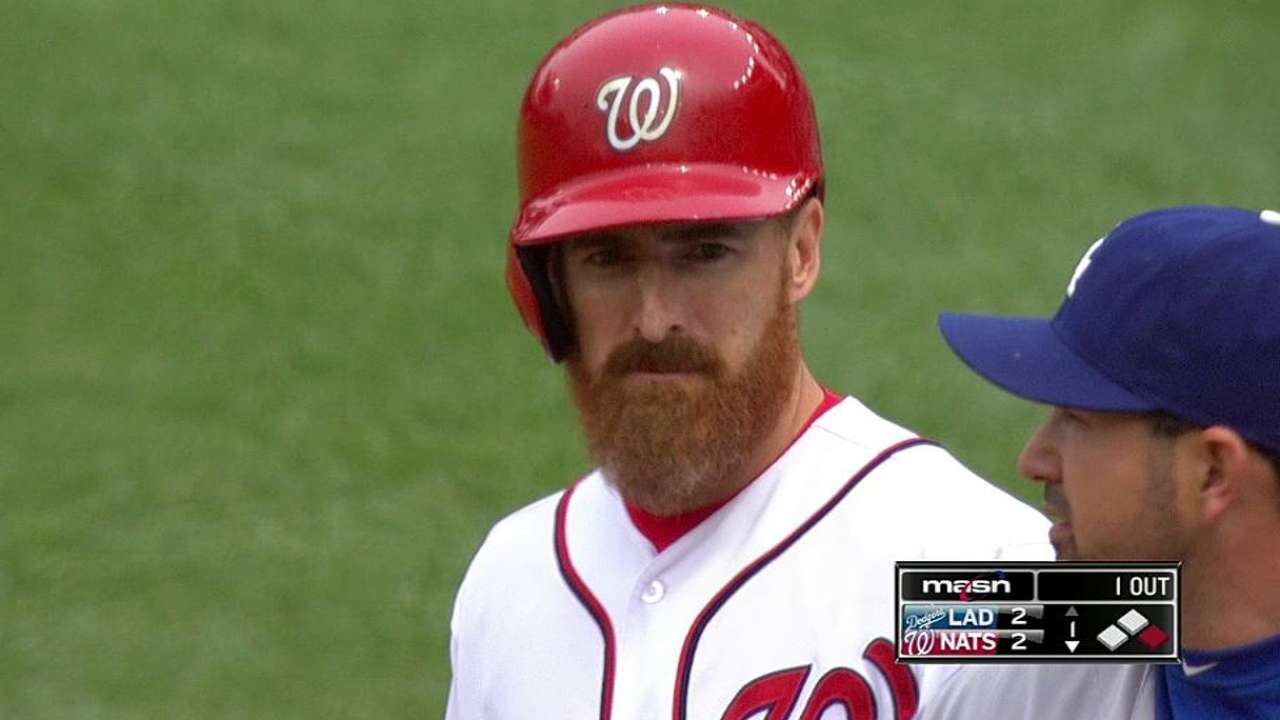 OAKLAND -- One-third of the Nationals' Opening Day lineup is now on the 15-day disabled list, but manager Matt Williams said he knows no one will feel sorry for his team.
First baseman Adam LaRoche, who is batting .319/.421/.504 with five homers and 21 RBIs in 32 games, was placed on the disabled list Sunday with a right quad strain after undergoing an MRI on Saturday. He now joins fellow sluggers Bryce Harper and Ryan Zimmerman on the 15-day DL, as both of those players are dealing with thumb injuries that require lengthy recoveries.
But shortstop Ian Desmond said the Nationals are well-equipped to handle the repeated setbacks.
"It's a team game, man," Desmond said. "We've got a good team regardless. We found out in Spring Training that we've got tons of depth in the Minor Leagues. We've got guys coming and we've shown that so far. We've kept our heads afloat minus some big boppers this year. We're just doing our thing and grinding it out."
When you consider that right-hander Doug Fister also missed the first five-plus weeks of the season with lat strain, the Nationals have already sustained a handful of high-profile injuries. But entering play Sunday, Washington (19-17) was still right in the thick of the heated race for first in the National League East.
Desmond said he thinks Washington will "absolutely" come out of this rash of injuries as a stronger team down the stretch of the season.
"If you want to win, you've got to have some replacements," Desmond said. "It takes 40 guys, 45 guys a year to make it to the top. There's proof of that in any team that makes it to the World Series. At some point they're getting contributions from somebody that was unexpected. We're going to rely on these young guys and they've already answered the bell."
Alex Espinoza is a contributor to MLB.com. This story was not subject to the approval of Major League Baseball or its clubs.