When Yanks need K, they turn to Betances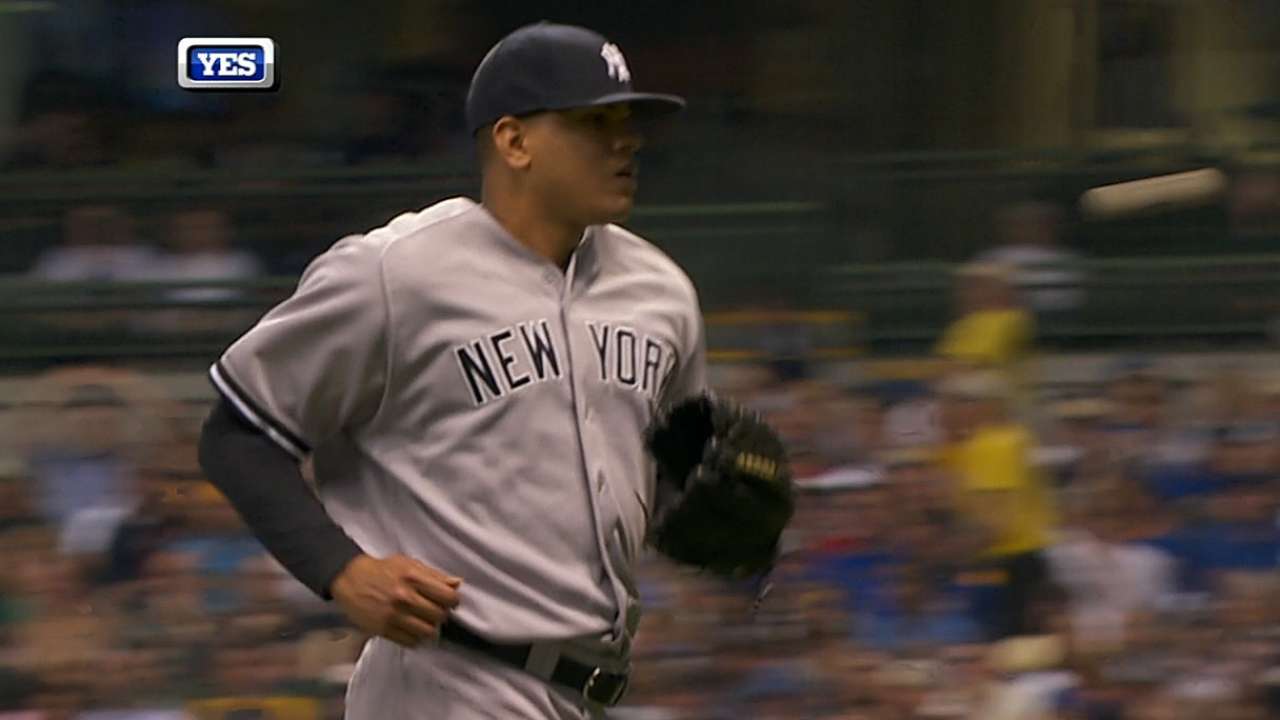 MILWAUKEE -- Dellin Betances is making his presence felt out of the Yankees' bullpen, offering manager Joe Girardi an electric option for tight situations when a strikeout is needed.
Betances entered a bases-loaded, one-out spot in New York's 5-4 loss to the Brewers on Saturday and escaped, overpowering Scooter Gennett with three pitches and striking out Carlos Gomez on four pitches to leave three men aboard in the sixth.
The hard-throwing 26-year-old said that outings like Saturday's have increased his confidence.
"I just feel like Joe Girardi using me in that situation, and certain situations I've gotten used, just shows the confidence they have in me," Betances said. "I believe in myself and I trust that if I'm out there throwing strikes, I can do the job. I just try to go out there and attack, that's my mentality."
Girardi suggested that his use of Betances may be comparable to how David Robertson was used in the recent past, called upon for high-leverage situations because of his good strikeout ratio.
"That's the one thing that he can do probably as good as anyone in our bullpen," Girardi said of Betances. "When you need a strikeout, he's a guy that you're really going to consider."
Betances has recorded 32 of his 52 outs this season via strikeout, including 16 of his last 22. He has also struck out multiple batters in 12 of his 13 appearances this season in which he has faced at least two batters.
Once a touted starting pitching prospect in the Yanks' system, Betances said that reducing his arsenal to two reliable pitches -- a high-octane fastball and a good curveball -- have helped simplify his approach.
"For me, just get strike one," Betances said. "If I get strike one, I can use my offspeed at any time. I'm confident with the way I'm throwing the ball and just being able to use both pitches. That's helped me a lot this year, especially my offspeed.
"Strike one is the most important; after that, if I get strike two, I'm definitely trying to go for the strikeout in that situation."
Bryan Hoch is a reporter for MLB.com. Follow him on Twitter @bryanhoch and read his MLBlog, Bombers Beat. This story was not subject to the approval of Major League Baseball or its clubs.