Eaton to begin Triple-A rehab stint Wednesday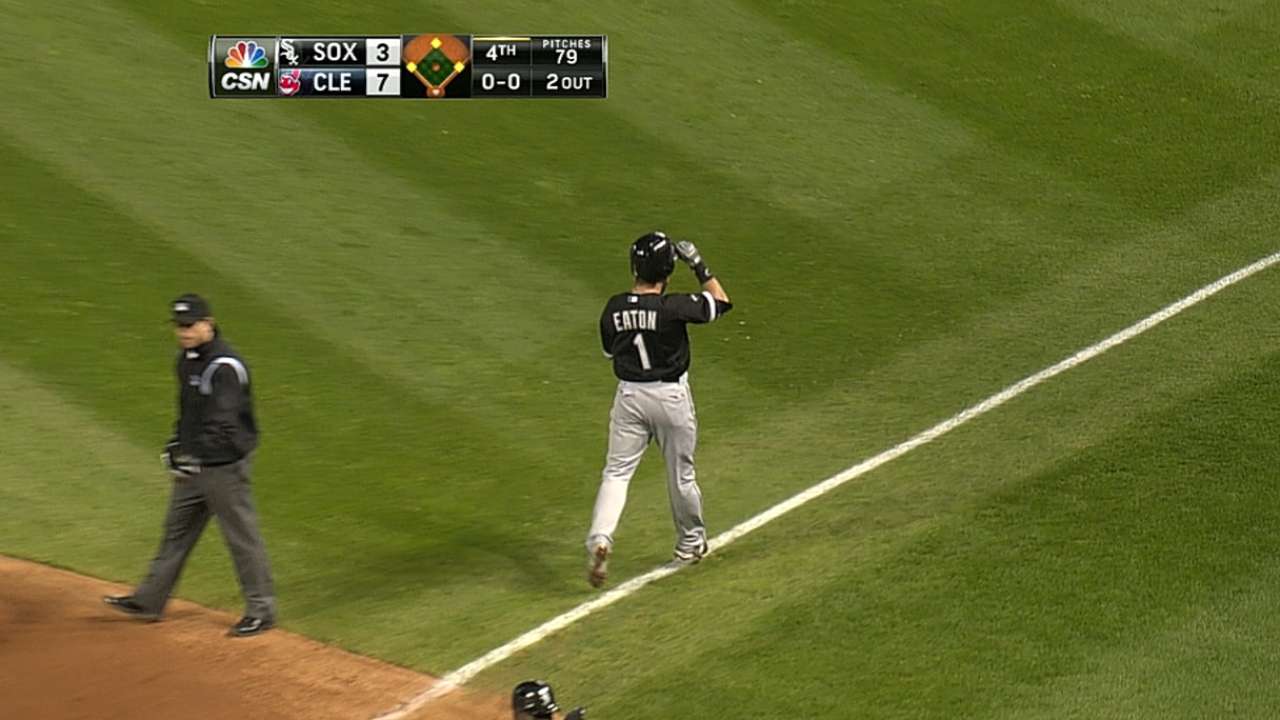 CHICAGO -- Adam Eaton was in an even more upbeat mood Sunday morning than his usual go get 'em sort of attitude, and it only had a little to do with Tyler Flowers humorously conducting a morning interview session with Eaton and a couple of reporters.
The White Sox leadoff man and center fielder is close to returning from a strained right hamstring that put him on the disabled list May 3. Eaton will travel with the White Sox to Oakland, but then leave Oakland on Wednesday to join Triple-A Charlotte for an injury rehab assignment.
"We are going to take the next seven days or so and we are going to use them to the best of our ability," Eaton said. "Go to Charlotte the third day in Oakland and hopefully get a couple of rehab starts and meet in Houston on the 18th."
Eaton paused for a moment to figure out that May 18 is just one week away, and the excitement for his near return quickly became evident.
"Really excited to see him back," said White Sox bench coach Mark Parent. "He adds a lot to our lineup, defensively and offensively and running the bases. Just overall energy in the game. He has obviously had a really good year so we want to continue his progress.
"One of the things, when he went down, is [Alejandro] De Aza never really was comfortable [leading off] before. And then we tried [Gordon] Beckham there, he's … even though you're only leading off one time it makes certain people uncomfortable. Adam just, he just loves that spot and we like him in that spot."
The outfielder's Sunday morning workout went at about 95-to-98 percent effort according to Eaton, who did nothing but treatment during his first three days on the disabled list. He has noticed a marked improvement during the down time.
"It has been a tough run without our big bopper up top," said a smiling Flowers at the end of the interview.
"Everything is going well, and it feels really good," said Eaton, who is hitting .276 with a .363 on-base percentage and 20 runs scored. "Everything is going to plan and we'll continue as such."
Scott Merkin is a reporter for MLB.com. Read his blog, Merk's Works, and follow him on Twitter @scottmerkin. This story was not subject to the approval of Major League Baseball or its clubs.