Ray's second start encouraging, but 'pen falters
Rookie gives up four hits in six scoreless; Chamberlain falters in eighth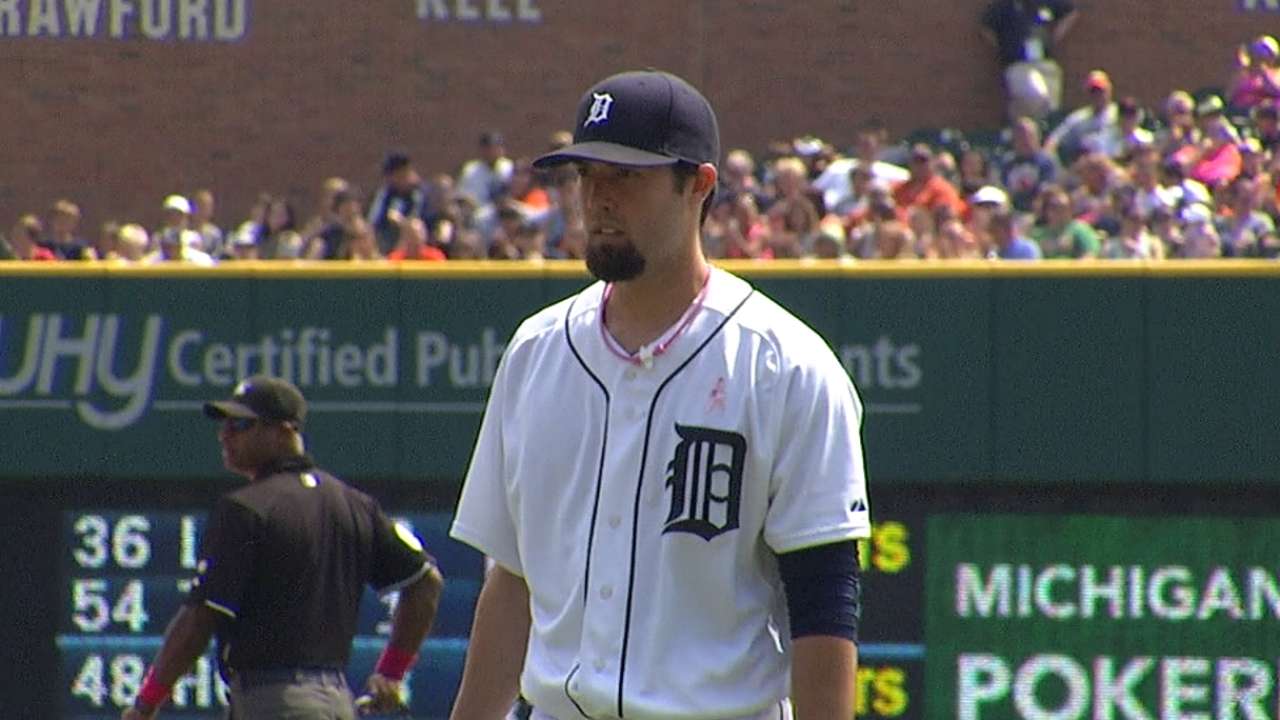 DETROIT -- Robbie Ray had the perfect Mother's Day gift neatly wrapped, but the Tigers' bullpen couldn't deliver it.
"I was one pitch away," said Detroit setup man Joba Chamberlain, who took the loss in the 4-3 series finale against the Twins on Sunday.
Lori Ray, part of a sellout crowd of 40,468 at Comerica Park, watched her son pitch six dazzling, scoreless innings in his second big league start. Ray retired the first seven batters he faced and gave up only four hits.
But in the seventh inning, Tigers manager Brad Ausmus turned the ball over to Al Alburquerque, who gave up a single to Josmil Pinto. Lefty Ian Krol came on and gave up two more hits, and a run scored, cutting into Detroit's three-run lead.
The brunt of the damage came in the eighth. Chamberlain, who had gone six straight appearances without surrendering a run, was wild from the first batter he faced. He beaned Brian Dozier then walked Joe Mauer. After two strikeouts, it looked like he might get out of trouble, and Chamberlain found himself one more strike away from a massive escape. But Pinto singled to left and left fielder Rajai Davis misplayed the ball, which rolled to the wall to allow both runs to score.
According to Tigers manager Brad Ausmus, Davis' miscue came because the ball "hit something in the grass and bounced up."
Davis didn't see anything out there, though, besides a ball that just took a bad bounce.
"It just hopped up over my glove," Davis said. "Tough play. Unfortunate. It's tough to anticipate a hop like that in the outfield."
Eduardo Nunez followed with a single, driving in the decisive fourth run.
"That one hurts," Chamberlain said. "Robbie pitched his tail off."
Only twice did Minnesota put a runner in scoring position against Ray, and in his only rocky frame, he even got a bit of luck. In the sixth with two men on, Trevor Plouffe hit a liner off Ray's glove that caromed directly to shortstop Andrew Romine, setting up an inning-ending double play.
Though he said his curveball still has plenty of room to improve, and Ausmus agreed, Ray was proud of the way he mixed speeds Sunday. His comfort level with his changeup allowed him to throw it in big situations.
"It was working for me today," Ray said of his best offspeed pitch. "I was pretty happy with it."
The Tigers took the lead in the first inning on a sacrifice fly by Miguel Cabrera that scored Ian Kinsler, who had doubled. Kinsler also homered off Twins starter Samuel Deduno in the fifth inning.
In the fourth inning, singles by Cabrera, Victor Martinez and Austin Jackson gave Ray a 2-0 cushion. The inning had potential to lead to even more insurance, but a ground ball hit Jackson in between second and third, forcing Martinez to remain at third. Davis grounded out to end the threat.
The missed opportunity came back to haunt the Tigers as soon as Ray's day ended, and Detroit dropped its first series since April 11-13 at San Diego.
Ausmus said that he's still pleased with a 4-3 homestand, though his mood would've been better had they won the finale. Still, plenty of good came from the week at home, not the least of which was the emergence of Ray as a potential future standout.
Last Tuesday against the Astros, Ray pitched 5 1/3 innings of five-hit, one-run ball. Sunday, he again gave fans reason to remember his name, regardless of when or where his next start will be.
"I don't know if I could ask for more," Ray said of his first week in the Majors. "Maybe a [complete game]."
It's unclear if Ray will have another opportunity to start for the big league club any time soon. He was inserted into the rotation due to Anibal Sanchez's lacerated finger, and Sanchez is aiming for a return on May 18 in Boston.
If Sanchez stays on target, which will be determined by his simulated game on Tuesday in Baltimore, Ray will either stick with the Tigers in the bullpen or head back to Triple-A Toledo to continue as a starter.
Ray said he'd be fine with either option, but Ausmus seemed to hint he'd rather see him making starts in the Minors.
"Generally speaking, if you want him to be a starter at the Major League level, he needs to pitch as a starter,"
Matt Slovin is an associate reporter for MLB.com. This story was not subject to the approval of Major League Baseball or its clubs.