Escobar's slam, Giavotella's blast power Royals
Offense picks up for Guthrie, who gave up seven runs in 4 2/3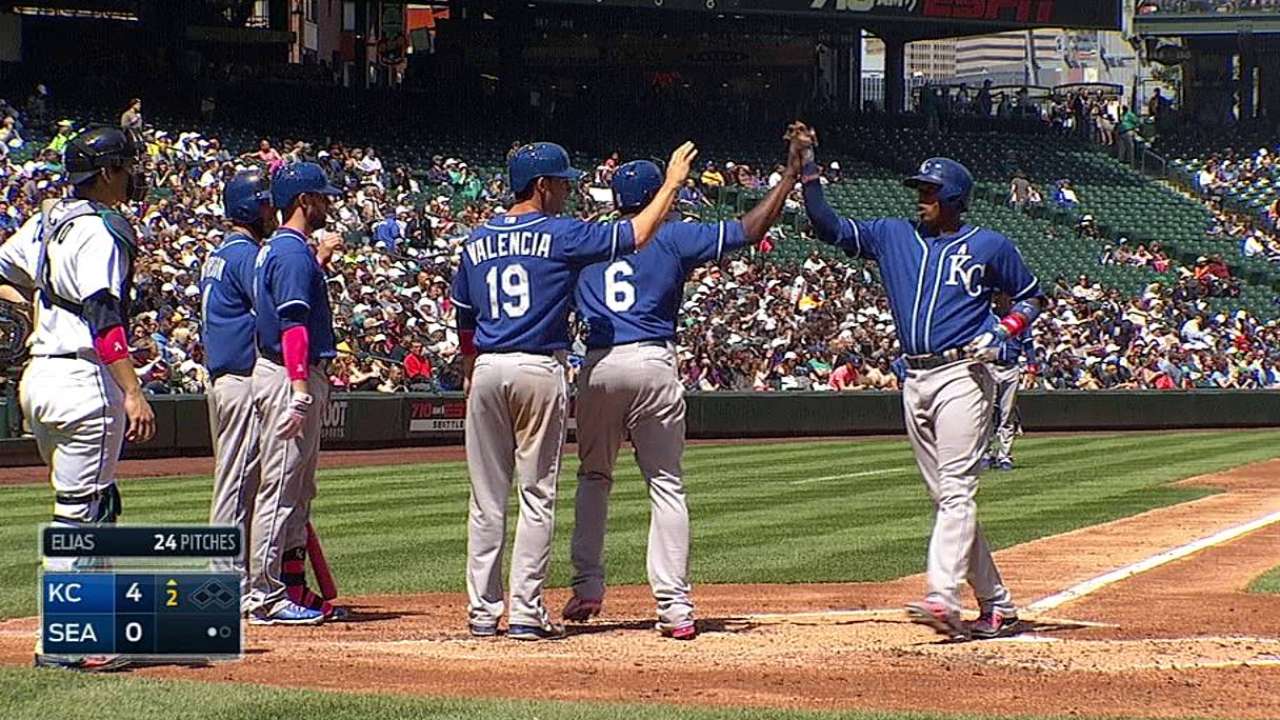 SEATTLE -- It's not where the Royals usually look for a power package -- the middle of their infield -- but they'll sure take it.
Second baseman Johnny Giavotella pounded a three-run homer for the winning runs and shortstop Alcides Escobar hammered his first grand slam to get the Royals started in a 9-7 victory over the Seattle Mariners with a Mother's Day crowd of 30,447 at Safeco Field.
The sunny Sunday outcome meant the Royals headed home with a record of 4-3 on their trip to San Diego and Seattle.
Giavotella headed for Kansas City not knowing how long he'd be with the club. He had just been called up three days ago to fill in for the aching Omar Infante. But Giavotella knew how he felt when his home run left the park in the seventh inning.
"I was super-excited, super-pumped up," Giavotella said. "I mean, it almost felt like I was walking on clouds running the bases coming home. In the dugout, everybody was just as excited as I was to take the lead."
The Royals went into the seventh inning trailing, 7-5, after their starter, Jeremy Guthrie, faltered in his shortest outing of the season. He didn't get out of the fifth inning and gave up three home runs -- two solo shots by Dustin Ackley and a two-run belt by Kyle Seager.
"Everything I threw got hit hard. I couldn't really determine or figure out what was going on," Guthrie said. "Just every time I threw a pitch, they seemed to put a good swing on it and hit it hard."
Eric Hosmer started the seventh with a double off reliever Danny Farquhar and, after an out, Danny Valencia and Alex Gordon each walked to load the bases. A sacrifice fly scored Hosmer.
Giavotella, in his third game since being recalled from Omaha, smashed the first pitch from Farquhar over the left-field wall for a three-run homer and a 9-7 lead. It was his first big league homer since Sept. 4, 2012.
If Infante is ready to go by Tuesday's homestand opener, Giavotella could be on his way back to Triple-A.
"I know what my role is. It's not the first time I've been up and down," he said. "I've been doing it for a few years now so whatever the team needs me to do -- whether it's go back to Omaha and work on my game, I'm going to do that. Just bite the bullet and make the most of it."
When Guthrie was pulled -- "He just wasn't sharp. They were all over him," manager Ned Yost said -- Kelvin Herrera got the third out of the fifth. Louis Coleman, who would be the winning pitcher, pitched a scoreless sixth before Giavotella's blast.
"Johnny's home run was huge in where it came in," Yost said, "because I had just turned to Pedro [Grifol, hitting coach] and said, 'If we could tie it or take the lead here, we're pretty set up with [Aaron] Crow, [Wade] Davis and Holly [Greg Holland] coming in behind him.' And, boom, it happened. And, boom, it worked out."
Sure did because Crow, Davis and Holland each pitched a scoreless inning. Holland notched his ninth save with a perfect ninth inning.
"The bullpen was fantastic," Yost said.
Escobar's slam came in second inning after the bases were jammed against left-hander Roenis Elias on singles by Valencia and Gordon and the first of five Mariners errors on Lorenzo Cain's hot shot to third. First, though, Giavotella struck out.
"Fastball in," Escobar said. "I was looking to make contact and hit the ball clean. I made good contact and the ball was gone."
The Mariners came storming back against Guthrie with three-run innings in the third and fourth. Seager, just back from a bout with the flu, hit his two-run homer in the fourth and Ackley, who also homered in his last at-bat Saturday night, went deep in both innings.
"They both felt great," Ackley said. "The one yesterday felt great so I'm just going to try to keep it rolling."
James Jones' double and Corey Hart's RBI single finally chased Guthrie in the fifth. The seven runs given up matched his career high.
The Royals' double-digit outburst of hits continued their somewhat mysterious recent penchant for bringing their bats to life only on alternate days.
Starting Wednesday, the Royals had 14 hits (a win), four hits (a loss), 16 hits (a win) and four hits (a loss). Then came Sunday's helping of 12 hits and another victory.
"Hopefully it just keeps improving," said Gordon, who had three of the hits. "We've got an off-day to enjoy this win. It's a big win. And, hopefully, we've got a nice little homestand coming up and we'll get rolling. We just haven't really hit our stride. We play well and then, all of a sudden, we don't play well. We need consistency."
Yost sees the need for that. After all, his Royals can't keep depending on guys like Escobar and Giavotella for their main power source.
"Yeah, you don't really expect your shortstop and second baseman to hit grand slams and three-run homers," Yost said. "But there are a lot of good signs out there. Hoz is really swinging the bat well, Gordy's getting hot, we need to get Billy [Butler] going a little bit."
They've got a nine-game homestand in which to improve their 18-19 record.
"We get back home and we'll go over .500 again," Escobar said determinedly.
Dick Kaegel is a reporter for MLB.com. This story was not subject to the approval of Major League Baseball or its clubs.