Mets rally in ninth before topping Phils in extras
Comeback from three down punctuated by Tejada's walk-off single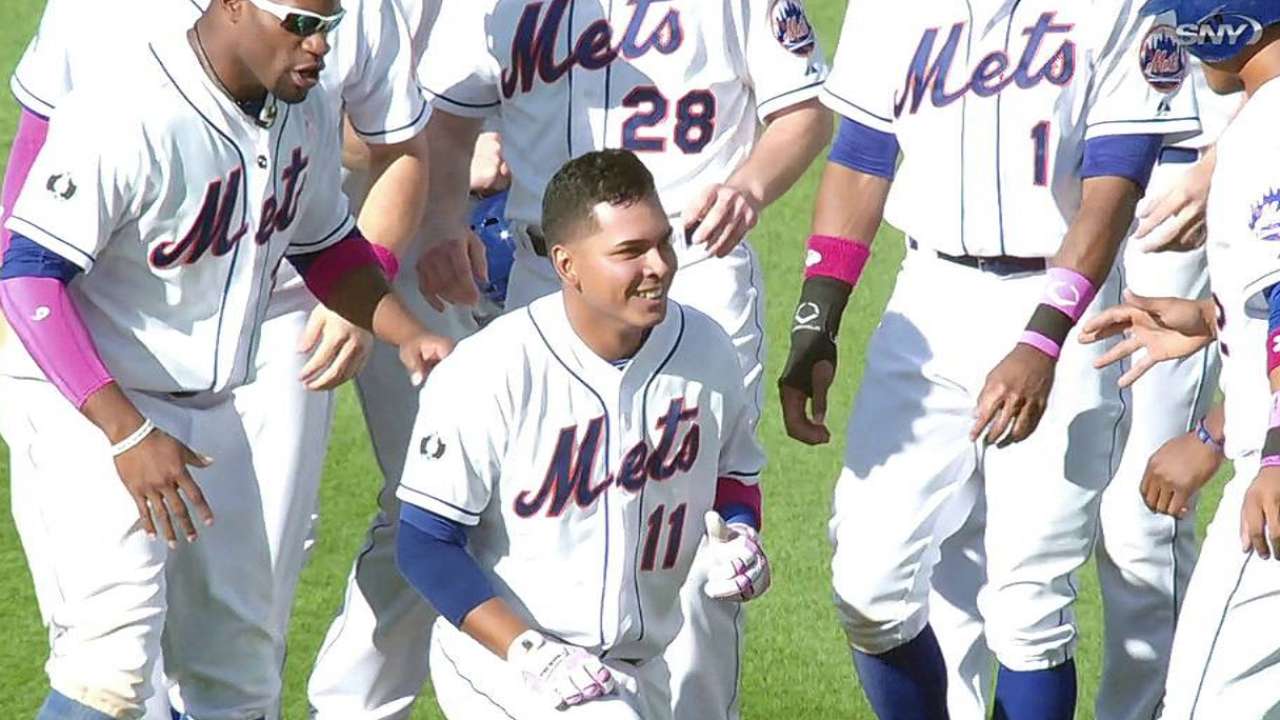 NEW YORK -- The Mets were plodding along to yet another loss Sunday, stranding runner after runner and wasting another fine pitching performance, when something changed. Down three runs in the ninth, the Mets suddenly rallied. Daniel Murphy hit a two-run homer. Chris Young snapped an 0-for-18 skid with a double. Juan Lagares tied things on a groundout.
Two innings later, Ruben Tejada singled home the winning run in an 11-inning, 5-4, walk-off victory over the Phillies that did more than snap a five-game losing streak.
"They knew things hadn't been going good," Mets manager Terry Collins said of his players. "We got big hits from some guys that had been struggling. That's all going to add up. In the end, this win may really be the win that gets us going."
To say that his team "hadn't been going good" was an understatement. Losers of five straight and eight of nine coming into an idyllic sunny Mother's Day at Citi Field, the Mets had paralyzed themselves with one of their worst stretches in years. They left 15 runners on base in an 11-inning loss to the Phillies on Friday night, before dropping another one-run game a day later.
Before that, it had been a nightmarish trip out to Colorado and Miami, where the Rockies and Marlins more or less had their way with the Mets. Recently four games above .500, the Mets had tumbled three games below that mark by Sunday morning. And things only grew worse from there, when the Phillies eked out three runs off Jon Niese to take an early lead.
Had the Mets been going good, those would not have been soul-crushing runs, but the Mets were not going good. So when Ryan Howard collected an infield single and scored on Domonic Brown's go-ahead RBI fielder's choice in the fourth, Collins' day took a dreary turn. When the Phillies added an insurance run on Wil Nieves' RBI groundout, then another in the ninth inning on Chase Utley's triple to make it a 4-1 game, moods around the ballpark soured. The only mothers at Citi Field seemed to be disappointed, disapproving ones.
Then came the rally that few saw coming. Eric Young sparked it with a double, his second of three hits on the day. Murphy followed with a homer off Antonio Bastardo, who was pitching as regular closer Jonathan Papelbon nursed a "sore everything." After a David Wright strikeout, Chris Young busted out of his slump with a key two-base hit.
Next came a pitching change, a Bobby Abreu infield single and a Lagares groundout to tie it. The Mets' bullpen held in the 10th and the 11th, allowing Tejada -- who snapped out of his own 0-for-17 funk earlier in the day -- to come through with the winning hit.
"It's pretty good for me and for the team," Tejada said. "It's a good win for the team."
That's an understatement in the other direction. Wright said it best after Friday's loss, noting that the Mets of seasons past have allowed a few bad innings to morph into games, series, weeks and months. As a result, they have not sniffed a pennant race in six years.
The implication was clear. The Mets had to find a way to avoid that fate this summer, lest they fall out of contention before midseason.
"We just needed a win," Murphy said.
Sunday provided that much-needed start.
Though the Mets collected their usual assortment of singles, doubles and walks against Phillies starter Cole Hamels, they scored their only run against the left-hander on Wright's RBI knock in the first. Hamels seemed to toy with them for the next six innings, stranding nine men on base while throwing a career-high 133 pitches.
And so the futility went on and on, until it abruptly stopped in the ninth.
What it means for the Mets won't be clear for another few weeks, at least. If they do not push this momentum forward with a strong Subway Series against the Yankees, it will all be for naught. But the opportunity stands before them now to escape from these doldrums, to make a real push back up the standings and back into relevance.
All they have to do is seize it.
"If you walk in the locker room right now, you'll see it," Collins said. "The energy level hasn't been this high in a long time, even when we were winning. These are things that lift you up and rebuild your confidence."
Anthony DiComo is a reporter for MLB.com. Follow him on Twitter @AnthonyDicomo. This story was not subject to the approval of Major League Baseball or its clubs.