Bullpen unable to hold three-run lead vs. Mets
With Papelbon unavailable, relievers can't secure Hamels' gem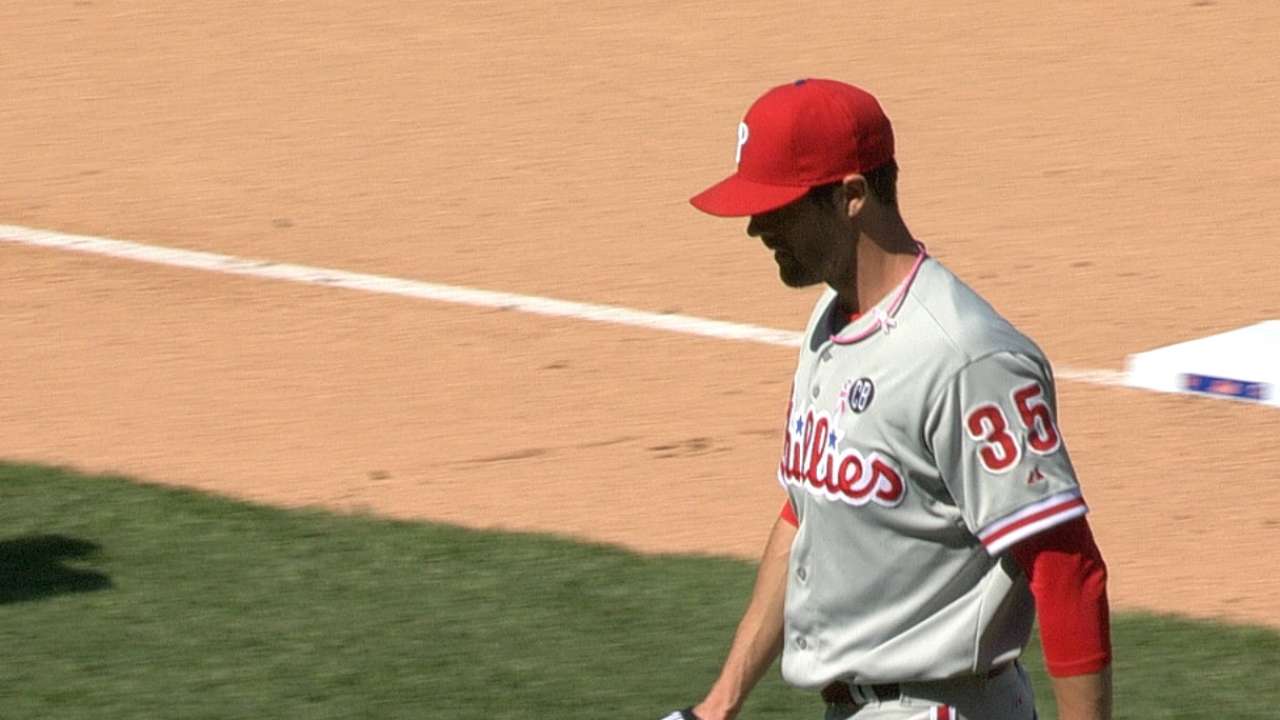 NEW YORK -- Closer Jonathan Papelbon watched the Phillies' three-run lead in the ninth inning evaporate from the bullpen, unable to help his team in his usual role. Starter Cole Hamels watched the Mets' rally from the clubhouse, as his stellar performance was negated.
Sunday's 5-4 loss to the Mets in 11 innings, one of the Phillies' most excruciating of the season, left manager Ryne Sandberg searching for stronger relief pitching.
Ruben Tejada hit a game-winning single to left-center with the bases loaded in the 11th inning off reliever Jeff Manship. Chris Young scored the winning run.
Entering the bottom of the ninth inning, the Phillies seemed ready to head back to Philadelphia with a three-game sweep. Their lead was 4-1, but Papelbon was unavailable after recording saves in the two previous games. Papelbon said he told Sandberg he was sore in a number of places -- his neck, shoulders, back.
"It's just kind of a product of the last couple games getting up in the bullpen, the tie game a bunch of times the other night," Papelbon said. "I've been through that situation plenty of times in my career."
Papelbon said he would be ready to pitch Tuesday when the Phillies face the Angels. Sandberg said it was important to listen to his closer and give him rest, despite the frustrating end to Sunday's game.
"He needed a day off," Sandberg said. "When guys are used numerous times, they need their days off."
Sandberg went with Antonio Bastardo as his closer Sunday. But Bastardo, having trouble with his command, promptly gave up a Daniel Murphy two-run homer to right. Chris Young lined a double off the left-field wall to put the tying run in scoring position.
"When you miss up, that's what's going to happen," Bastardo said. "I missed my pitch. I missed it and they made me pay for it."
Sandberg gave the ball next to Roberto Hernandez, who was the starter in Friday's win and threw 99 pitches. Young came home with the tying run on Juan Lagares' grounder to short.
The bullpen's struggles have been emblematic of what has gone wrong this season. Sandberg said the team doesn't need to bring in more relievers at this point. He asserted that the relievers on the roster had to perform better.
Starting pitching was not the issue Sunday, as Hamels had the upper hand against the Mets. Through seven innings, Hamels was poised, resourceful and showed his stamina. His only blemish came in the first inning when Eric Young Jr. scored on a single from David Wright.
The Mets continued to put pressure on Hamels, always seeming to be one hit away from scoring. But the left-hander consistently had an answer. On a career-high 133 pitches, Hamels finished with a season-high 10 strikeouts. At one point, the Mets went 0-for-9 with runners in scoring position.
"Sometimes, you just have to battle, and that's kind of what happened," Hamels said of his strikeouts. "I don't know if my body language was probably the best at times, just because of the fustration that's transpired over the past couple of games, with not being able to get ahead of guys."
But what could have been Hamels' 100th career win turned into a tough loss when the bullpen couldn't keep the Mets down.
The Phillies' offense continued to be sporadic, scoring its first run on back-to-back doubles by Wil Nieves and Cody Asche in the second inning.
Ryan Howard, known for his power, flashed his modest speed and agility in the fourth. Howard reached first base on an infield single, his only hit of the game. Then, to the surprise of many, he maneuvered, eluded and slid by Anthony Recker's tag at home plate to give the Phillies the lead on Domonic Brown's fielder choice.
"He made a heck of a slide to get in there safe," Sandberg said.
Marlon Byrd, who doubled after Howard's hit, scored when Nieves grounded out to third. In the ninth inning, Jimmy Rollins scored on a triple to right by Chase Utley to make it a 4-1 game.
At that moment, the Phillies were three outs away from a win that would have moved them to .500 at 18-18. The Mets' dramatic comeback, however, left the Phillies disappointed.
"It would have ended a tough start of a road trip and ended on a great note," Sandberg said. "With a three-run lead, that's a tough pill to swallow."
Nate Taylor is a contributor to MLB.com. This story was not subject to the approval of Major League Baseball or its clubs.