Red Sox push back above .500 mark
Lackey shuts down Rangers, allowing two runs in seven innings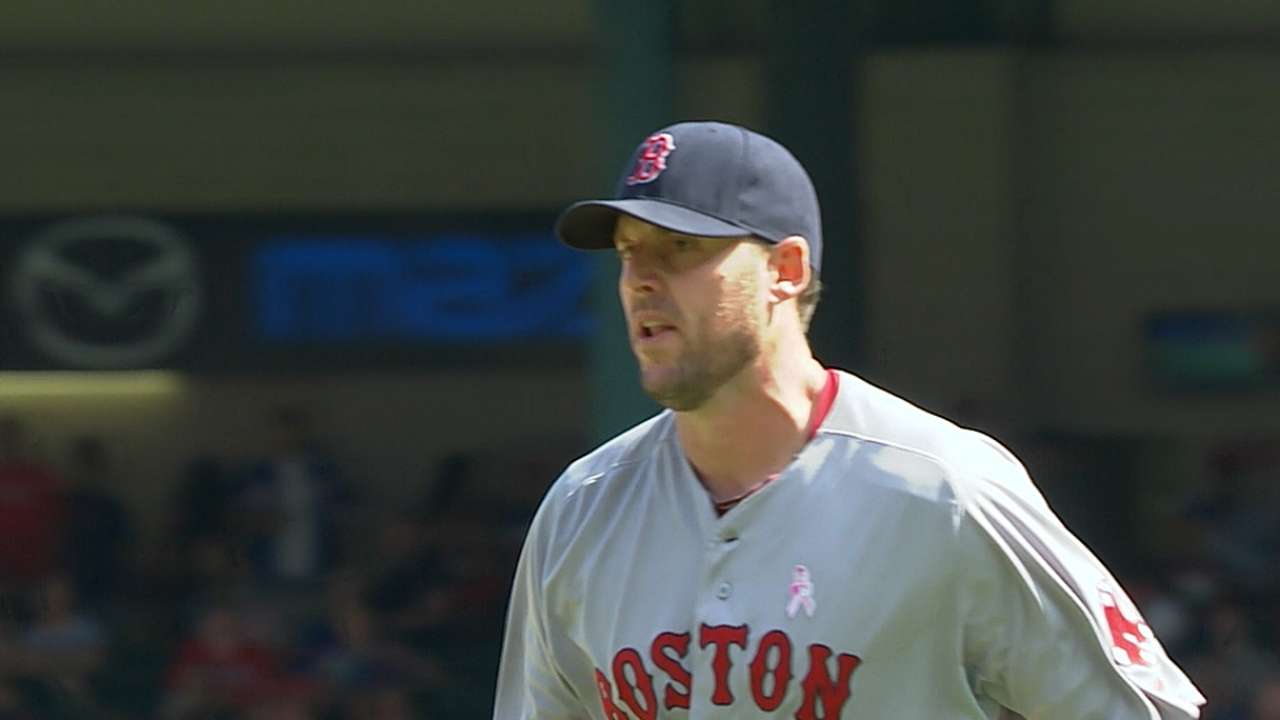 ARLINGTON -- Wearing a white cowboy hat, Wranglers and boots in the Red Sox clubhouse after Sunday's game, starting pitcher John Lackey looked a little like the good guy from a western.

Just down Interstate 30 from his home in Fort Worth, pitching in Globe Life Park for a visiting pitcher's record 20th time, Lackey was indeed Boston's hero Sunday. His offense grabbed an immediate lead, and that gave Lackey all the run support he needed to shut down the Rangers in a 5-2 victory.

Buoyed by Boston's three-run first inning, Lackey struck out nine Rangers, didn't walk anybody and relentlessly stayed in the strike zone, throwing 75 strikes to 30 balls in his seven innings.

"The guys really helped me out getting those early runs," Lackey said. "It's huge. You want to pound the strike zone, you want to try to make the other team earn stuff. You don't want to walk people, you don't want to help them out in any way, you want to make them earn it after that."

The only runs the Rangers could earn off Lackey were Shin-Soo Choo's solo homer in the fourth and an RBI double to Mitch Moreland in the seventh. In both those innings, the Rangers scored a single run and put two men on base only to have Lackey record the third out on a strikeout.

In the fourth, Lackey got Moreland swinging with men at first and third. In the seventh, he fanned Leonys Martin and Rougned Odor for the final two outs with runners at first and second.

"Any kind of threat that they posed, he was able to get a strikeout in key moments," Boston manager John Farrell said. "He just kept entire control of the game today."

Lackey worked quickly and established a tempo that kept him ahead of the Rangers hitters most of the time. Red Sox catcher A.J. Pierzynski called it "cruise control," while the Rangers were stymied again and again.

"He had a good, tight breaking ball," said Texas catcher J.P. Arencibia, who struck out twice against Lackey. "His fastball was kind of jumping in the zone. He wasn't really giving many pitches to hit. He lived on the corners. When he needed a big pitch, he was throwing his breaking balls for strikes and throwing it to get us to chase. He was good."

Lackey has struck out 29 batters in 29 innings in his past four starts.

Lackey had the luxury of a lead from the second he stepped on the mound after Dustin Pedroia led off with a double, took third on Shane Victorino's sacrifice bunt and -- after an intentional walk to David Ortiz -- scored on Mike Napoli's double. The Red Sox got the game-winning run on Pierzynski's two-run single that plated Ortiz and Napoli.

"An extra-base hit to start things off, in a day game following a night game, it kind of wakes you up, gives you a boost of energy, and that's exactly what happened in that first," Farrell said of Pedroia's double.

Pedroia also hit a solo homer in the seventh for insurance.

After Lackey left, the Red Sox turned to Andrew Miller and Koji Uehara, who pitched scoreless eighth and ninth frames. Uehara earned his ninth save this season.

Boston took the last two games of a three-game series in Texas largely on strong starting pitching by Saturday's winner Jon Lester and Lackey. The Red Sox rotation has allowed only 25 earned runs in the past 11 games for a 3.20 ERA in 70 1/3 innings. The five pitchers in the rotation now have started all 37 games this season.

"When a guy goes to the mound and pitches well, particularly in a series, it gives some confidence to the guy that follows," Farrell said. "Whether or not we're seeing some internal competition and one guy trying to keep his end of the bargain and continue a streak -- knowing how tight these starters are, as teammates, I know that exists. We're going to point to the starting rotation as a main component, and that's showing right now."

Largely because of the rotation -- with help from increasingly timely, opportunistic hitting -- the Red Sox have won six of their last eight, nine of 14 and 12 of 19 dating back to April 19.

"I think we're playing better baseball, for sure," Lackey said. "We've got a lot of guys in this room with pretty good track records. We've just got to let things play out and let guys be who they are, and I think things will end up pretty good."
Dave Sessions is a contributor to MLB.com. This story was not subject to the approval of Major League Baseball or its clubs.