Astros go pink to celebrate Mother's Day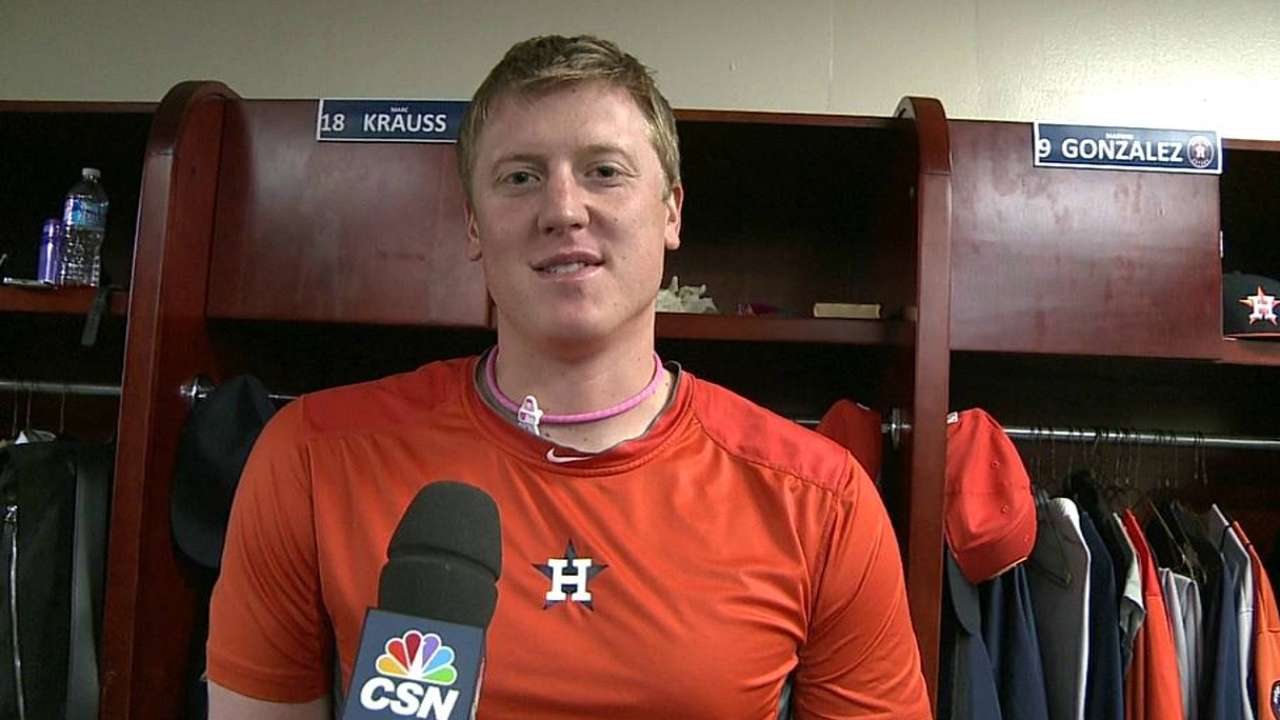 BALTIMORE -- Several Astros players took the opportunity Sunday to don pink gear in honor of Mother's Day. While starting pitcher Jarred Cosart wore pink cleats for his mother, who was in the stands Sunday, players Jesus Guzman, Alex Presley, Marc Krauss, L.J. Hoes and George Springer had specially made pink bats.
The bats are of a special significance to Hoes, whose mother, Gail Hoes, and grandmother, Mary Hoes, are both survivors of cancer and were in attendance Sunday in Baltimore, which is near where L.J. grew up.
"This is the first time I've been home on Mother's Day in a long time," he said. "It's pretty cool. It's going to be a great experience, and I'm happy I'm able to see her on Mother's Day and happy I get to spend a little time with her."
Krauss was swinging a pink bat in honor of his mother, Jenny, with which he belted a two-run homer in the seventh inning of the Astros' 5-2 win over the Orioles.
"She's an amazing mom," he said. "I was so lucky and blessed to have her in my life. She puts up with a lot for me and my two older brothers. She deserves all the credit for raising us, and it's cool to have a day like this where we get to celebrate all the great moms."
Mother's Day is also significant for Krauss' wife, Kelcey, who is celebrating her first Mother's Day after giving birth to the couple's first child, Ava, last offseason.
"It's the first time she gets to celebrate and I get to celebrate her and everything she does," he said. "She does so much for us. We're gone half the time and that's the only bad part of our job. She's doing an amazing job and puts up with a lot and handles a lot. It's a great day to be able to honor her, and I'm proud of her and happy we're able to do this together."
Springer's mother, Laura Marie Springer, was also in attendance Sunday in Baltimore to see her son, who had pink bats with her name on them, as well as pink cleats.
"At the end of the day, whether it's cracked or not, I'll hand that to her and give her the cleats I've got and let her kind of enjoy her day," Springer said. "She means the absolute world to me. She's had a huge impact on my life, and I wouldn't be here today without her. Every day, to me, is Mother's Day, but today is special for her and hopefully we can do something special for her."
Brian McTaggart is a reporter for MLB.com and writes an MLBlog, Tag's Lines. Follow @brianmctaggart on Twitter. This story was not subject to the approval of Major League Baseball or its clubs.