Aramis headed to DL; Brewers mulling options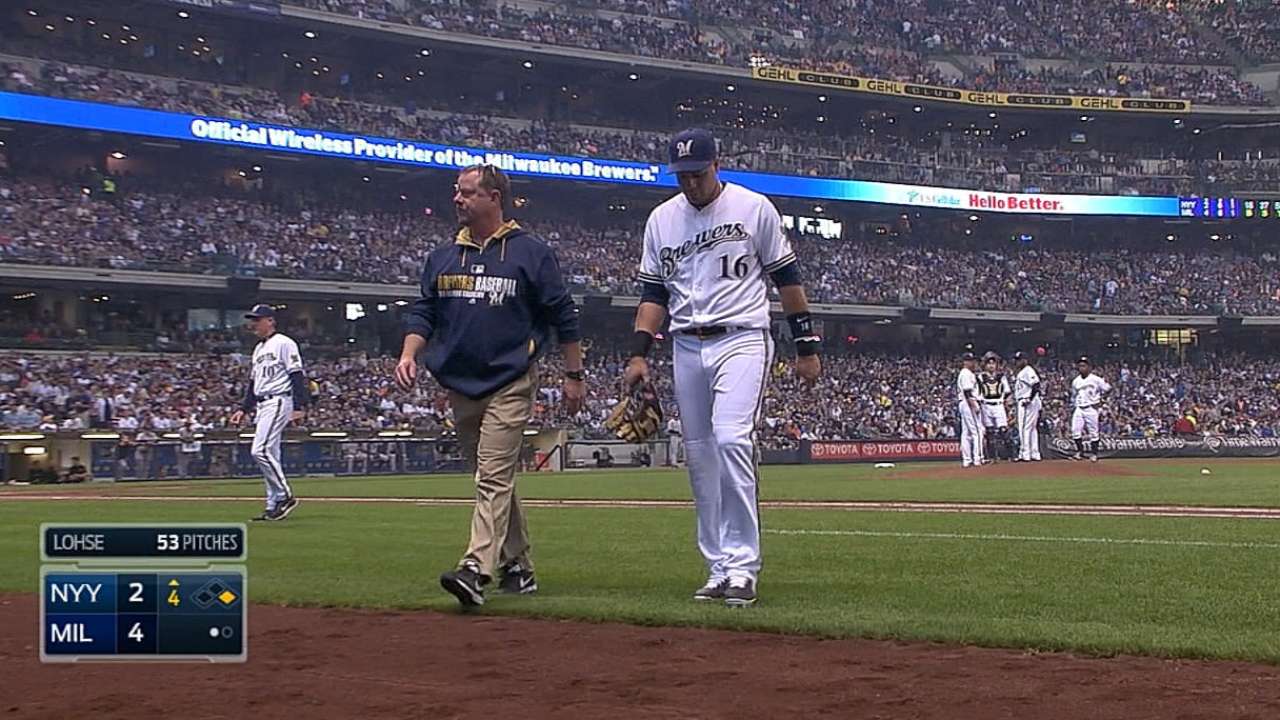 MILWAUKEE -- Brewers third baseman Aramis Ramirez's strained left hamstring will send him to the disabled list before Tuesday's game against the Pirates, and club officials were still discussing options Sunday for a corresponding roster move -- or moves.
The outcome will depend on whether right fielder Ryan Braun is ready to return from a stint on the DL for a right rib-cage strain. That seemed likely on Sunday, when Braun took full batting practice again and the session "went great," according to manager Ron Roenicke.
The Brewers would have liked to see Braun play a Minor League game before making a formal move, but weather worries at Class A Wisconsin on Monday and travel issues for the other affiliates made that challenging. Braun will instead report to Miller Park for treatment.
"We're hoping he checks out well [Monday] and then we can activate him Tuesday," Roenicke said.
In that scenario, Mark Reynolds and Jeff Bianchi could fill in at third base during Ramirez's absence. Braun has avoided making predictions about his availability for Tuesday, saying, "I'm just trying to get the most out of each day. It's still progressing. Definitely heading in the right direction. It's not going to disappear overnight."
If Braun needs more time, the Brewers would have to call up utility man Elian Herrera from Triple-A Nashville. The switch-hitter has already played a stint in the big leagues this season.
Further complicating matters is the uncertain status of center fielder Carlos Gomez, who had an appeal hearing for his three-game suspension on Friday. The Brewers anticipate a ruling from Major League Baseball on Monday or Tuesday, and even if Braun is back, the team may consider adding Herrera to help fill the lineup with right-handed bats against left-handed Pirates pitchers for Wednesday and Thursday.
All of the personnel shuffling gave Roenicke an uncomfortable sense of déjà vu on Sunday. Last season, he routinely scrambled to fill out a lineup card because of injuries to key middle-of-the-order hitters.
"When I was writing up the lineup today, yes," Roenicke said when asked about the comparison. "It was a tough one today."
Still, for all their issues, the Brewers are 24-14 after Sunday's 6-5 win, and they will enjoy Monday's off-day with at least a five-game lead in the National League Central.
"It's huge, health is huge," Roenicke said. "We'll get through this period, hopefully get everybody at the same time, but we got to get through this period playing good baseball. Our pitching, I think, is good enough to do that. We've just got to figure out with scrapping some runs [together]. Hopefully, we get through it."
Roenicke said there was no timetable for Ramirez's recovery. On Saturday night, Ramirez indicated this was his first hamstring injury in a career that spans parts of 17 Major League seasons.
Adam McCalvy is a reporter for MLB.com. Read his blog, Brew Beat, and follow him on Twitter at @AdamMcCalvy. This story was not subject to the approval of Major League Baseball or its clubs.