Offense falls flat as White Sox drop rubber match
Noesi delivers quality start, but lineup manages just four hits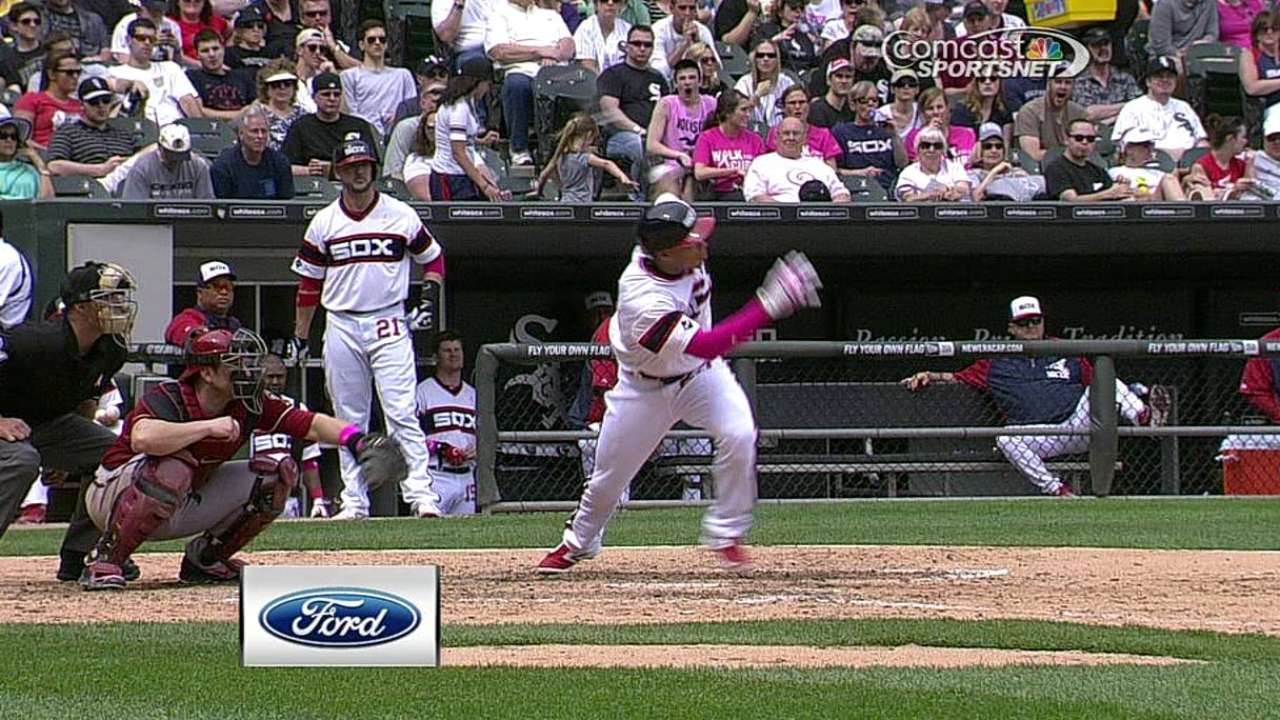 CHICAGO - There wasn't much deep analysis provided by White Sox manager Robin Ventura following Sunday's 5-1 loss to Arizona at U.S. Cellular Field.
Just anger and a promise of something different on the heels of what arguably stands as the team's worst showing out of an encouraging and exciting 39-game start to the 2014 campaign.
The first postgame question to Ventura centered on why Chase Anderson (1-0) was so effective in his Major League debut for the D-backs (15-25). Ventura gave credit to Anderson, but not so much where the White Sox (19-20) were concerned.
"He threw well, but it was pretty uninspired by us all the way through," a direct and agitated Ventura said. "It started from the first play of the game and continued on and it stunk, pretty much the whole thing. Hector [Noesi] pitched a heck of a game to at least give us a chance, and everything else stunk. That's pretty much it."
Noesi (0-3) made his third start with the White Sox and has raised his pitch count from 51 to 81 to a career-high 117 on Sunday. He yielded three runs on eight hits, while striking out four and walking three over six innings.
It was the D-backs' first-inning run allowed by Noesi that seemed to ignite Ventura's fire, basically because it never should have scored.
Gerardo Parra opened with what looked like a routine fly ball to Alejandro De Aza in center. De Aza is admittedly more comfortable defensively in left, and it showed on the play as he originally broke back, stumbled and fell as he made his way in and missed the fly ball as he made an attempt from his knees.
Parra raced all the way around to third and scored on Martin Prado's single. A fifth-inning homer from Parra represented the other two runs against Noesi.
"Change-up, slider. Everything was working today. Just one pitch that I missed up," Noesi said. "I love to start. I think I'm getting better every day."
"You know, he gave us a chance," said Ventura of Noesi. "He was around the zone, threw strikes, all that. It's too bad for him. He pitched a good game and nobody else showed up."
An Arizona starting pitcher faced the minimum nine hitters over three innings for a third straight game in this series. For a second straight game, an Arizona starter faced the minimum over four.
Anderson never topped 12 pitches total in any of the first five innings, which is somewhat out of character with the White Sox patient offensive approach this season. In the sixth inning, Moises Sierra took him deep as the culmination of a 12-pitch at-bat. Tyler Flowers followed with a walk, and Anderson was replaced by Joe Thatcher, who retired Conor Gillaspie on a grounder to second baseman Aaron Hill with the tying runs in scoring position.
"Definitely the key, fastball command early, being able to flip my curveball for strikes when some guys were sitting on the fastball and threw my changeup for a strike and a strikeout," Anderson said. "So command of all three of my pitches was great today."
"Congratulations to him on a great first day. It was a big day for him, I'm sure, so congrats to him. We'll just move on," said White Sox captain Paul Konerko of Anderson. "He was hitting his spots. A good pitch is a good pitch. It doesn't matter who it comes from or if it's his first start or whatever. He threw the ball great."
Miguel Montero's two-run homer in the ninth off of Frank Francisco, who made his White Sox debut, finished off the scoring. Montero connected with Paul Goldschmidt on first, after Goldschmidt reached on first baseman Adam Dunn's fielding error. The drive to right also came on Francisco's 42nd pitch in his second inning of relief with Scott Downs warming up in the bullpen.
Konerko's double play grounder in a pinch-hit role against Oliver Perez ended the game, giving the White Sox three losses in four games and a 1-6 mark in three-game series this season. It also set the stage for Ventura's frustration.
"They were just flat, couldn't get anything going," Ventura said. "Something is going to happen. I don't know what yet, but something."
When asked if that something dealt with lineup changes, Ventura responded with "maybe."
"Just in the way you treat them and everything else," Ventura continued.
Despite Sunday's forgettable performance, the White Sox have survived a run of key injuries and are getting healthier. Both Adam Eaton and Chris Sale figure to leave on Minor League injury rehab assignments this week, and they both could be back in action by the end of May.
Ventura's comments simply might have been a not-so-gentle reminder that what happened last year won't be tolerated with the White Sox in '14, regardless of whether the team wins 75, 85 or 95. And he certainly wasn't trying to take away from Anderson's impressive debut.
Whatever the reasons, after missing Saturday's game to attend his daughter's college graduation from Oklahoma State, Ventura certainly wasn't in a celebratory mood Sunday.
"I don't think it's lack of effort," Flowers said. "We did seem a little, I guess lethargic could be the word. I couldn't tell, I really don't know. The guy did a good job shutting us down.
"Next time I guess we need to pick up a little more rah, rah or something; that ought to keep everybody motivated and going. But again, we didn't quit on that game or anything. That guy did better than we did."
Scott Merkin is a reporter for MLB.com. Read his blog, Merk's Works, and follow him on Twitter @scottmerkin. This story was not subject to the approval of Major League Baseball or its clubs.