After rough week, Axford takes breather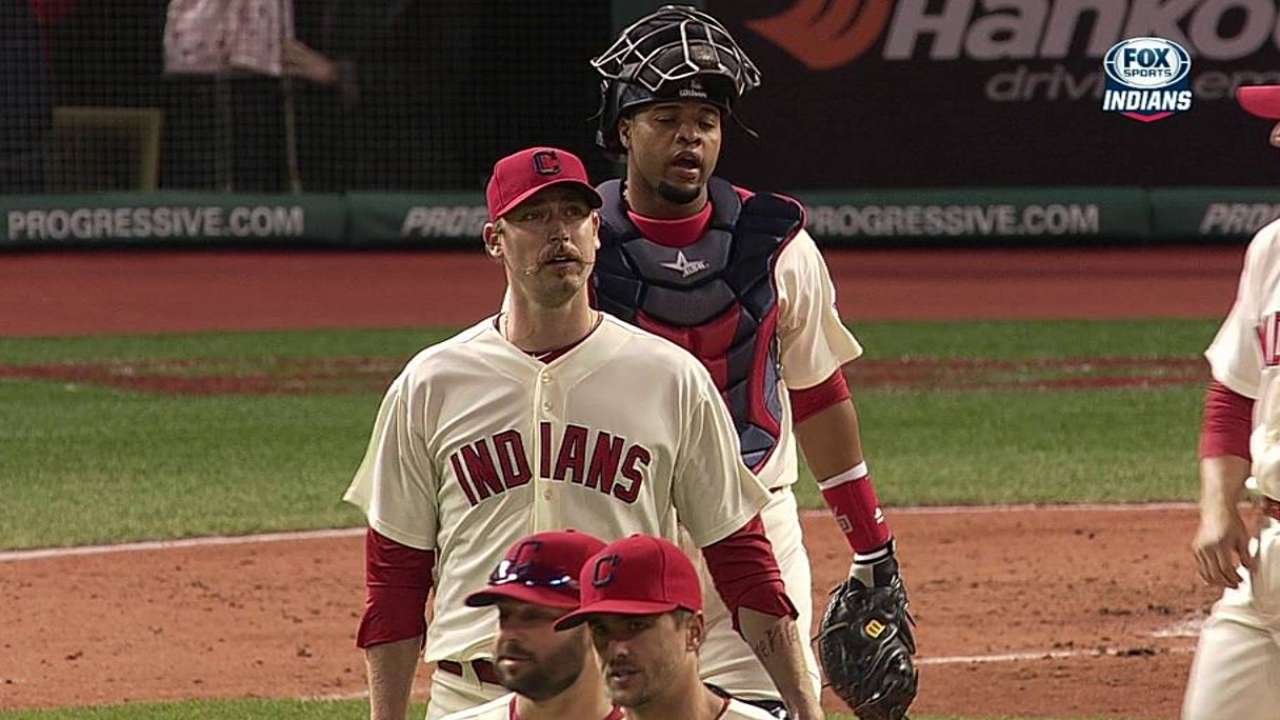 ST. PETERSBURG -- In need of an escape, art aficionado John Axford wandered out of the team's hotel on Saturday and explored the Salvador Dali Museum in St. Petersburg. For a couple of hours, the displaced closer could steer his focus away from the mound.
Axford, who bears a tattoo of flowers on his left arm that is based on Dali's work, said the walk around the museum was welcomed.
"I enjoy art, so I made sure I did that instead of baseball for a little while," Axford said on Sunday morning. "I got my mind off of it. Sometimes you have to take those breaks and then, when you're at the field, you have to bring yourself back in."
The Indians temporarily removed Axford from the closer's role on Saturday after his season-long issues with falling behind developed into an extremely rough week on the hill. While Axford sorts out some mechanical flaws and searches for consistency, Cleveland manager Terry Francona plans on using any combination of Cody Allen, Scott Atchison, Marc Rzepczynski and Bryan Shaw in the ninth inning.
Axford was understandably upset when Francona delivered that news.
"Obviously, it's pretty disappointing," Axford said. "Things didn't go very well for a week. Not only not very well, they went bad. Hopefully this is just a good opportunity to take a step back and get things back to where they were, and even better than what they were in April."
Axford, who has 115 career saves, has nine saves in 11 chances this season, but the lanky right-hander also entered Sunday's action with nearly as many walks (13) as strikeouts (15) through 14 2/3 innings. Over his past four appearances, Axford had toiled through 102 pitches in three innings, in which he gave up five runs on six hits (two home runs) with six walks and five strikeouts.
Axord's season ERA ballooned from 2.31 to 4.91 in those four outings.
"It's just unfortunate that a good month led into a bad week," Axford said, "and then a bad week turns into, 'Let's try and regroup and figure things out.'"
Francona has stressed that the goal is to get Axford back into the ninth inning at some point.
"What's important is, when things like that do happen, where do you go from there?" Francona said. "Do you make it good? Do you let it beat you up? Ax was really respectful. We saw kind of a little bit of a trend where he was working behind a lot.
"I know he had a bad week, but even in some of the saves, there were some times he was working behind."
Jordan Bastian is a reporter for MLB.com. Read his blog, Major League Bastian, and follow him on Twitter @MLBastian. This story was not subject to the approval of Major League Baseball or its clubs.