Short outing spells trouble for quiet Blue Jays offense
Hutchison lasts just 4 1/3 innings as Toronto drops third straight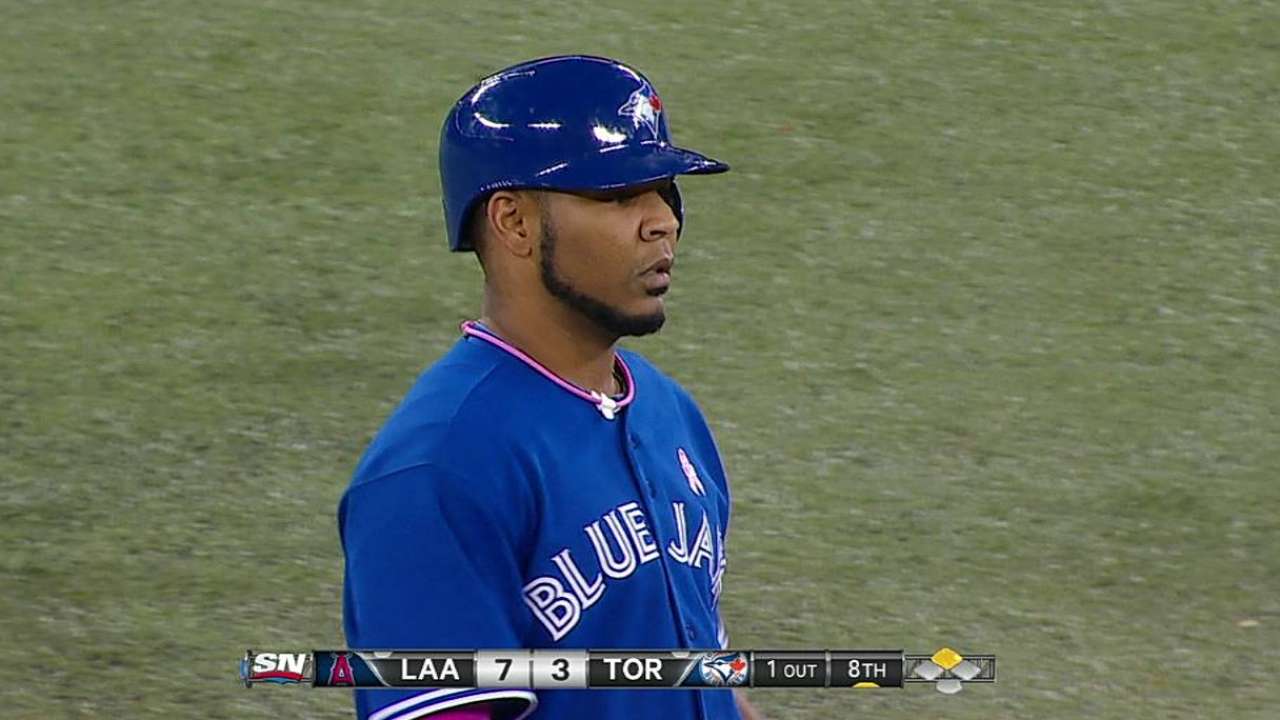 TORONTO -- After riding the highs that come with a winning streak, the Blue Jays are now experiencing the lows of a losing streak.
They'd won five straight entering their weekend series against the Angels, but the absence of a strong pitching performance and a lack of offense has the Blue Jays in danger of being swept for the first time this season.
A middle-innings offensive outburst and a solid starting performance from Jered Weaver gave the Angels a 9-3 win and their third straight victory over the Blue Jays at Rogers Centre on Sunday afternoon.
It was also the third straight game Toronto was unable to score more than three runs, a problem that would've seemed unfathomable in the five games that preceded the series vs. the Angels, during which they generated 38 runs.
"We were riding high those five games, swinging the bats, pitching, and we came in here and they basically shut us down," said manager John Gibbons. "... But you can't get to where you're sticking your tail between your legs. You gotta show up tomorrow and play."
Drew Hutchison was dealt the loss, going 4 1/3 innings while allowing three hits and three earned runs. He walked a season-high four batters and struck out five.
The 23-year-old right hander didn't give up many hits, but the ones that did fall in were crucial.
A turning point came in the fourth. After retiring Albert Pujols and Raul Ibanez, Hutchison was nearly out of the inning, working Howie Kendrick to an 0-2 count. But Kendrick would not give in so easily, battling through a 10-pitch at-bat to earn a walk. That proved costly.
The Angels followed with two straight RBI doubles -- their first two hits of the game -- to go up, 2-1. After walking Collin Cowgill to start the fifth, Hutchison gave up a single to Erick Aybar and was relieved by rookie Marcus Stroman with Mike Trout due up. Trout's ground-rule double scored Cowgill to make it 3-1.
"I was ahead, and I didn't put him away," said Hutchison of his battle with Kendrick. "It's just not a good job on my part."
While the Angels were able to produce timely offense, the Blue Jays could not. They were 2-for-11 with runners in scoring position, and their bats were largely dormant until the late innings, when the game was already out of reach.
It wasn't until the seventh inning that the home team was able to generate any sort of a rally. After a one-out double from Adam Lind, Dioner Navarro singled to put runners on the corners for Juan Francisco. Francisco walked, loading them for Colby Rasmus.
But Angels reliever Michael Kohn came in to relieve Weaver, and he retired Rasmus and Steve Tolleson to end the threat.
The Blue Jays rallied again in the bottom of the eighth. Jose Reyes led off with a walk, followed by a single from Melky Cabrera. Edwin Encarnacion brought them both home with a double to the right-field wall to make it a 7-3 Angels lead, but that was as close as they would come.
Weaver continued his dominance against the Blue Jays, improving to 9-2 lifetime against Toronto.
"I think he's growing into his stuff," Angels manager Mike Scioscia said. "Weaver is trying to get back to where he wants to be and has taken great strides the last couple of games. He gets it done, he competes."
The veteran right-hander pitched 6 1/3 innings. Weaver struck out five and gave up four hits and one run, and he is 4-2 on the season. His solid performance came on the heels of quality starts from Garrett Richards and Tyler Skaggs in the opening two games of the series.
"They've been taking it to us. They've got a good pitching staff over there," Gibbons said.
Stroman was roughed up for five hits and four runs in the sixth as the Angels put the game out of reach.
Kendrick singled on a sharp line drive to center before stealing second base. He advanced to third on an Efren Navarro single. Hank Conger then cleared the bases with a line-drive home run to right-center field, going deep for the third time this season to make it 6-1, Angels. They added one more, and it was 7-1 after six.
Gibbons said after the game that reliever Sergio Santos has a forearm injury and will be moved to the disabled list. He didn't know who would take Santos's place on the active roster, and no move was announced.
Jamie Ross is an associate reporter for MLB.com. This story was not subject to the approval of Major League Baseball or its clubs.