Conger's career day clinches series for Weaver, Halos
Angels catcher launches three-run homer, drives in five runs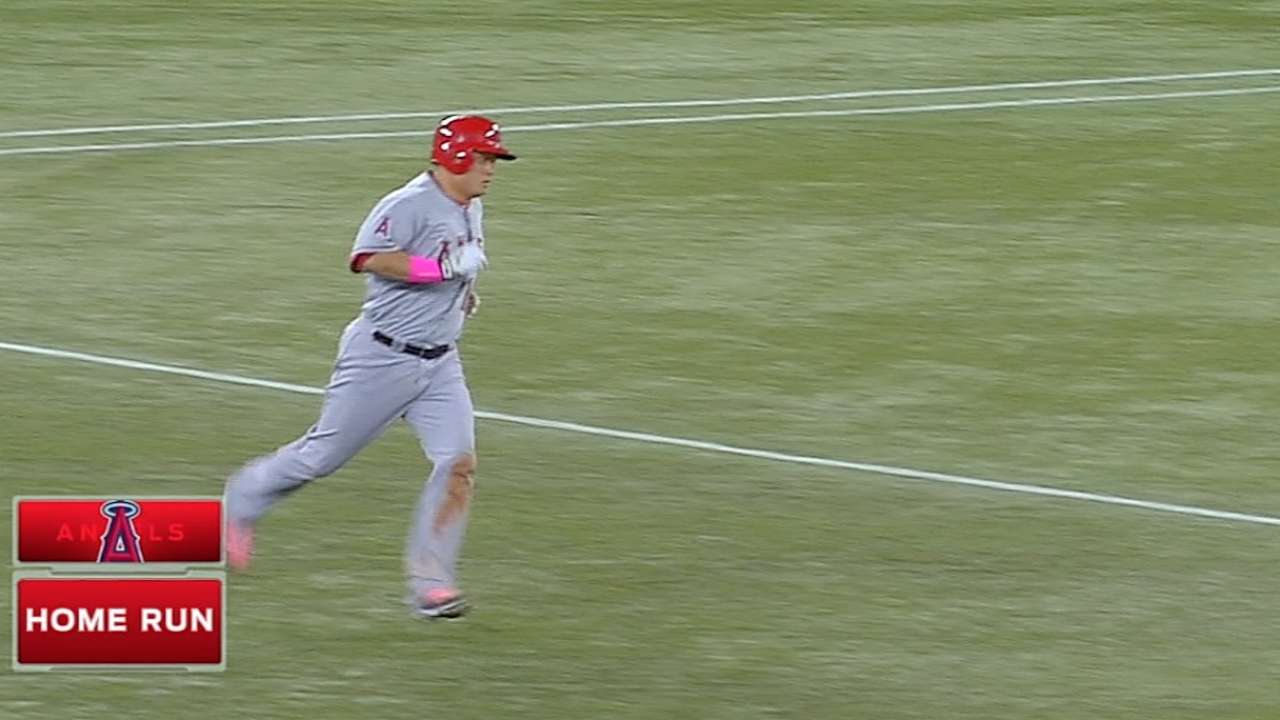 TORONTO -- Jered Weaver did something in Sunday's contest that he has never done before.
The right-hander felt his stuff was diminishing and checked his ego at the door, asking out of the game during the seventh inning with the bases loaded in a move that paid off for Los Angeles, as the club got out of the jam unscathed and cruised to an easy victory.
Weaver threw 6 1/3 innings of one-run ball, while Hank Conger hit a three-run homer and drove in a career-high five runs to power the Angels to a 9-3 win over the Blue Jays at Rogers Centre on Mother's Day.
"That's the first time. First time for everything," said Weaver, who recorded his fifth quality start. "It took a lot for me to do that, but sometimes you have to swallow your pride in certain situations."
The Angels were up, 7-1, and Weaver was rolling heading into the bottom half of the seventh. But Weaver, who said he was losing command of his fastball, allowed back-to-back one-out hits before walking Juan Francisco on five pitches to load the bases. He bounced ball four in the dirt, prompting pitching coach Mike Butcher to make a trip out to the mound.
When Butcher made the visit, Weaver, uncharacteristically, informed him his day was over.
"I told him I was getting a little fatigued there and that I think the right thing to do is bring in the fresh arm," said Weaver, who allowed four hits, walked two and punched out five.
Butcher complied to his ace's request and called for right-hander Michael Kohn out of bullpen. Kohn bailed Weaver out by inducing a popup before striking out Steve Tolleson looking to end Toronto's threat.
The 31-year-old Weaver, who retired 16 of 17 batters at one point, has allowed six runs over his last five starts, a span of 31 2/3 innings, which is good for 1.71 ERA.
It's a stark contrast from the beginning of the year, when Weaver had a 5.79 ERA after three starts.
"I think he's growing into his stuff," Angels manager Mike Scioscia said. "Weaver is trying to get back to where he wants to be and has taken great strides the last couple of games. He gets it done, he competes."
The win improved Weaver's record to 4-2, and it was the seventh time he has beaten the Blue Jays in his last eight starts.
It's not just Weaver who enjoys playing against Toronto. The Angels -- who moved two games over .500 for the first time this season -- have won a franchise-record seven consecutive games in Toronto, and defeated the club 10 of the last 11 times the two have met overall.
"You know what? In all honesty, we looked tired today," Blue Jays manager John Gibbons said. "But they've been taking it to us."
Conger, who said he was shocked Weaver asked out of the game, led the offensive attack for the Angels.
In addition to the three-run homer, Conger also doubled, singled and walked to reach base five times, and he finished the contest with a 3-for-4 performance. He became the first Angels catcher to drive in five runs in a game since Bobby Wilson on Aug. 14, 2010.
"I felt good, my swing has been up and down a little bit," Conger said. "For me, it's just a matter of slowing everything down. Obviously it was a good day."
Howie Kendrick and Efren Navarro were also big contributors for the Angels, who pounded out 12 hits and scored their most runs in a game during the month of May. Kendrick, who doubled twice, walked and stole a pair of bases -- the third time this season he has done so -- ignited a pair of rallies for the Angels.
After falling behind, 0-2, in the count to Toronto starter Drew Hutchison in the fourth inning, Kendrick battled back to draw a 10-pitch walk and immediately stole second base on the first offering Navarro saw the following at-bat. Navarro (2-for-4 with a walk) and Conger then hit back-to-back doubles to put the Angels ahead, 2-1.
Then, during the Angels' big sixth inning, Kendrick and Navarro started off the frame with back-to-back singles off reliever Marcus Stroman to put a pair on for Conger, who put the exclamation point on the game with his three-run shot, giving the Angels a 6-1 lead.
Ian Stewart, who was forced to leave the contest after getting hit with a pitch in the seventh inning, followed up with a triple to snap an 0-for-24 skid at the plate. Collin Cowgill then drove him in with a single, putting Los Angeles in front, 7-1.
Kendrick, Navarro and Conger -- the Angels' Nos. 5-6-7 hitters -- combined to go 8-for-12 with five extra-base hits, six runs scored and six RBIs.
The Angels chased Hutchison (1-3) out of the game with a runner on in the fifth inning, and then beat up on the rookie Stroman, who was charged with four runs on six hits over 1 2/3 innings.
Toronto added a pair of runs in the eighth inning, making it a 7-3 game, on an Edwin Encarnacion two-run double off reliever Fernando Salas, but the Blue Jays couldn't get any closer than that.
The Angels, who matched a season high with their third consecutive victory, will look to complete the four-game sweep of Toronto on Monday, with left-hander C.J. Wilson on the mound.
Chris Toman is a contributor to MLB.com. This story was not subject to the approval of Major League Baseball or its clubs.