Lester holds off Rangers as offense erupts
Victorino racks up three hits, four RBIs; Ortiz belts HR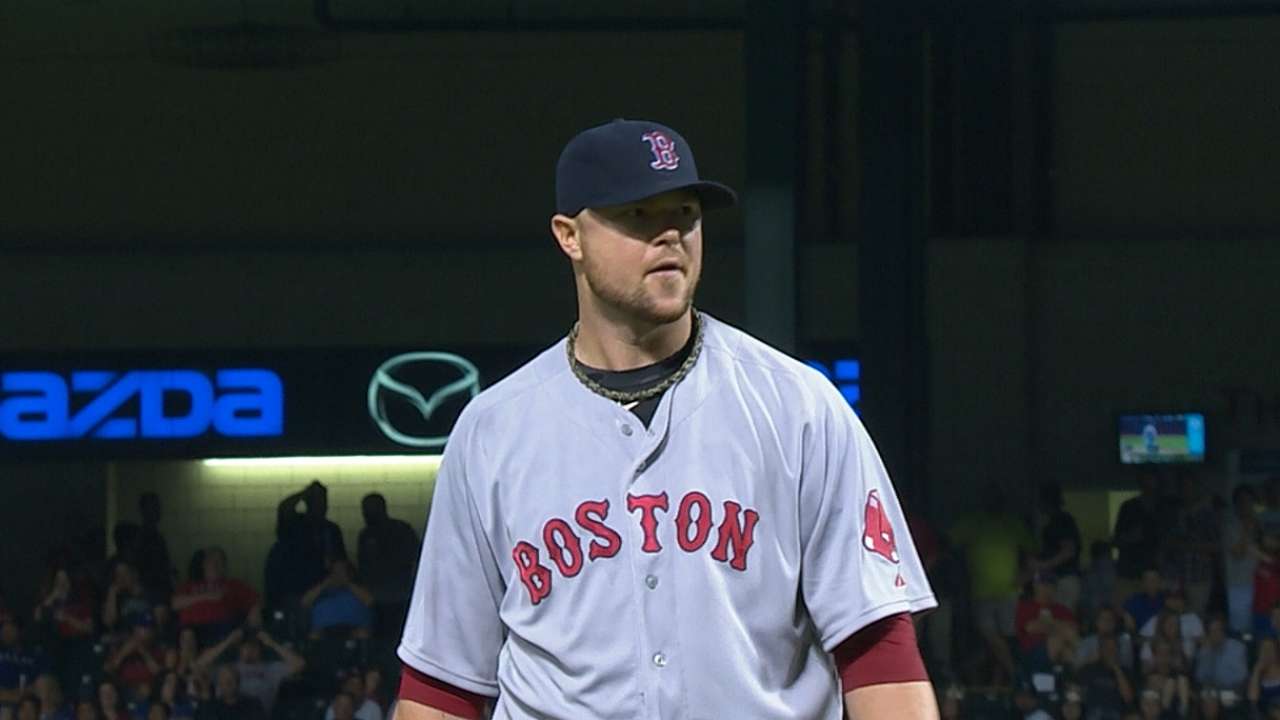 ARLINGTON -- Red Sox lefty Jon Lester retired the first nine Rangers hitters he faced Saturday night, striking out three of them looking, and appeared to be on his way to another dominant performance.
The emphasis is on "appeared," because to Lester and catcher David Ross, the early going of their 8-3 victory over the Rangers was anything but easy.
"I'm glad it looked that way," said Lester, who struck out eight and allowed three runs on four hits in seven innings. "I think I threw the ball worse in the first four than I did the last three. ... It definitely was a grind tonight."
Maybe so, but it didn't matter much anyway, because a night after almost being no-hit by Yu Darvish, the Red Sox hitters exploded against Rangers lefty Martin Perez. Boston touched him up for six earned runs in 3 2/3 innings, working four walks and reaching base with 14 of the 23 men he faced.
On his way to a 3-for-4, four-RBI night, right fielder Shane Victorino drove in Boston's first run in the third with a single to center that scored Will Middlebrooks, who had singled. Victorino returned from a hamstring injury near the end of April and has begun to contribute again.
"It sparks our lineup a little more, it's a different look, another guy that can drive the ball into the gap and wreak some havoc on the basepaths," manager John Farrell said. "The biggest thing is just his defense."
Fresh off Friday's scoring controversy over whether he should have been awarded a hit that would have broken up Darvish's no-hitter in the seventh, David Ortiz had two unequivocal big hits Saturday: a solo homer in the third and a double in the fourth. Ortiz's double helped set up Jonny Gomes' two-run single, which ended Perez's night.
Perez has been roughed up in three consecutive starts after pitching 26 consecutive scoreless innings in April.
"I'm good," Perez said. "I'm the same guy. I'm going to keep working hard every day. That's how you learn. Better days are coming."
Ortiz was the only Boston hitter to collect a hit Friday night. On Saturday, the Red Sox had 11 hits, including four with runners in scoring position.
"This is a good hitting ballclub, and whenever we face pitching that we can hit, we're going to hit them," Ortiz said.
The top three hitters in the Red Sox lineup -- Dustin Pedroia, Victorino and Ortiz -- went a combined 7-for-11 with four runs scored and six RBIs. Even No. 9 batter Jackie Bradley Jr. had a two-hit, two-run night.
"It was good to see some base hits with runners in scoring position," Farrell said. "Unlike last night, which was kind of a one-man show, this was a good offensive night up and down the lineup."
After Lester went through the Rangers' lineup perfectly the first three innings, Texas chipped away with two runs in the fourth. Lester allowed a leadoff double to Shin-Soo Choo, then issued a one-out walk to Adrian Beltre. Choo scored on Prince Fielder's sacrifice fly and Beltre came home when Alex Rios hit a triple over the glove of Bradley in right-center.
Lester then walked Michael Choice and could have been on the verge of allowing a big inning. Instead, he struck out Leonys Martin looking at a low cutter to end the threat.
Andrus doubled in a run off Lester in the fifth, but the Boston starter retired the side in the sixth and got three consecutive outs after a leadoff walk in the seventh.
"This was probably a non-typical Jon Lester start, but yet he comes away with a 'W' and a quality start," Ross said. "He wasn't throwing the ball great for him. I don't want to sound negative, but I think he holds himself to a high standard and so do I. ... He battled and grinded and made some pitches when he needed to."
Junichi Tazawa blanked the Rangers in the eighth and Burke Badenhop and Andrew Miller worked the ninth.
The win gives the Red Sox another opportunity, in Sunday's rubber game with Texas, to pull above .500 for the first time since April 4.
Dave Sessions is a contributor to MLB.com. This story was not subject to the approval of Major League Baseball or its clubs.