Yankees fall late in CC's return to Milwaukee
Left-hander allows three home runs against former club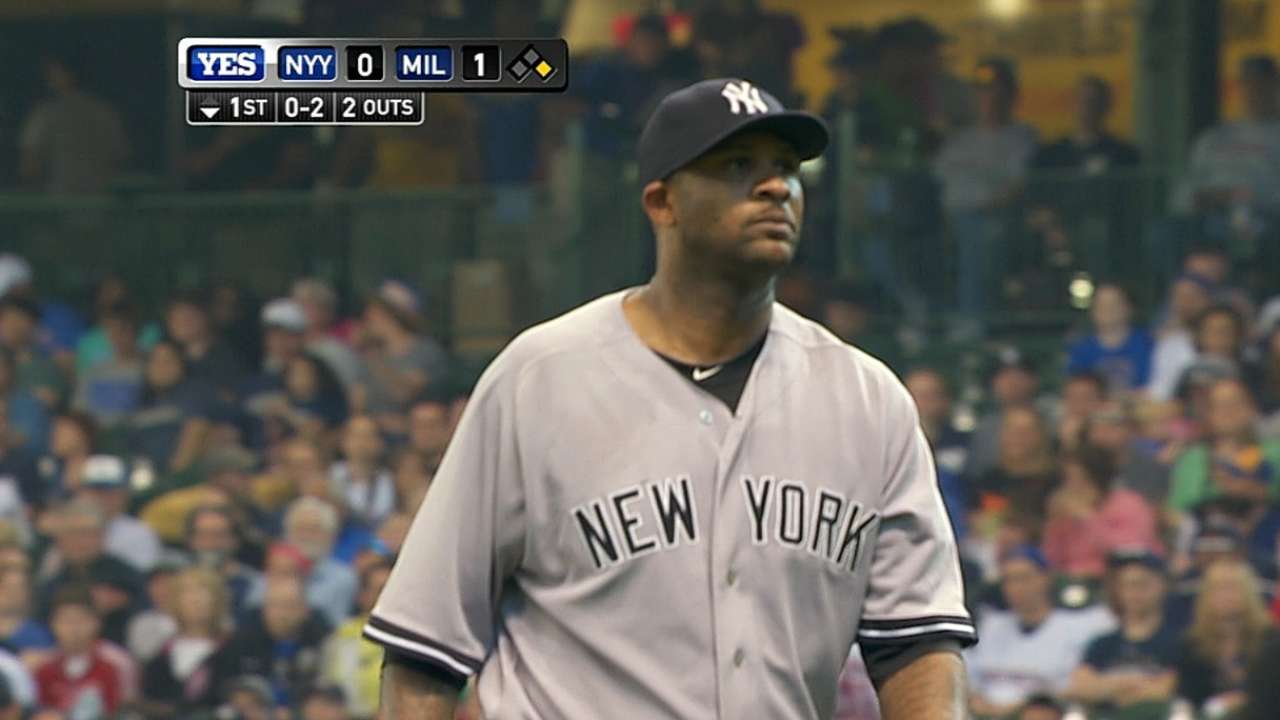 MILWAUKEE -- A warm ovation trailed CC Sabathia as he walked off the field at Miller Park, more of a thank you for that splendid half-season of 2008 than in response to anything that happened on Saturday. But the Brewers had plenty to be happy about on the latter front, too.
That late summer of dominance now just a memory, Sabathia served up three home runs in a disappointing return to Milwaukee and Rickie Weeks drilled a seventh-inning RBI single off reliever Alfredo Aceves, lifting the Brewers to a 5-4 victory over the Yankees.
"His mistakes have gotten hit. That has been the biggest difference," Yankees manager Joe Girardi said of Sabathia. "In the past, maybe he got away with a few more mistakes, but right now he's not getting away with them. And that's the thing about pitching -- it can happen quick."
Weeks' go-ahead hit drove in Jonathan Lucroy, who pounded a one-out double to right-center and advanced to third base on an Aceves balk. Will Smith retired three batters in the eighth and Francisco Rodriguez set the Yankees down in the ninth to log his 15th save.
Making his first appearance in Milwaukee since '08, Sabathia escaped with a no-decision and lowered his ERA -- from 5.75 to 5.28 -- thanks to three unearned runs, but he certainly wasn't pleased with the outing, in which he permitted eight hits over 5 1/3 innings.
"I'm not going to sit here and kill myself and be negative," Sabathia said. "I'm just not doing that this year. We'll go from here and I'll be back out there in five days ready to go."
Carlos Gomez started the evening by rocketing a tape-measure home run off a glass window of the left-field restaurant, about three-quarters of the way up, sprinting around the bases to celebrate the blast.
The Brewers capitalized when shortstop Brendan Ryan booted a two-out ground ball in the third inning. Lucroy belted a two-run homer to right-center on an 0-2 pitch and Aramis Ramirez jumped on the next pitch Sabathia threw for a solo shot, marking Milwaukee's first back-to-back blasts of the season.
"They just seem to happen together," Sabathia said. "I don't mind giving up solo homers; like the one to Gomez, what are you going to do? It is what it is, but when you've got guys on base, you've got to make better pitches."
Ryan, a top-rated defensive infielder who was making his first start of the season, said that the ball smacked the heel of his glove.
"It just rips your heart out," Ryan said. "CC was starting to cruise there for a minute, and then obviously three runs follow. We really wanted to get out of that inning for him, and then they put a couple at-bats together, and the next thing you know, it costs you three."
The Yankees managed three runs (two earned) and eight hits over six innings against Milwaukee starter Kyle Lohse, including Mark Teixeira's sixth home run of the season, a sixth-inning solo shot to left field.
Brett Gardner tripled home Jacoby Ellsbury for New York's first run in the third inning, and Carlos Beltran added a run-scoring single.
After the back-to-back homers, Sabathia settled down and retired eight batters in a row at one point, but he left with the bases loaded in the sixth; the result of a walk, a Khris Davis single and a Caleb Gindl infield hit on which Sabathia could not cover first base in time.
Dellin Betances came out of the bullpen and bailed out Sabathia, striking out two and freezing the bases loaded, and the Yankees responded by tying the game in the top of the seventh -- a rally that would be wiped out just a half-inning later.
"It definitely felt good, especially because we came back to tie that ballgame," Betances said. "CC has done a lot for me, so that's the best I can do, come in there and try to do the best."
Kelly Johnson worked a pinch-hit walk and Ichiro Suzuki delivered a pinch-hit single against Tyler Thornburg in the seventh, and Alfonso Soriano tied the game with a pinch-hit, cue-shot RBI single off Zach Duke that beat the shift as it rolled through the vacated second-base hole.
"It worked out, but those hits like that are tough to swallow sometimes," Lucroy said.
When Weeks' hit rolled through the left side of the diamond, chasing home the go-ahead run, Ryan couldn't help but wonder what might have been if that third-inning grounder had nestled into the webbing of his glove instead of clanging off the heel.
"It feels pretty awful," Ryan said. "Big difference in the game. We rallied, but take those three runs away and we probably didn't need to."
Much has been made of Sabathia's transition into a different pitcher in the later stages of his career. The room for error is smaller now than ever, something that his high mileage -- some of it traced right back to here in Milwaukee -- has made necessary.
"It's not going to happen overnight," Sabathia said. "You just make better pitches and start reading swings. I feel like I did a better job of keeping the game close, I guess. I'll keep battling and go from here and try to get better."
Bryan Hoch is a reporter for MLB.com. Follow him on Twitter @bryanhoch and read his MLBlog, Bombers Beat. This story was not subject to the approval of Major League Baseball or its clubs.