Simon has rare brief outing in loss to Rockies
Starter out after three innings as Reds staff allows five home runs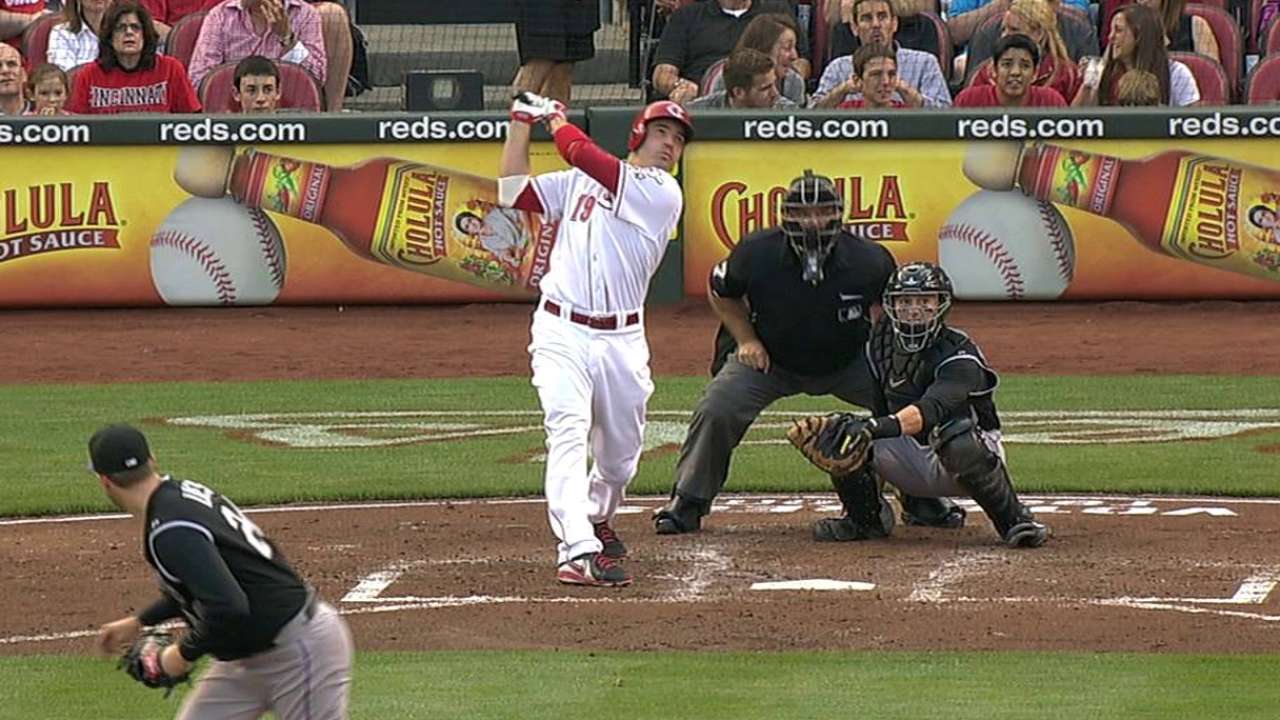 CINCINNATI -- Alfredo Simon has been more than just a reliable rotation fill-in for the injured Mat Latos. Simon has been one of the Reds' best starters through the early part of the season.
But on Saturday night during an 11-2 Reds loss to the Rockies, Simon was knocked around plenty by an ever-dangerous lineup, and the bullpen fared no better. Colorado rock-n-rolled with five home runs as the Cincinnati staff allowed a season high in both allowed runs and hits (16). It was also the team's largest margin of defeat in 2014.
"Their lineup was very comfortable," Reds manager Bryan Price said. "We can't allow or afford to do that. We are a team that pitches to both sides of the plate and change speeds. That's where we've been our most successful. Tonight, we threw a lot of mistakes that elevated out over the plate, and they made us pay."
Simon lasted only three innings and gave up a season-high five earned runs and eight hits with three home runs -- one shy of his total over six previous appearances this season. The start single-handedly raised his ERA by nearly a run, to 2.89 from 1.99.
The night started in ominous fashion when Colorado opened the game with back-to-back homers for only the second time in franchise history. After fouling off four straight pitches, Charlie Blackmon hit an 0-2 pitch well into the right-field seats for his second leadoff homer of the season. Corey Dickerson followed by putting a 3-2 Simon pitch over the right-field fence to make it 2-0.
A sinkerball pitcher, Simon could not induce many hits on the ground.
"It was early on with the first two games hitting the homers on elevation pitches that were supposed to be down in the zone," Price said. "It was kind of a precursor to the type of outing it was going to be. It was just a real struggle for him to get the ball down."
On the heels of his walk-off homer to end the Reds' 4-3 win over the Rockies on Friday night, Joey Votto took the first pitch from Jordan Lyles and lifted a solo homer toward the left-field corner that cut the deficit in half. The Reds' only other run scored in the sixth when Ryan Ludwick hit a two-out RBI single that scored Brandon Phillips.
Lyles, who improved to 5-0, finished with two runs and four hits allowed over six innings with four walks and eight strikeouts.
The Rockies put Simon away in the top of the third with four hits -- including three scorched extra-base hits -- and three more runs. Dickerson hit a leadoff double to left field before Troy Tulowitzki stunned with a bunt single toward third base, where Todd Frazier had played back. Dickerson scored on a Carlos Gonzalez double play.
Simon couldn't close the inning out quick enough, however. Nolan Arenado, who saw his hit streak end at 28 games on Friday, blistered a double to right-center field. Justin Morneau then attacked a 2-1 pitch for a two-run homer to right-center field. It was the third time in Simon's career -- the first since 2011 with the Orioles -- that he surrendered three homers in a game.
"Today, it's one of those days that we weren't our best -- including myself because I was behind home plate working with him," catcher Brayan Pena said. "Everybody knows he's a sinkerballer. This lineup is a very hot lineup. Those guys can hit. Today, there were pitches that weren't there. Everything was up a little bit. Everybody knows Simon. He feels very bad about it. He was watching film and talking about how he's going to regroup for his next start."
Simon, who left the clubhouse before reporters were admitted, was lifted for a pinch-hitter in the bottom of the third. Entering, he had allowed only 10 runs (nine earned) this season. Saturday marked his first non-quality start of the year.
The Reds' bullpen, which entered the night with a Major League-low 74 2/3 innings pitched this season, had to pick up the remaining six innings.
Reliever Nick Christiani, pitching for the first time since April 30, was not given a warm welcome in the fourth. Christiani gave up RBI doubles to Blackmon and Dickerson to widen Colorado's lead to six runs.
"We've done a nice job of that this year, where we try to tack on runs if we get an early lead," said Rockies manager Walt Weiss, who saw his team improve to 17-8 over its past 25 games.
It became a blowout in the sixth when the struggling J.J. Hoover gave up back-to-back homers with one out -- a two-run shot by Dickerson to right field followed by Tulowitzki's drive to left field. Hoover worked a perfect seventh inning, but his ERA through 13 appearances increased to 10.03 from 9.31.
On Wednesday in his previous outing, Hoover took the loss after he could not retire any of the four batters he faced. Price gave his pitcher a vote of confidence.
"The thing is before these last two outings, he was stellar for the previous three or four," Price said. "This game is tough mentally. You guys know that as well as anybody. You see how success can run in spurts at times. We stuck with him last year when he started off slowly. It paid dividends for us because he ended up being one of our most reliable relief pitchers for the last five months of the season. I haven't lost faith in him."
Mark Sheldon is a reporter for MLB.com. Read his blog, Mark My Word, and follow him on Twitter @m_sheldon. This story was not subject to the approval of Major League Baseball or its clubs.