Rockies rack up five homers in rout of Reds
Dickerson goes deep twice as club makes itself at home in Cincinnati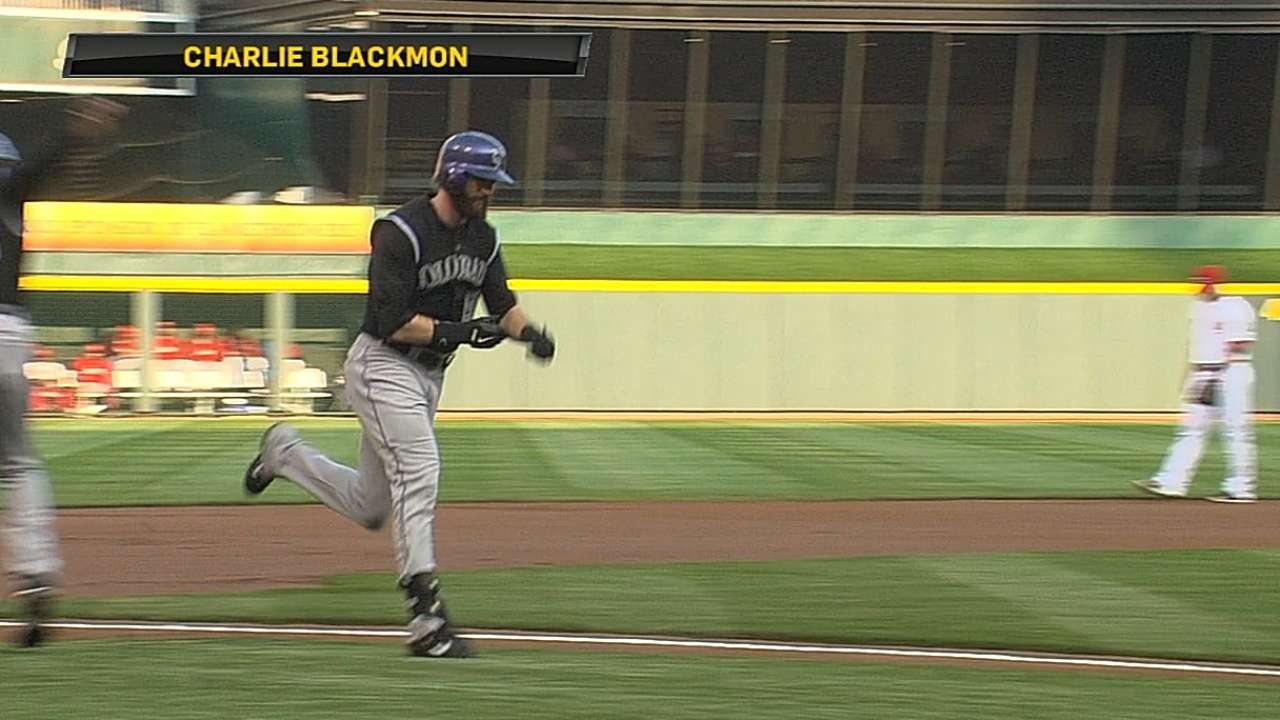 CINCINNATI -- The Rockies might want to place it on their promotion calendar: Home Run Party in Cincinnati.
Corey Dickerson had his first career two-homer game, also doubling twice, and the Rockies went deep five times in an 11-2 victory over the Reds on Saturday night at Great American Ball Park in front of 37,984.
Each of the past three years, the Rockies have hit five or more homers in a game at Great American. The first time, on May 27, 2012, they actually lost, 7-5, on a day when their starter, Jamie Moyer, was torched as well. Last year, the Rockies hit six in a 12-4 victory on April 5. The club record for homers is seven, at Montreal on April 5, 1997.
"It probably was one of my best career games so far, but it probably just shows the versatility of our team and the close-knitness of coming back from losing two in a row," Dickerson said.
On Saturday night, Charlie Blackmon hit his eighth homer this season, which also was his third career first-inning leadoff homer and second this year. Dickerson followed with his first homer of the night. Justin Morneau also hit his eighth homer, and Troy Tulowtizki added his team-high 11th. With his second blast of the game, Dickerson improved his season total to four. Dickerson finished with 12 total bases while going 4-for-5, and Blackmon went 3-for-5 with the homer, a double and a single.
"We've done a nice job of that this year, where we try to tack on runs if we get an early lead," Rockies manager Walt Weiss said. "We talk about it a lot in the dugout. That was one of the areas we struggled a little bit last year. We got out to some early leads and we lost the leads, and, ultimately, we lost the game."
The Rockies (23-16) have split the first two games of three with the Reds, are 2-2 on their current road stretch and improved to 10-11 on the road. The Rockies have more playoff trips (three) than winning seasons on the road (2009, 41-40), and they believe being at or around the break-even point can help them contend if they dominate at home.
Blackmon and Dickerson consecutively victimized starter Alfredo Simon (4-2) to open Saturday night's game.
One of the storylines during Spring Training was a competition between Blackmon and Dickerson for the job at center field, with the second choice possibly ending up at Triple-A Colorado Springs. But the Rockies kept both and, although Dickerson briefly went to the Minors for at-bats early this season, nights like the one Saturday -- when Dickerson started in center and Blackmon in right -- demonstrate why.
"'Dickie's got a pretty good track record swinging the bat," Weiss said. "He can hit, and it's nice to have opportunities to get him in the lineup. He's done a nice job on the defensive side, too." The only other time the Rockies opened a game with two homers was at Coors Field on May 4, 1996. The two who did it, Eric Young and Ellis Burks, were with the club Saturday, Young as first-base coach and Burks in town as a special instructor.
"We both have confidence and know we can help this team," Dickerson said. "We'll both have opportunities. We're trying to help this team in whatever way it may be. We're just trying to keep it going."
Dickerson's homer was on an 0-2 count, and Dickerson's first-inning shot was with the count full. The Rockies have hit 19 of their Major League-leading 56 homers after the count reached two strikes. Hitting coach Blake Doyle has simplified the approach into two words: controlled aggression.
Even with all the homers this season, it marked the first time the Rockies had gone back to back this season. They would do it again later.
The Reds had ideas of forging a homer contest when Joey Votto, who won Friday night's game with a ninth-inning leadoff homer, opened the second with his sixth homer of the year. But Rockies starter Jordan Lyles (5-0) gave the Reds little else. Lyles went six innings, held the Reds to two runs on four hits and struck out a season-high eight against four walks.
"This game from the get-go came down to our offense and the home runs," Lyles said. "I was effectively wild, I guess you would say -- a lot of walks and a lot of thee-ball counts and falling behind guys. But it worked out.
"I'd prefer not striking out that many, as weird as it sounds. I would prefer getting ground balls early in counts."
Simon, who entered with a 1.99 ERA, was not nearly as fortunate. He lasted just three innings and gave up eight hits, including three of the homers, and five runs.
"He made some mistakes up in the zone," Reds manager Bryan Price said. "It was early on with the first two batters hitting the homers on elevation pitches that were supposed to be down in the zone. It was kind of a precursor to the type of outing it was going to be. It was just a real struggle for him to get the ball down."
Dickerson doubled to lead off the third, moved on Tulowitzki's first bunt hit since 2009 and scored when Carlos Gonzalez grounded into a double play. But Nolan Arenado, who saw his hit streak end at 28 games on Friday night, doubled to increase his streak of reaching base to 30 games, and Morneau homered to right.
Blackmon and Dickerson came up with RBI doubles in the fourth. Then Dickerson added his two-run, 437-foot shot to right in the sixth, and Tulowitzki followed immediately with his homer. Both came off Reds reliever J.J. Hoover.
Thomas Harding is a reporter for MLB.com. Follow him on Twitter @harding_at_mlb. This story was not subject to the approval of Major League Baseball or its clubs.