Mariners top hard-throwing rookie with two homers
Smoak's two-run shot, Ackley's solo blast back gem from Young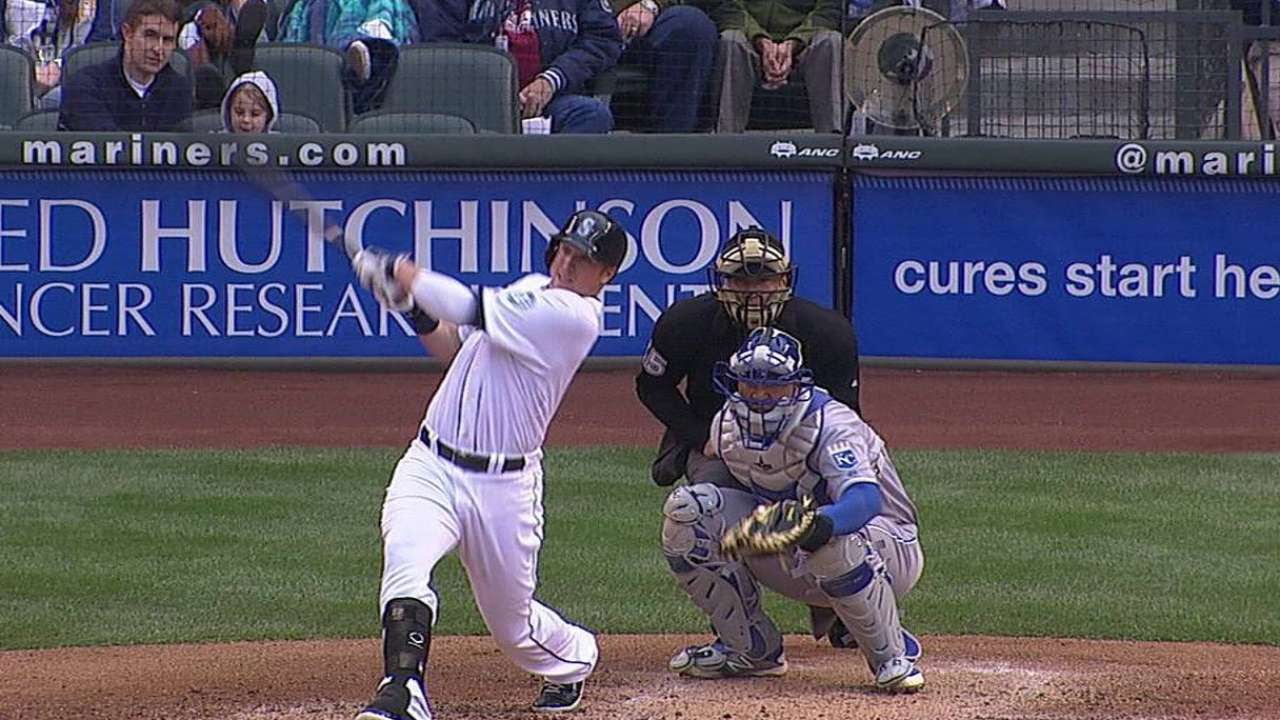 SEATTLE -- First baseman Justin Smoak and left fielder Dustin Ackley supplied the power with home runs off hard-throwing Royals rookie Yordano Ventura, and veteran right-hander Chris Young won his third straight start as the Mariners topped the Royals, 3-1, on Saturday at Safeco Field.
Ventura, a highly regarded 22-year-old right-hander, had allowed just two home runs over his first 39 innings this season until Smoak turned around a 96-mph fastball for a two-run shot in the fourth inning.
Ackley added a solo shot in the sixth for the final 3-1 margin, which was plenty of cushion on a night Young was so sharp.
While the 6-foot-10 Young was holding the Royals to three hits over eight innings with his array of 70-86 mph pitches, the Mariners managed to successfully counter the upper-90s heat of the 6-foot Ventura, who touched triple digits several times on the Safeco Field radar gun.
"That guy throws 95 to 100 mph and looks like he's playing catch," said Smoak, "so you have to go up there looking for the fastball and that's what we tried to do as a team and we were able to get a couple balls out of there tonight."
Smoak increased his team-leading RBI total to 24 in 36 games, which is nearly halfway to his 2013 production of 50 in 131 games.
"He's been going at it pretty good," said Mariners skipper Lloyd McClendon. "I've said it time and time again, I think his ceiling is very high and I think everybody around him knew that his ceiling was high. He continues to work hard.
"I don't think he's getting caught up in the excitement. He knows the task that's ahead of him, and he knows what he needs to do to continue to get better, so we're extremely proud of him."
Smoak was hitting better from the right side than the left earlier in the year, but the switch-hitter now has three homers from the left and is batting an equal .246 from each side.
"It's still a work in progress," he said of his approach against right-handers. "But to get a pitch inside there and get the barrel to the ball when the guy is throwing pretty hard, it felt pretty good."
Ackley's home run was his second of the year and he's knocked in 14 runs in 32 games after totaling four homers and 31 RBIs last year in 113 games. His long ball came on a 1-1 changeup from Ventura, who left the pitch up in the zone.
"I don't think he leaves that changeup up too much," said Ackley, who was expecting a fastball but was able to stay on the off-speed pitch. "It looks a little different than his fastball and that little difference made a big difference for me, as far as seeing it and picking it up. It just kind of hung up there and didn't have any bite on it, so it was a good pitch to hit."
The long balls were a welcome relief for a Mariners club that had scored just two runs (one earned) in its previous three games. Seattle has gone 12-4 since ending an eight-game losing streak on April 23, improving to 19-17 overall and now 2-1 in the four-game set with the Royals.
Young, a 34-year-old who signed with Seattle after getting released by the Nationals just prior to the start of the season, improved to 3-0 with a 2.63 ERA as he allowed just one run while striking out three with no walks.
Young hadn't won a game in the Majors since 2012 until topping the Yankees in New York on April 29, but he's now added wins over the A's and Royals in successive starts.
"He's gotten better every time out," said McClendon. "We've got to remember this guy is coming off surgery and a very limited amount of Spring Training, so what he's doing is really remarkable."
"So far, so good," Young said. "But my goal is to help this club make the playoffs. My goal isn't to make five or six starts or however many it's been. I try not to evaluate at this point. I just want to keep getting better, working hard and helping the club. I feel if I do that one game at a time, when looking back we'll be satisfied with where we are."
Kansas City's only run came in the third when Mike Moustakas tripled on a ball that got into the right-field corner after Michael Saunders stumbled as it caromed down the line, with Alcides Escobar bringing him home on a sacrifice fly to left.
Saunders hyperextended his knee on the play and was replaced the next inning by Stefen Romero. But Young otherwise limited the Royals to a pair of singles in his 96-pitch outing.
Fernando Rodney came on in the ninth to earn his 11th save in 12 chances and Major League-leading sixth already in the month of May.
Rookie center fielder James Jones reached base three times in his first start in the leadoff role, going 1-for-2 with two walks, and is batting .462 (6-for-13) in eight games.
It all added up to a nice bounce-back win for the Mariners, who have a chance to capture five straight series for the first time since May 2011 if they beat the Royals on Sunday afternoon.
"We're winning the games we're supposed to win and I think that's the difference between this year and last year," said Ackley. "We might have let some of these games slip away from us a little bit, but now we're taking advantage of them and getting some insurance runs here and there and we're having the pitching we need to win."
Greg Johns is a reporter for MLB.com. Follow him on Twitter @GregJohnsMLB as well as his Mariners Musings blog. This story was not subject to the approval of Major League Baseball or its clubs.