Kalish finding success at or near top of order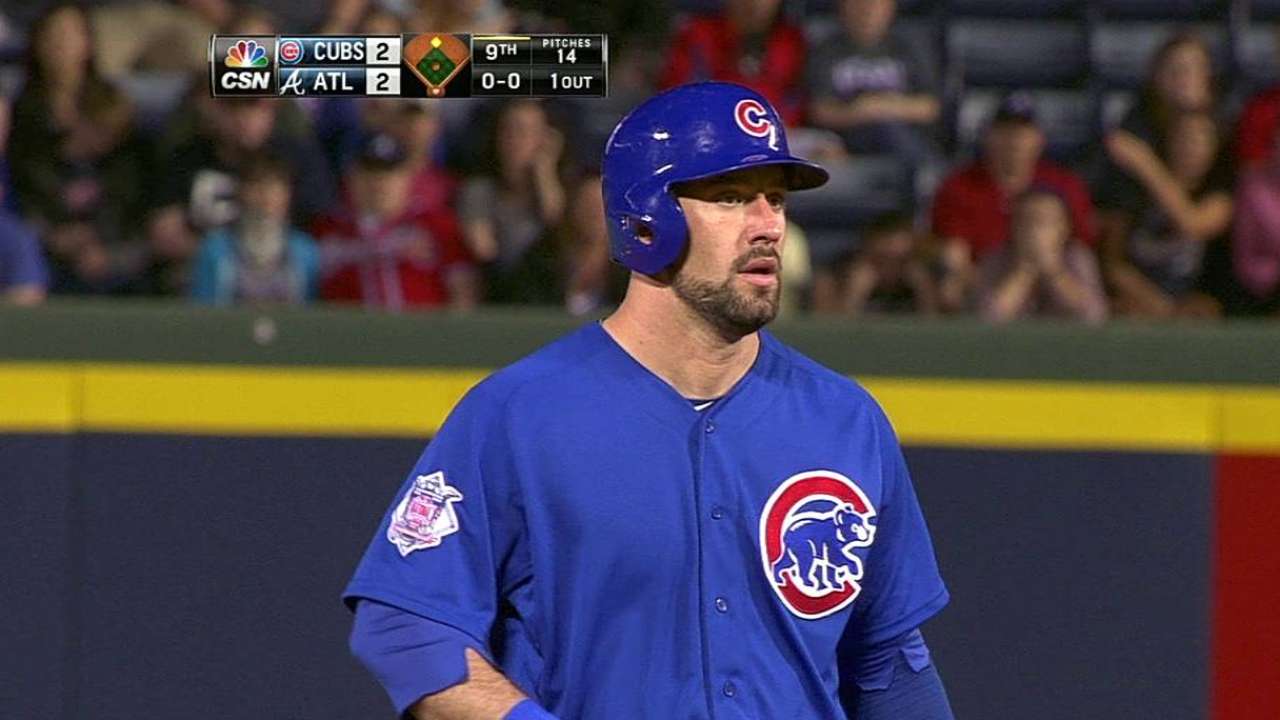 ATLANTA -- Whether it's coincidence or not, there's something about Cubs outfielder Ryan Kalish batting near the top of the order. Entering Saturday, he was batting .321 (9-for-28) with four runs scored, all four of his RBIs and three of his five walks in the first and second spots.
"It's a fun challenge, for sure," Kalish said. "My job is to score runs."
Kalish hit second Saturday night, making three consecutive starts hitting either first or second in the order. During the past two games, he has reached base four times in 10 plate appearances, including a run-scoring single on Friday night.
In three Major League seasons, Kalish is batting .286 (20-for-70) when batting first or second, a mark much better than his .245 (80-for-326) career clip.
Cubs manager Rick Renteria plans to keep Kalish near the top of the order since he believes the outfielder has enjoyed better games and at-bats as a result. But in addition to results, Renteria also loves the passion Kalish brings.
"He's actually been pretty comfortable and pretty calm at the plate," Renteria said. "He's high-energy both out on the field and in the dugout. He's going 100 miles an hour, so it's nice.
"You can always tone somebody down, but it's kind of tough to speed people up. It's nice to have somebody like that because he's got some energy and we can tone him down when we need to."
Kalish is paired with speedster Emilio Bonifacio, who was batting .297 (38-for-128) with a .348 on-base percentage entering Saturday, at the top of the order, and Renteria likes what that one-two punch offers to lead off the lineup.
"I like the two hole because if [Bonifacio] gets on, I can try to move him along the bases, however that may be," Kalish said. "It's just a fun spot to be in, obviously."
Renteria added: "It just gives us a couple of guys who can run at the top and guys that can get on base."
If Kalish continues his success in the second spot, Renteria likes the possibilities that creates for Anthony Rizzo and Starlin Castro, who ranked first and third, respectively, among Cubs in RBIs of 18 and 16 entering Saturday.
"Rizzo and Starlin, I want to get them as many RBIs as I can," Kalish said. "My job is to get on base, make things happen and score runs."
Joe Morgan is an associate reporter for MLB.com. This story was not subject to the approval of Major League Baseball or its clubs.