Mets weighing their options with starter Mejia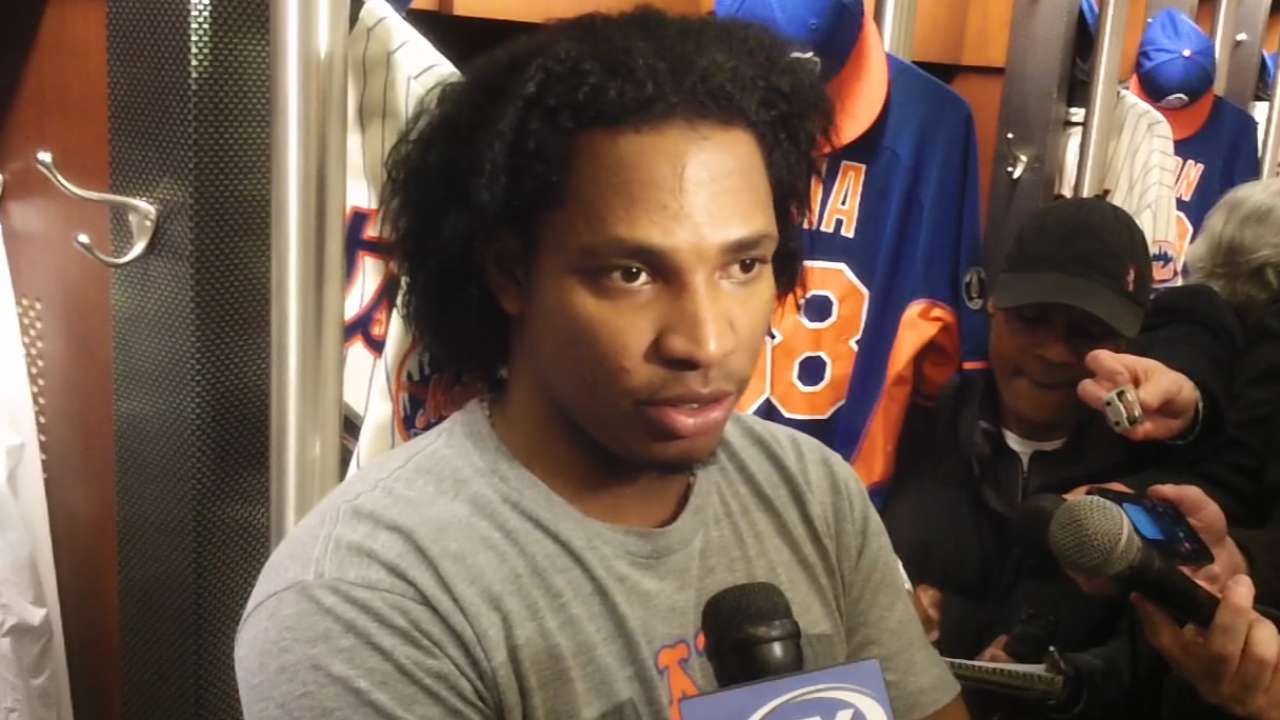 NEW YORK -- The Mets still aren't sure what they have in Jenrry Mejia. The 24-year-old right-hander has bounced between the starting rotation and the bullpen in his brief big league tenure, and manager Terry Collins said Saturday that the Mets are currently reviewing how Mejia will best be used.
Mejia has always been viewed as a potential starter, but the Mets are concerned that he doesn't get deep enough in games to protect the rest of the bullpen. Mejia has completed six innings just twice in seven starts this season, prompting Collins to re-evaluate his status.
"Jenrry's stuff plays. It's good enough," said Collins. "Where you get a little concerned is the excessive pitches that he uses to sometimes get some outs. Look at last night -- in three innings, he had 63 pitches. That's a lot. In certain cases, we're lucky. We had Thursday off, so the bullpen was fine. We had a lot of guys down there we could use, but when you think you're going to get five innings out of a guy, you end up expending your bullpen a little bit. You've got to be good enough."
Mejia won each of his first three decisions this season, and Collins said the jury is still out on his ultimate role on the team. If the Mets decide that Mejia is a better fit in the bullpen, then Collins said the choice will be up to the player whether he'd stay, or start in Triple-A Las Vegas.
"I'm OK with him being in the bullpen, but he's got to accept it if that's going to be the decision. We have not made that decision yet," said Collins. "If that's our decision, then it's, 'Hey, we want to take a look at how this is going to work in the bullpen.' And then, if he wants to be here, he's got to pitch out of the bullpen. Certainly, we know he can do it and he knows he can do it."
Mejia faced the same decision in 2010 and decided to stay with the Mets as a reliever, but he said Saturday that he doesn't really know what to think. Mejia wants to be a starter, and he's concerned that a move to the bullpen could jeopardize his health. Mejia has had two surgeries on his elbow -- one Tommy John operation and one to remove a bone spur -- and he wants to protect his arm.
"I'm worried about my arm. I want to have a long career," he said. "If they make that point, then it's going to be hard for me. I don't want to get hurt again."
Mejia told Collins that he wants to stay in the rotation, and he said he'll ultimately understand if the manager decides he fits best as a reliever. The Mets aren't scheduled to make a decision until after Mejia's next bullpen session, and his rotation turn won't come back until Wednesday.
Mejia, when pressed again on his future, said he'll wait to see what the Mets decide.
"That's a decision we're going to make later," he said. "I told him I don't know if there's going to be a point to be in the bullpen because I've already had two operations. ... If he calls me and says, 'Get ready,' it's going to be hard. But you know, whatever decision he makes, there's nothing I can do."
Spencer Fordin is a reporter for MLB.com. This story was not subject to the approval of Major League Baseball or its clubs.