Campbell earns first callup as Mets option Satin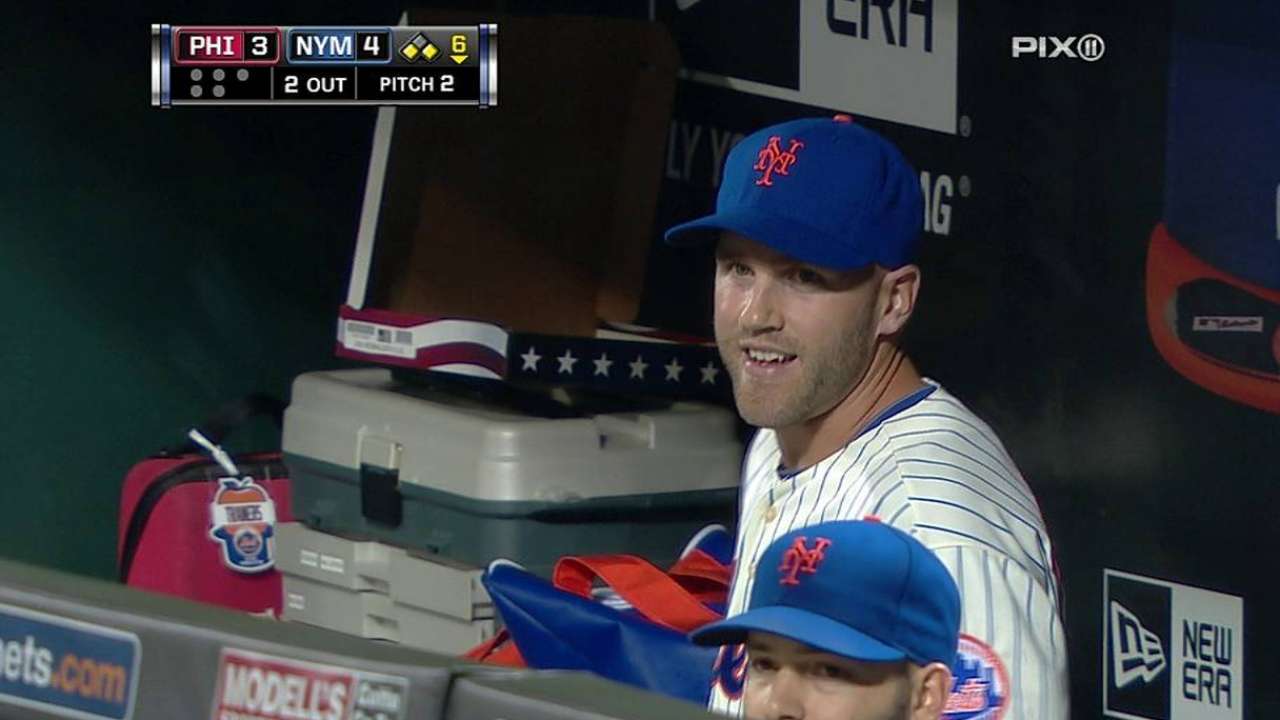 NEW YORK -- It didn't take long for Eric Campbell to get a nickname.
Campbell, promoted to the Major Leagues for the first time Saturday, heard a familiar calling card as he made his way through the home clubhouse at Citi Field. All of his teammates have been calling him "Soup," after the ubiquitous brand that shares his surname, and Campbell takes it all in good fun.
Campbell had an eventful day at the plate in his big league debut in the Mets' 5-4 loss to the Phillies. He pinch-hit with the bases loaded in the sixth inning and drove in the go-ahead run on a sacrifice fly. Campbell had another chance with runners on second and third in the eighth inning, but he struck out.
"It was a real up-and-down day," he said after the game. "I was on a high after I got that RBI, and then I was put in the same situation again in the eighth inning and didn't produce. That's baseball."
Campbell, a 2008 eighth-round Draft pick of the Mets, has long awaited his big league callup, and he was batting .355 for Triple-A Las Vegas at the time of his promotion. Campbell can play both infield and outfield corners and has seen time at second base, and he's thrilled to try his hand in the Majors.
"It's a dream come true. A lot of emotions going through my head right now. I'm excited and I'm ready," said Campbell. "I came in here at the end of Spring Training and tried not to look around too much because I wanted to have that feeling. It's awesome."
The Mets optioned Josh Satin to Las Vegas to make room for Campbell, and manager Terry Collins said that the roster move should give the team some additional flexibility. Campbell has played everywhere in the Minor Leagues, providing Collins with a handy insurance policy.
"He brings us tremendous versatility, first of all. He can play anywhere," said Collins. "They've played him at second, they've played him at short, first [base], the outfield, third. He brings that flexibility. If something happens, outside of catcher and pitcher, this guy can play anywhere."
Campbell reached Double-A for the first time in 2010, and he struggled when repeating the level the next year. The 27-year-old starred at Triple-A last season and was recognized as the best rookie in the Mets' Spring Training camp, but he said it was natural to doubt whether he'd make the Majors.
"I've been playing for six years and never got that chance," he said. "I think that goes through every player's [mind]; you question whether you're doing the right thing. This definitely makes it all worth it."
Satin batted just .107 in limited playing time as the Mets' backup first baseman, and Collins hopes that he'll be able to find his comfort zone by playing every day for Las Vegas.
"Any time you get sent out, you're disappointed," said Collins. "But as I told him, he made this team because of what he did last year, and the fact that when he got playing time, he hit. He wasn't getting a lot of playing time right now, and it's a difficult position when you're used to playing every day."
Spencer Fordin is a reporter for MLB.com. This story was not subject to the approval of Major League Baseball or its clubs.