D-backs survive late scare, reward Miley's gutsy effort
Lefty allows two runs over seven innings for first win since April 6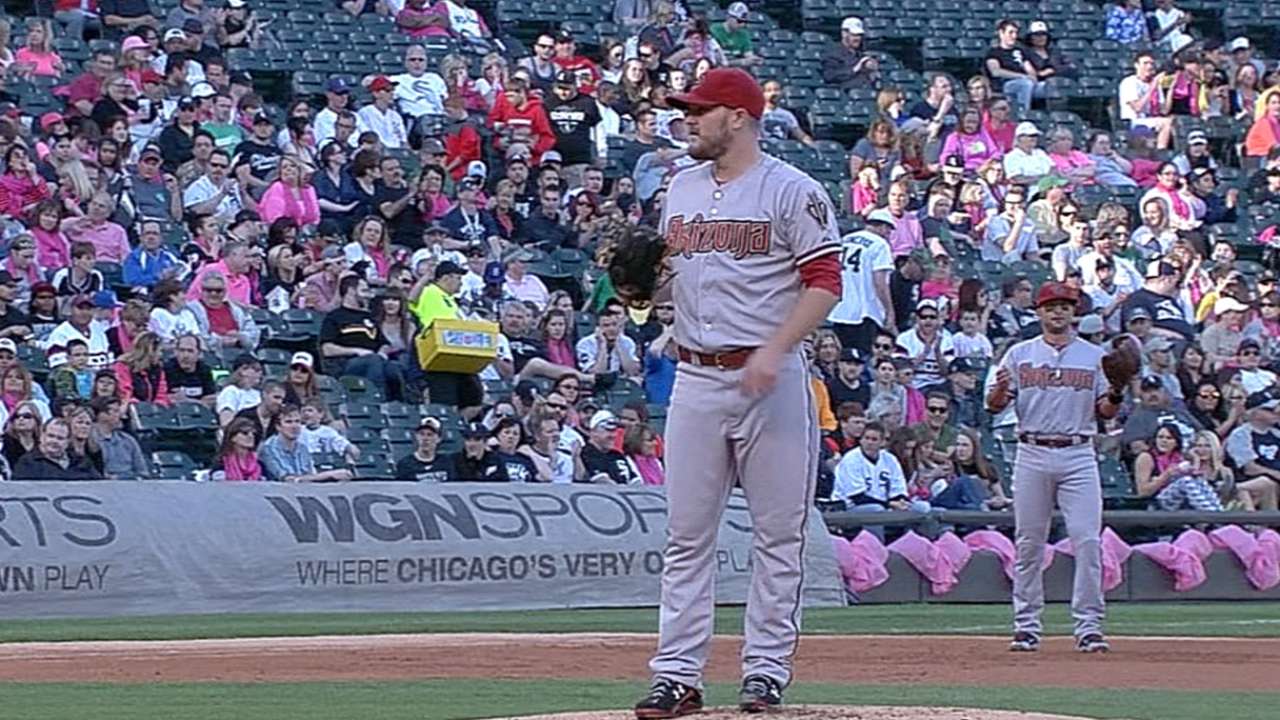 CHICAGO -- When he is at his best, D-backs left-hander Wade Miley is working quickly and throwing strikes.
That's exactly what he did Saturday night, delivering seven strong innings as the D-backs held on to beat the White Sox, 4-3, at U.S. Cellular Field.
"You've got to be aware," D-backs third baseman Martin Prado said of playing behind Miley. "He comes right at the hitters so you have to be on your toes. It's fun, because it's throw and go. He had pretty good command today."
The win sets up a rubber match Sunday afternoon and keeps alive the D-backs' chances of winning their third straight series.
Miley (3-3) allowed two runs on four hits over seven innings to pick up his first win since April 6.
"Yeah, and he's working fast," said White Sox bench coach Mark Parent, who managed Saturday in Robin Ventura's absence. "We didn't step out, make him get off his rhythm. He pitched really well."
One of the reasons for Miley's improved performance was a mechanical change he made during his between-starts bullpen session.
"I moved my feet a little bit and it kind of helped me stay back over the rubber a little bit longer," Miley said. "I feel like it helped me command the zone a little better. Rather than being erratic. I felt like I was able to throw quality strikes rather than just strikes."
The mechanical tweak was suggested by pitching coach Mike Harkey and apparently it's something Harkey has been talking about for a while.
"It's me being stubborn," Miley said. "Hark has probably been mentioning it and I've been thinking that's not it. And then after a while you just give in."
Chicago starter Jose Quintana (1-3) matched Miley zero-for-zero through the first four innings before the Arizona offense got cranking in the fifth.
Alfredo Marte drove home the inning's first run with a double and A.J. Pollock later added an RBI single before Martin Prado's sacrifice fly gave the D-backs a 3-0 lead.
"We had a plan today," Prado said. "We were trying to attack the guy that was pitching for them because he was throwing a lot of strikes. We felt like we had to be aggressive with him because he commanded his pitches."
In his previous two starts, Miley had watched his offense score runs for him only to give them back up in the next inning.
It was more of the same Saturday as the White Sox scored a pair of runs in the bottom of the fifth on Paul Konerko's first homer of the season to pull to within 3-2.
"I was trying to go down and away and get a ground ball, and I just left it up," Miley said. "He's a pretty good hitter. He's had a good career. I left it up and he capitalized."
Miley got a little extra breathing room in the seventh when Miguel Montero singled home a run to put Arizona up 4-2, but the D-backs missed a chance to tack on even more in the frame as Aaron Hill grounded into a bases-loaded, inning-ending double play.
The extra run would come in handy in the ninth when the White Sox managed to score a run off closer Addison Reed.
Reed, pitching for the first time against his former team, allowed a run to score on an Alexei Ramirez RBI single before he stranded the tying run at second by inducing Konerko to ground out to end the game.
"I was trying to keep it in the infield or a popup," Reed said of the Konerko at-bat. "If he got a base hit we were going to have a tie game. I was trying to keep it away to him and he hit one off the end of the bat. It worked out."
Reed was traded by the White Sox to the D-backs in a December deal that sent third base prospect Matt Davidson to Chicago.
"I'm close with everybody on that team," Reed said of the White Sox. "I tried to take it like any other game. There was a batter at the plate and I was trying to get them out. To me, in my head, it wasn't any different than when we were facing the Brewers last week. I was just trying to get three guys out. I let a couple of guys on, but whatever, we got out of it and won the game."
Steve Gilbert is a reporter for MLB.com. Read his blog, Inside the D-backs, and follow him on Twitter @SteveGilbertMLB. This story was not subject to the approval of Major League Baseball or its clubs.