Tribe temporarily pulls Axford from closer's role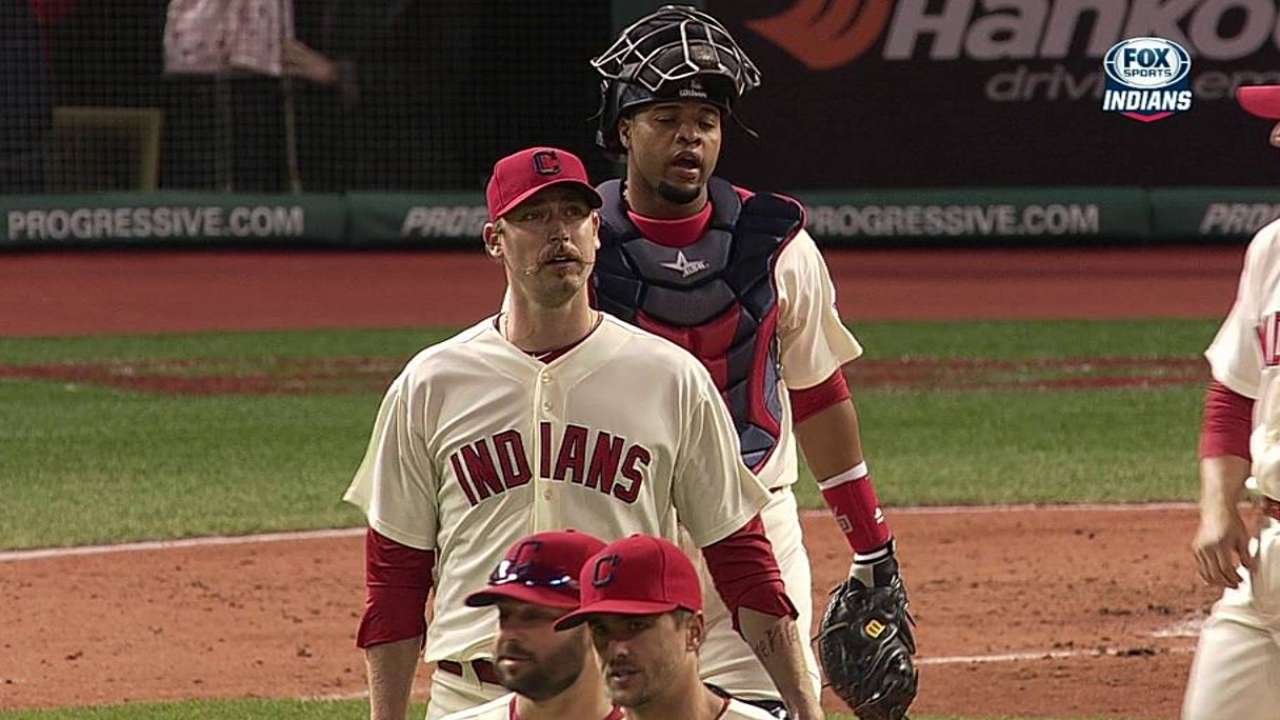 ST. PETERSBURG -- Indians manager Terry Francona is hopeful that John Axford will regain his role Cleveland's closer, but the pitcher's recent struggles have convinced the club to alter course in the ninth inning for now.
Prior to Saturday's game against Tampa Bay, Francona announced that Axford has been temporarily removed from the closer's job. For the time being, the ninth-inning duties will be split among Cody Allen, Bryan Shaw, Scott Atchison and Marc Rzepczynski, depending on the situation.
"We talked to Ax," Francona said. "And we told him that, 'Hey, man, for now, we're going to kind of get you out of that role and try to get you in some situations where we can get you on a roll again.' That's not going to happen tonight, because he's pitched a lot."
Axford -- signed to a one-year, $4.5 million contract over the offseason -- entered Friday's 6-3 win over the Rays with a four-run lead. After striking out the first two batters he faced, the right-hander issued two walks and allowed two doubles before being pulled in favor of Allen with the bases loaded. Axford logged a season-high 31 pitches in the appearance.
"We have talked a little bit about his mechanics the last few days," Indians pitching coach Mickey Callaway said. "He did a good job with those adjustments against the first two batters. That's what you noticed. Maybe pitching five out of seven days, he got a little tired and couldn't maintain those positions that he had been doing."
Allen induced a game-ending flyout to preserve the win and pick up his first save of the year.
On the season, Axford has saved nine games in 11 opportunities, posting a 4.91 ERA with 15 strikeouts and 13 walks in 14 2/3 innings (17 games). Over his past four outings, Axford has surrendered five runs on six hits, including two home runs, with six walks and five strikeouts. In that three-inning span, he has thrown 102 pitches.
"I did lose a little more command," Axford said on Friday. "So, I don't know if it was maybe a little more fatigue. I've thrown a lot recently and, obviously, you can only throw 25-30 pitches so many times an inning before it starts catching up to you. I just need that clean, quick, one-two-three inning and get back on it."
Jordan Bastian is a reporter for MLB.com. Read his blog, Major League Bastian, and follow him on Twitter @MLBastian. This story was not subject to the approval of Major League Baseball or its clubs.