Matheny says challenging calls a team effort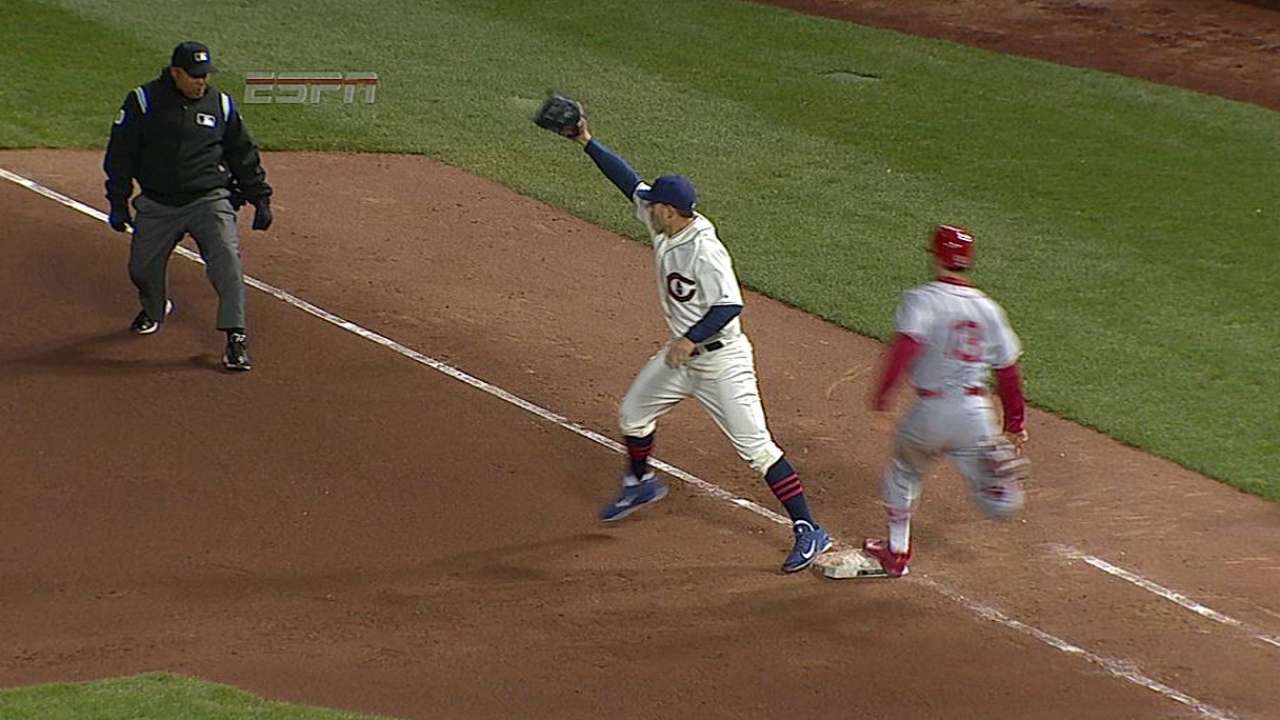 PITTSBURGH -- As the Cardinals continue to figure out the nuances of Major League Baseball's expanded instant replay system, manager Mike Matheny has taken the opportunity to use a few plays from this road trip as teaching points.
Most notably, Matheny continues to impress upon his players and coaches that he needs their help in determining when to consider using a challenge. Watching from the dugout, Matheny often lacks an ideal vantage point on close plays, catches or fair/foul calls. Although he has a video coordinator reviewing plays in the clubhouse, he still needs those on the field to help initiate the process.
Without Matheny providing a delay by walking to the umpire, the video coordinator may not have the necessary time to alert the dugout to a missed call.
"I trust my eyes, but I need their help," Matheny said. "I need the help of the coaching staff that has a better angle. I need the help of the players that can see so we know which plays we need to contest. They're going to keep hearing it until they get it figured out."
Matheny had a conversation with Matt Adams on Friday, during which he encouraged his first baseman to be more demonstrative when there's a play that he feels could be overturned. That conversation was initiated by a close pickoff play this week at first base that did not elicit a reaction from Adams.
The recommendation was obviously heeded, as Adams did react to a tag play at first in Saturday's game, and that reaction drew Matheny out of the dugout to give his video coordinator time to review the play.
Ultimately, Matheny opted not to challenge.
Matheny cited Michael Wacha's foul ball down the right-field line on Friday as another instance in which it would have been helpful to have been relayed information about how close the ball was to hitting the chalk.
"From the reaction that guys on the field had, [I thought] it wasn't even close," Matheny said. "I can't see it all from where we are. It appeared that it was feet foul, though it was only inches."
Matheny does not believe the Cardinals have missed an opportunity this season to challenge a call that would have been overturned.
"But I'm afraid that might happen," he added. "And we've seen it happen a couple times -- I believe it happened in Atlanta [when the umpires overturned a call that took away a bases-loaded opportunity for St. Louis] -- where there is a play that shouldn't have been overturned that was. In a big situation, it's close, we're going to take a shot. I don't believe it's an infallible system yet, and if there's a chance for us to take advantage of something in a big spot, we've got to try it, at least."
Jenifer Langosch is a reporter for MLB.com. Read her blog, By Gosh, It's Langosch, and follow her on Twitter @LangoschMLB. This story was not subject to the approval of Major League Baseball or its clubs.