Smith, Headley push Padres to second straight victory
OF finishes single shy of cycle with four RBIs; 3B hits three-run homer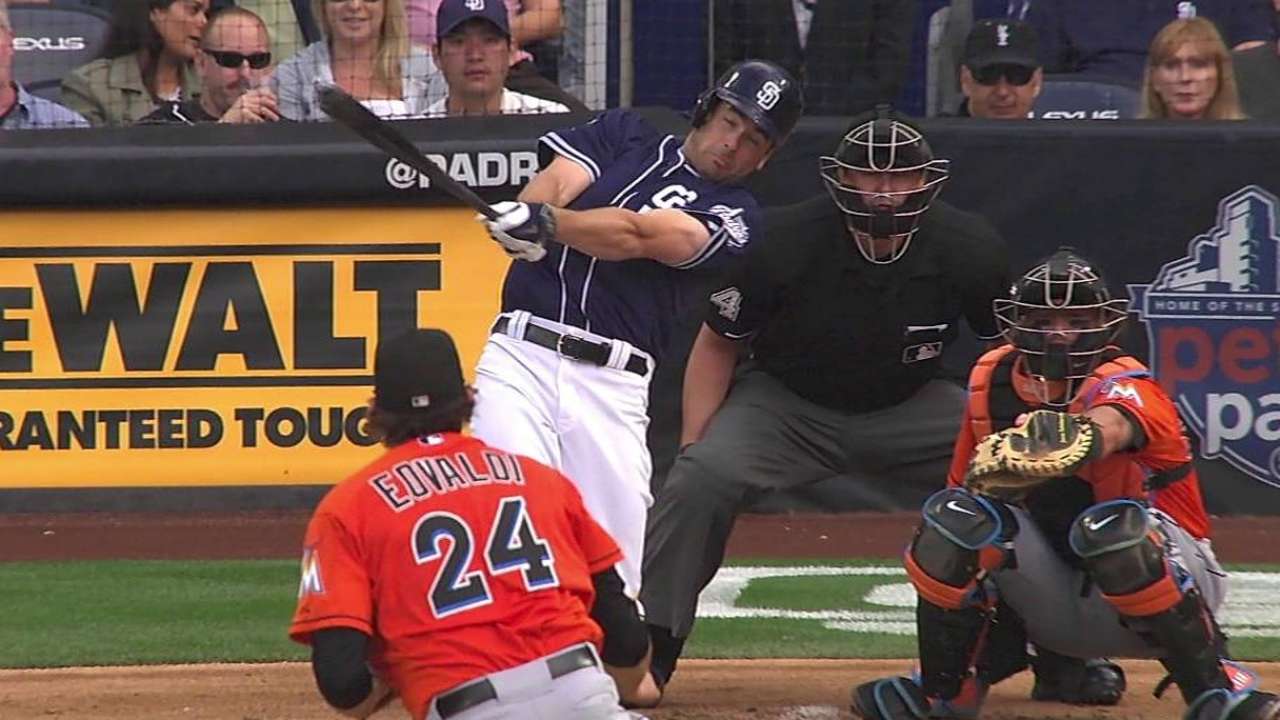 SAN DIEGO -- In the past when he's been stuck on the disabled list, Padres third baseman Chase Headley has often said how lonely a place it can truly be, where a player can easily feel detached from the rest of his teammates.
This time around, during an inactive period that saw Headley miss 14 games with a calf strain, he opted to make the most of his time away by taking a close look at the swing that had essentially betrayed him prior to the injury.
"It was looking at some swings from 2012, which is the best I've ever felt," said Headley, who led the National League in RBIs (115) that season. "It was minor [mechanical] things, but on the same token, why not at least try to reproduce what makes you good."
In his first game back from the disabled list, Headley drilled a three-run home run that was the decisive blow in the Padres' 9-3 victory over the Marlins before a crowd of 27,719 at Petco Park, a game that, a lot like Friday's 10-1 win, was sparked by the offense.
"I thought that was [offensive] production at its finest," said Padres manager Bud Black.
An offense that as of Saturday, no longer ranks dead last in the Major Leagues in run scored, as it had been for most of the early season. Currently, the Padres have 111 runs, the Braves 110.
Headley's home run, a 427-foot shot to right field, was just one of several significant offensive exploits against the Marlins (20-17), as Seth Smith missed hitting for the first cycle in franchise history by just a single. Teammate Yonder Alonso reached base five times, getting three hits.
It was a 13-hit attack for the Padres (17-21), who have scored 19 runs in their last 16 innings in the series.
"It's good for the guys because there's a tension that builds up with hitters that's a natural tension," said Black. "It comes from a professional athlete who wants to perform. Their 'want' is extremely high."
The Padres spotted the Marlins a 2-0 lead in the first inning when Casey McGehee ambushed a first-pitch fastball from Eric Stults (2-3) for a two-run home run to left-center field.
"They are aggressive. That first inning, they were swinging early. That first pitch to McGehee, I got hurt," Stults said. "But after that, I was able to make pitches down in the zone a lot more."
Stults didn't allow a run in his next five innings and yielded just four hits the rest of his outing, pitching to a specific spot -- down and away -- in the strike zone. Four pitches, all for strikes. All of this came at the expense of a Marlins lineup that didn't have an idea what was coming next.
While Stults was settling in, the Padres offense was heating up. There was a run in the bottom of the first inning on an RBI triple by Smith. Two innings later, Smith connected for his third home run of the season.
But the real breakthrough for the Padres came in the sixth inning against Marlins relief pitcher Carlos Marmol (0-3), who will be designated for assignment Sunday.
Marmol allowed a pair of two-out hits, first to Everth Cabrera on a bunt and then, after an intentional walk to Smith, an opposite-field single to Jedd Gyorko, who took a slider away and rolled it into right field for a 3-2 lead.
"What are you going to do about it? Perfect bunt. [Gyorko] hits a ground ball through the hole," Marmol said. "You couldn't do anything about it."
But Gyorko's heroics were short-lived, as Headley followed with a long home run.
"If that means him stealing my thunder, then he can do that 30 or 40 more times," Gyorko said of how Headley upstaged his hit.
For Headley, it was as big a blow as he's delivered this season. He entered the game hitting .186, which was hit batting average on April 24 when he landed on the disabled list after straining his calf running from the batter's box in Washington.
"It's awesome," said Headley, who benefited from time with assistant hitting coach Alonzo Powell and his rehab stint with Class A Advanced Lake Elsinore.
"I really felt I was swinging at pitches I wanted to. It felt great to be back in there. It was a lot of fun."
A lot of fun for an offense that has certainly had more tough days than rewarding ones, to be sure. The Padres got Headley back Saturday and expect to get outfielder Carlos Quentin back from the disabled list in the coming days.
"When we've got [Smith and Headley] hitting like that, it allows the other guys to get better pitches to hit," Gyorko said. "That's shown the last two days."
Corey Brock is a reporter for MLB.com. Keep track of @FollowThePadres on Twitter. This story was not subject to the approval of Major League Baseball or its clubs.