Twins can't recover from Tigers' six-run second
Two errors, Santana's defensive lapse add to Gibson's struggles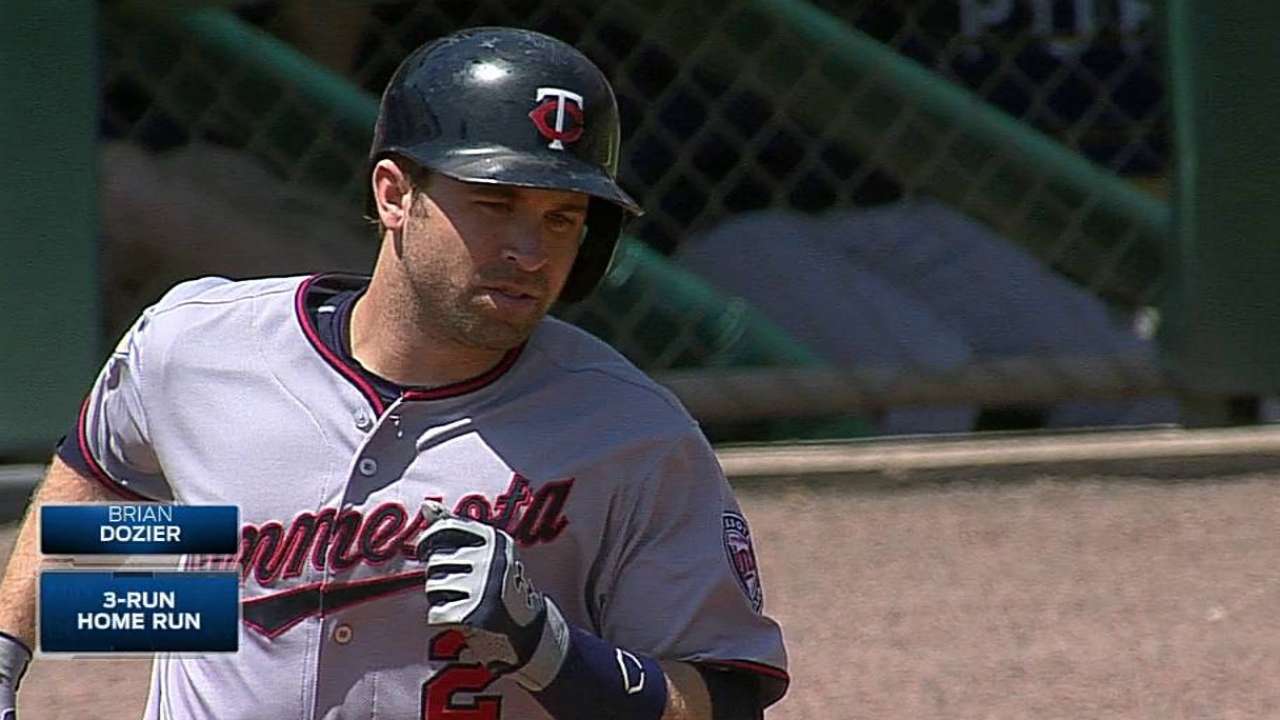 DETROIT -- It was the shortest outing of Kyle Gibson's young career, but the right-hander wasn't helped by his defense in a six-run second inning for the Tigers.
Gibson lasted just two innings, but rookie shortstop Danny Santana made a mental mistake to prolong the second, a blunder that led to a key three-run homer from Miguel Cabrera in a 9-3 loss to Detroit on Saturday afternoon at Comerica Park.
With two outs in the second, Gibson got Torii Hunter to ground into what should've been a routine play to Santana, but he opted to throw to second base for the forceout, and the ball went off Brian Dozier's glove. Dozier then threw wide of home plate to allow a run to score, before Cabrera delivered a three-run blast to give the Tigers an early six-run lead.
"Our kid just couldn't make a pitch," Twins manager Ron Gardenhire said. "We missed one play out there, and it turned out to be a big one. Danny should've just thrown to first base but threw to second. So it turned out to be a mess with Gibby giving up a big three-run homer. We were sloppy early, and it cost us a ballgame."
Gibson ran into trouble in a hurry, putting runners on the corners with nobody out in the first inning, but he was able to get out of the jam by striking out Cabrera and getting Victor Martinez to ground into an inning-ending double play.
But Gibson wasn't as lucky in the second, as Austin Jackson led off the inning with a single before advancing to third on a double from Don Kelly. Nick Castellanos then hit a grounder down the third-base line and Eduardo Escobar was able to make a nice play to get Jackson out at home.
Gibson, though, promptly surrendered back-to-back RBI singles to Alex Avila and Andrew Romine to give Detroit an early two-run lead. Ian Kinsler followed with a flyout to center field, before Hunter hit the grounder to Santana.
"I was assuming [Santana] was probably going to go to first base, but I'm not going to knock him for going to second," Dozier said. "He made a good flip, but I'm not sure if [the runner] would've been safe either way."
Cabrera then made Minnesota pay with his three-run blast. It was the first homer given up all season by Gibson, who had faced 165 batters without serving up a homer this year.
"I got behind a lot of guys and was forced was to throw over the middle, and this is a team where you can't do that," Gibson said. "I threw some changeups and breaking pitches over the middle in those first two innings, so it's frustrating. But there's a lot to learn from it, and I'll go on to the next one."
It was enough offense for reigning American League Cy Young Award winner Max Scherzer, even though he didn't have his best stuff. Scherzer entered with a 1.72 ERA, and he lasted six innings, giving up three runs on five hits and four walks with six strikeouts.
"He was physically strong, but I think he was battling to get his release point all the time. He said his slider wasn't very good," Tigers manager Brad Ausmus said. "He just couldn't consistently get his release point to put the ball where he wanted to in the strike zone. That being said, he battled through and held them to three runs in six innings, giving us a chance to win."
Kurt Suzuki nearly hit a solo shot off Scherzer in the first, but he was robbed on a leaping catch from Kelly in left field. But Dozier launched a no-doubt three-run blast in the third inning, his team-leading ninth homer of the year and his first non-solo home run.
But it was all the Twins could do against Scherzer, as they went just 1-for-8 with runners in scoring position against him.
"We put some good at-bats together against him, but you can't spot a Cy Young Award winner six runs," Dozier said. "We had a lot of opportunities to score some runs, but he got nasty with runners in scoring position."
Right-hander Anthony Swarzak pitched well in long relief of Gibson, throwing four scoreless innings, but right-hander Michael Tonkin came in for the seventh and surrendered a three-run homer to Martinez to put the game out of reach for Minnesota.
"Ultimately, we couldn't get another big hit to get back into it, and our other kid, Tonkin, came in and misfired a little bit, too," Gardenhire said. "So there you have it. Nine runs."
Rhett Bollinger is a reporter for MLB.com. Read his blog, Bollinger Beat, and follow him on Twitter @RhettBollinger. This story was not subject to the approval of Major League Baseball or its clubs.